Reiki and Yoga Rainforest Retreat
Samasati Retreat & Rainforest Sanctuary
Oct 22, 2017 - Oct 28, 2017

(7 days)

$1,350.00 - Single Occupancy Casita $1,070.00 - Double Occupancy Casita Per Person $970.00 - Triple Occupancy Casita Per Person $1,020.00 - Single Guest House $870.00 - Double Guest House Per Person
Register Now
"A joy-filled retreat for self healing, empowerment and deep connection to nature."
Join NYC Reiki & Yoga Teacher, Cole Hooley for this beautiful opportunity to take a time out from our busy lives, reset in nature and get more in touch with subtle energy. This 6 night retreat in the Costa Rican Rainforest will be accompanied by Evening Reiki Restorative Yoga & Meditation, Daily Morning Yoga and the option to receive a Reiki Attunement as well to participate in two 90 minute Intuitive Healing Workshops. There will be time to hike in nature, take trips to the beautiful local Caribbean beaches and to enjoy the lush land of the Samasati Retreat and Rainforest Sanctuary.
Cole's offerings along with the land will help to guide our experience, but it will be the participants who make this a magical memory for us all to share. Cole's desire is for those who sign up for this adventure to do so with the elevated intention of heart opening, letting go of expectations and letting the moments guide you with ease, joy and beauty.
Reiki & Yoga Rainforest Retreat Package Includes:
6 night stay at Samasati Retreat & Rainforest Sanctuary

3 daily vegetarian meals

1 daily morning intuitive flow vinyasa class

1 daily evening healing reiki restorative yoga/meditation class

1 reiki attunement/empowerment*

2 intuitive healing workshops (90 minutes each)*

1 four hour guided hike

Fee also includes a donation to the Rainforest Reclamation fund and taxes
* optional, not a certification course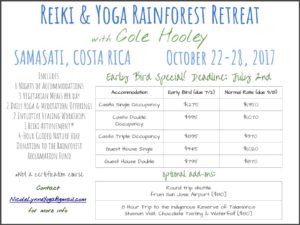 Rates: Early Bird starting at $895 (due July 2nd)

50% of early bird rate required to reserve your spot, must be paid in full by September 8th, 2017.
Transportation: You are asked to land at the San Jose, Costa Rica airport with enough time to be picked up with the group by Samasati's Shuttle at 1:30PM (please keep this in mind when booking your flight). Please confirm with Nicole prior to booking your flight. Currently flights are starting at around $328.
Note: The Shuttle is about 4 hours (keep this in mind for you returning flight) and will cost about $40 each way. There are other options (additional flights) but this is the most cost effective and eco-friendly. If you would like details on other options please contact Nicole directly.