Sacred Sisterhood Retreat – For Women
Living in the Self
Sep 22, 2017 - Sep 24, 2017

(3 days)

CAD $375.00 - Earlybird until August 15 (Shared Occupancy) CAD $450.00 - Shared Occupancy (after August 15) CAD $500.00 - Single Occupancy
Register Now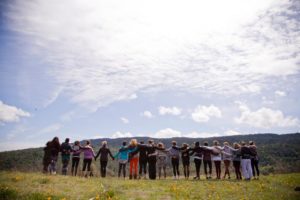 ---
Join us on this magical journey into the Sacred Feminine, where we uncover the mysteries of the Tantric Goddesses (Mahavidyas) and dive into our own potential as Divine Femininity. This is a retreat for Women by Women, it is a time of deep inner reflection and of sisterhood play, and it is intended to bring us into the altar of our hearts. For many this retreat is a gift of much needed respite and healing, while for others it helps to restore the natural connection to themselves and to the feminine pulse of life. In the first of this exquisite series of three retreats, we will explore the energies of the three primary Mahavidyas, and delve into Kali, the Divine Mother. Through sacred movement, meditation, self-inquiry and ritual, we will explore our potential for deep love, letting go, catalyzing change and renewal. We will also invite the presence of Tara, goddess of Compassion and Tripura Sundari, the beauty of the Three Worlds, into our lives and beings.
This retreat will take place in beautiful Lanark, Ontario amidst the vast landscape of wide-open meadows, forests and natural swimming ponds, and includes all delicious meals and cozy accommodations. The retreat will be facilitated by Tiffany Nicholson-Smith & 
Stefani
 Chan-Wright, two radiant yoginis with a combined 25 years of experience leading women's circles, facilitating groups and sharing yoga, meditation and tantra worldwide.
---
DETAILS:
Investment:
$375 + HST (Earlybird until August 1st, 2017)
$450 + HST (After August 1st)
Includes:
·       Eco-Lux Shared Accommodation
·       Delicious Organic Vegan cuisine
·       Cacao Ritual
·       Yoga, Meditation, Kirtan, Dance, Women's Health Talks, Kitchen Medicine, etc!