Hatha Yoga, Meditation & Detox Retreat
Akasha Wellness Retreat
Nov 3, 2017 - Nov 8, 2017

(6 days)

Double Room - Private - €750.00 Queen Room - Private - €825.00 Twin Room - Sharing - €535.00
About us
The full moon is a time of positive opportunity, it's a time for increased energy and reflection on our emotions and mental state of wellbeing. Our 6 Day Full Moon retreat is a place where meditation & yoga creates calm, mindfulness and stillness in your body and prepares you for what lies ahead.
What's included:
Twice Daily yoga & meditation sessions
Sacred Fire Ceremony & intention setting
Full Moon special practice
Two Sacred Sound sessions, a full Gong Bath Immersion & a Sound healing Tibetan Bowl session.
Hatha, Ashtanga & Yin Yoga by two different teachers
Introduction to yoga philosophy and health coaching
Enjoy hiking, nature & forest walks
Chakra Balancing Nutrition: 3 Daily healthy vegan & vegetarian meals all organic and local produce
5 nights accommodation in boutique rooms with en-suite bathrooms and glorious mountain views
Daily Chakra Balancing Superfood Juice & Smoothies
Group activities, cinema & library, creative arts & crafts
Unlimited Jacuzzi Hot Tub & Sauna
Optional Spa Massage Therapy & Salt Herbal Bath Soak Rituals
Pick up & Drop Off to & from Brasov City
Integrative Medicine & Nutrition support from Resident Medical Doctors.
Skill level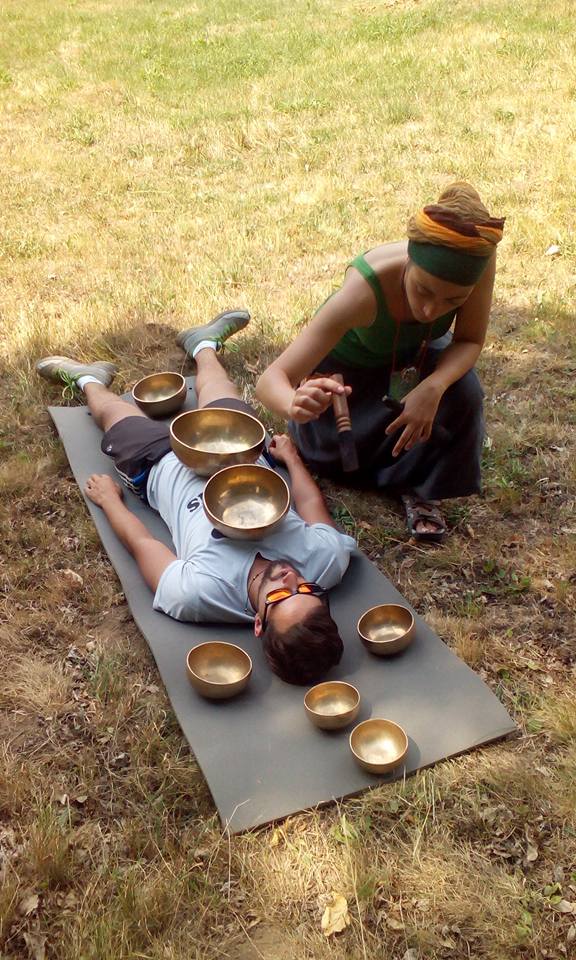 Simona from Gong Bath & Tibetan Bowls Therapy will be joining us to help us go deeper into the New Moon Meditation, it's a wonderful sound vibration practice.

Gong Bath is a therapeutic recital of sacred sounds, is a meditation guided by the sound of the Gong and Tibetan and Crystal Bowls.The planetary Gongs used during the concert are Venus Gong and Earth Platonic Gong, played together they unify the Greatest Love.
The planetary gongs are instruments calibrated on the specific frequencies of the planets, set to produce harmonious sounds with healing effects on mental, emotional, physical level and consciousness. The sounds of the Gong can be likened to the primordial sound that formed the basis of the Universe.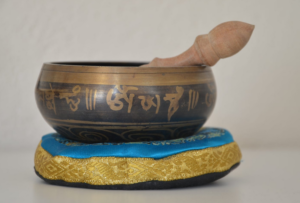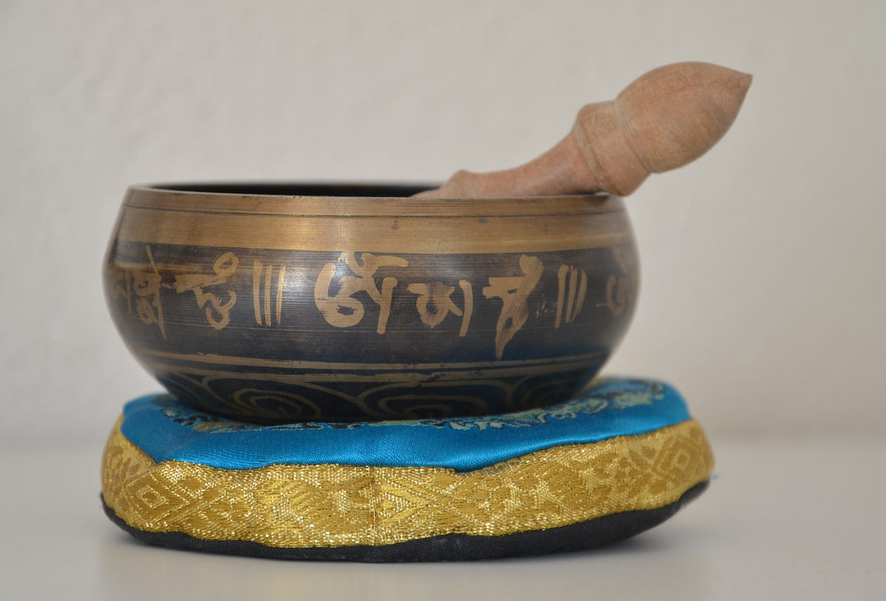 Among the many benefits of the Gong concert, the most important are:
*Stimulate intellectual, psychic and visualization abilities
*The expansiveness of consciousness beyond the physical body
*Enhance imagination and the ability to perceive and project
*Bring artistry and compassion to your relationships
*Amplify creativity
*Harmonize with the vibration of the Universe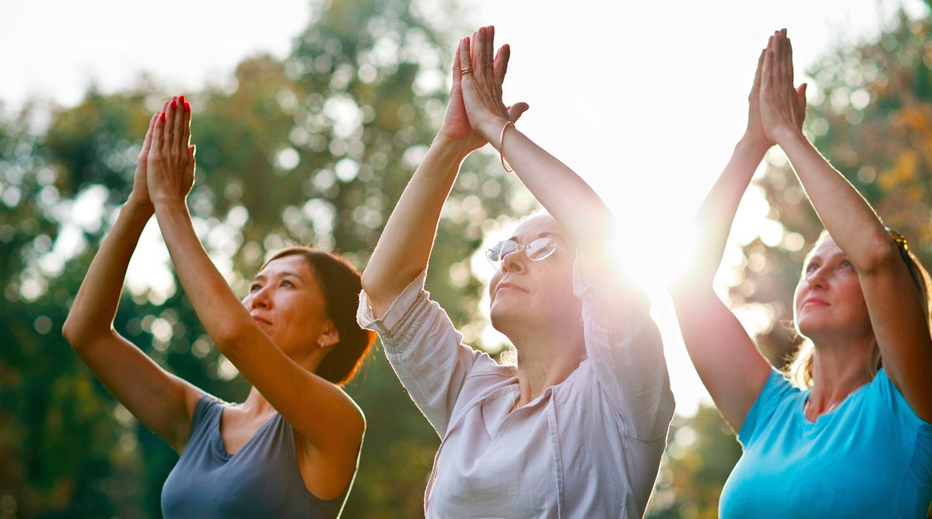 RETREAT PROGRAM
Day 1 Arrival Day
16.00PM – 18.00PM Arrival & Registration & first chakra juice + Centre Tour
18.00PM – 19.30PM Evening Yoga & Meditation Practice
19.30PM – 20.30PM Candlelit Dinner & Fire Pit
21.00PM – Optional Group Activity*
___________________________________________________
DAY 2, 3, 4, 5 Full retreat Days
7.00AM – Wake Up
7.30AM – 9.30AM Morning Yoga, Pranayama & Meditation Practice + Charkra Juice
9.30AM – 10.30AM Breakfast
10.30AM – 13.00PM Free Time & Spa Therapies*
13.00PM – 14.00PM Lunch
14.00PM – 18.00PM Free Time & Spa Therapies*
16.00PM – 17.00PM Optional Yoga or Meditation Workshop*
18.00PM – 19.30PM Evening Yoga & Meditation Practice
19.30PM – 20.30PM Dinner
21.00PM – Optional Group Activity*
___________________________________________________
DAY 6 Departure Day
7.00AM – Wake Up
7.30AM – 9.30AM Morning Yoga, Pranayama & Meditation Practice + Charkra Juice
9.30AM – 10.30AM Breakfast
13.00AM – 11.30AM Closing Circle & Departure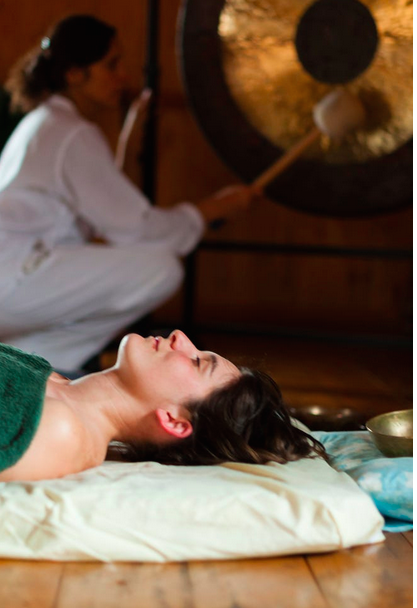 Good to know:
All ages are welcome as participants.
Accommodation is in individual bedrooms on a single or double occupancy ( friends or a couple sharing a large queen bed)
We provide all Yoga Mats & Props just bring an open mind.
Weather in the mountains can be unpredictable if you plan to go walking in nature please bring warm clothing & waterproof shoes.
Morning Practice consists of 90 minutes of yoga asana & pranayama and 30 minutes sitting meditation or chanting. Morning practice is followed by a daily chakra balancing juice before breakfast.
Evening Practice consists of 60 minutes of yoga and pranayama and 30 minutes sitting meditation.
Optional Evening Group Activities include Movie Nights, Group Games, Hang Out Nights, Live Musicians both Local Folk & Kirtan Chanting Nights.
During Free Time & Spa Therapies you are free to spend your time as you want to, Massage Therapies and Salt Baths are booked & paid for separately please see our Spa Menu.
Optional Yoga & Meditation Workshops. Daily we have a workshop dedicated to improving practice which is booked & paid for separately for those that want to further their practice or maybe set a personal practice flow this may include Yoga Alignment Workshop, Acroyoga, Kundalini or Thai Massage Workshop.
We practice a Digital Detox Retreat, this is to allow your mind to disconnect from the overload of digital communications and listen more deeply to life, connect with others on the retreat and live in the present moment. We provide a Guest access computer for use during the retreat. On Departure Day we will gladly provide Wifi access to get in touch with your friends & family or to share your photos on social media.
Every morning until breakfast time and one full morning until noon we practice a silent retreat, this is a powerful tool to connect with yourself, pick a good book and explore the true benefits of being on R/E.TREAT. This is YOUR time.
Optional Activities whilst at AKASHA R/E.TREAT are:

DIY Corner: Make your own Mandala Paintings, Dreamcatcher, Art. We encourage you to be creative during R/E.TREAT and maybe explore skills you never knew you had.
Skiing in the winter we can assist with transport to the nearest skiing slope 30min away.
Horse Riding with local trained horses
Hiking in the mountains and local valleys
Nutrition & Lifestyle Medical Screening with the Resident Medical Advisor.


Reviews
Write a review - tell others about your experience.
Thank you!
We're glad you've joined our retreat community. See you around :)
Return to my event
×