Hocking Hills May Running & Yoga Retreat
The Yoga Bar
May 11, 2018 - May 13, 2018

(3 days)

$505.00 - Shared Inn Room (per person) w/ Single Queen Bed - Each is furnished with a queen-size bed or two twin beds, under counter refrigerator, a small writing desk, a private bath, as well as individualized heating and…
About us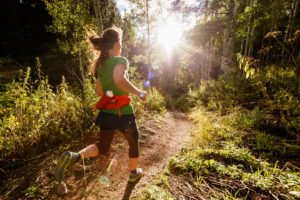 Join yoga teacher and ultra marathon runner Sarah Crabtree for a weekend that will challenge your body, help you to realize your own inherent strength, and renew your spirit.  Sarah began running as a freshman in high school and never looked back.  She has now completed 17 full marathons, 3 ultra marathons (50k distance), (1) 50 Mile race, and (1) 12 hour endurance race in addition to numerous 5ks, 10ks, and half marathons. 
You know that amazing feeling of accomplishment you get when you master a new yoga pose or run just a little farther than you thought you could previously?  As we run through the woods this weekend, we will explore that feeling and the notion that the only real limits you have in life are the imaginary ones you have constructed in your head.  You will gain the knowledge that you are in fact incredibly strong, powerful, and capable all on your own and that there exists within you all that you need to accomplish whatever it is you want to in this life. 
This retreat will include two group runs, one short 3 miler, one long 5-7 miler (longer and shorter trail runs available and all are optional), and three yoga practices geared towards the runner's body.
The Retreat: Wood burning fireplaces and star-filled skies will warm the heart, daily yoga and meditation classes will help you clear out the past and embrace the new, gourmet meals served in the award-winning Kindred Spirits restaurant will feed your soul and hikes to through the Hocking Hills area will spark your imagination and connect you to nature. This is a great retreat for couples and friends.

Retreat inclusive of:
2 nights accommodation in your choice of guest room, cabin or cottage (prices vary)—The Inn at Cedar Falls
5 meals in the award-winning Kindred Spirits restaurant
Morning tea and coffee service
Yoga and meditation classes, optional satsang/workshop
Hiking excursion
Priority booking for spa treatments
Retreat welcome bag
Tax and service fees
 Costs: $495-$665
$195 deposit required to secure your reservation at time of booking. Fees listed below include the $195 deposit, the remaining balance will be billed separately by The Inn and Spa at Cedar Falls at check-out. Cabins may be available for larger parties (3-5), prices vary.

*NOTE: Pricing exclusive of 13% tax and service charge applied to lodging portion of bill.
Thank you!
We're glad you've joined our retreat community. See you around :)
Return to my event
×