Nature Explorers Camp- Two Day Deal!!
Hike and Learn
River Campus Address: 5200 Nature Center Road, Pueblo, CO 81003 Mountain Campus Address: 9112 Mountain Park Road, Beulah, CO 81023
Mar 21, 2018 - Mar 22, 2018

(2 days)

$75.00 - Non- Member Price $65.00 - NWDC Member Price $10.00 - Scholarship Deposit
About us
 Nature Explorers!
Calling all K-5th campers! Come explore the River, Raptor and Mountain Park Campuses of the new Nature and Wildlife Discovery Center! Nature Explorer campers will spend two fun-filled days discovering the unique wonders of nature from the banks of the Arkansas River to the forested foothills of the Mountain Park featuring a live Bird of Prey encounter! This is a two day-day camp. Day one is spent at the River/Raptor Campus and day two at the Mountain Park Campus.
 Transportation from the Raptor Center in Pueblo to Beulah available at 8:30am.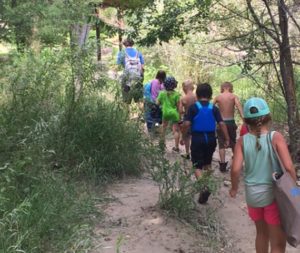 Camp Scholarships available, just follow the registration directions and check the $10 Scholarship Deposit then go to this link and fill out the Scholarship application.
Registration is Easy!
Step 1:
Click "Register" below and fill out the Registration form for each child you are registering.  There will be a place to fill out Parent/Guardian Contact Information.  Please use a Parent or Guardian email address as the Primary Email.
Step 2:
Please be sure that you have received our confirmation email. This email will contain all of your registration details.  Remember to check your "junk" folder because some email providers will try to place it there
Thank you!
We're glad you've joined our retreat community. See you around :)
Return to my event
×