Karma Yoga Onsite Program – limited places
Clear Sky Center
Dec 1, 2015 - Dec 31, 2016

(397 days)

CAD $750.00 - Refundable deposit
Empower yourself and learn through mindful service
If you find that your life feels a bit overwhelming with details and you want to deeply change how you relate to it, this Karma Yoga immersion program may be just what you're ready for.
Karma Yoga can be both a re-nourishing of your soul, and a way to develop your ability – to an advanced degree – to walk in the complex modern world with real consciousness, love and awareness.
Whether you have the opportunity to spend 3 months or longer focused on fast-tracking your growth and development, or you are looking for ways to deepen your spiritual practice, Clear Sky may be the place to do it.
Giving guidance in meditation, study and specific areas of personal growth, the Karma Yoga program also allows you to bring your skills and experience to something worthwhile.
Service Stays are an opportunity to commit to a period of study and personal growth, in return for sharing your experience in a particular field. Your individual study focus will be dependent on your interests and abilities.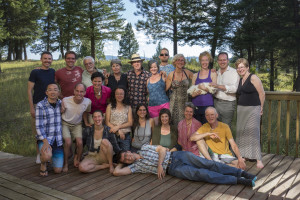 We offer a supportive environment where communication and personal growth are highly valued. And it is challenging. If this sounds like something you could do then please come join us, learn how to engage, enliven and grow yourself and those around you. We have a very limited number of positions available for our Karma Yoga service stay option. To find out if you qualify please see below.
If you have considerable experience or skill in any of the following areas, we invite you to apply for a scholarship: cooking and kitchen management, operations and administration, property and farm maintenance, permaculture, and sales and marketing.
If Karma Yoga is for you, we are currently seeking individuals who can assist in one or more of the following areas:
Administrative and IT assistance for our teachers
Marketing strategy and support
Administrative Assistance for our management team
Business and Fund Development
Program and Event Coordination
Building and Property Maintenance
Kitchen Assistance and Coordination
Farm Manager
If you are interested in our Karma Yoga program and have additional skills that you would like to offer at Clear Sky, please contact us, we are happy to hear about the experience you have to share!

Your commitment
We're looking for a commitment of three months from you. If you do stay the full three months, your deposit will be returned to you.
This is an incredible deal – three months of immersion training at no cost, with food and accommodation included – and one that we offer only to those who clearly recognise it's value.
We invite eligible candidates to join us for a one-month trial period. After this, a minimum commitment of two additional months. Staying longer is a possibility, to be discussed towards the end of the three months.
Please read this page entitled "Is Karma Yoga For You?" before applying. (Note that we launched this new website on Feb 21 2017, and the Is Karma Yoga For You page is currently on the old website.)
Also, note that no religious affiliation or meditation experience is required. Come join us, learn how to engage, enliven and grow yourself and those around you!We look forward to hearing from you!
Reviews
Write a review - tell others about your experience.
Thank you!
We're glad you've joined our retreat community. See you around :)
Return to my event
×