Ten Week Advanced Initiation – $6450
Register Now
A DEEP IMMERSION
The Ten Week Advanced Initiation Course is similar to the Six Week Course, but goes much deeper.  It provides students with the greatest opportunity to learn the healing tradition of curanderismo.  Students spend 65 days in the junge with the Shipibo curandero don Enrique and our team of assistant healers at the Ayahuasca Foundation's School for Plant Medicine, Inkan Kena.  Apart from attending up to 32 ayahuasca ceremonies, it is truly an amazing experience to diet with the plants and receive teachings from genuine authentic shipibo curanderos as well as from long time students of the tradition, who are great examples of what new students are striving to achieve. The course provides a very unique opportunity to diet with one of the most powerful plants in the Amazon Rainforest.  This luminescent tree is vary rare, and we are lucky to have two of them near the school, which was built in its location because of its proximity to these trees.

Learn More about the Ten Week Advanced Initiation Course
More than just an extended version of the Initiation Course, students in the Advanced Course will have a much more complete teaching, with the chance to lead at least two ceremonies each on their own, as well as perform much more of the healing treatments than provided in the six week course.  The Advanced Initiation Course is the equivalent of what would normally take a year or more of study in the jungle.  This is definitely not a vacation.  It is an intense immersion into the world of curanderismo and the plant spirit healing traditions of the Shipibo.  It is intended for people who have had experience with ayahuasca or shamanic practices and want to go much deeper in the work.  It is for people who truly feel called to be curanderos.
Cost of the Ten Week Advanced Initiation: US$6450
• Pre-program counseling session with AyaHelp.com

Gain insights into preparing mentally, physically, and emotionally
• Accommodations for six nights at a hotel in Iquitos

The first night, during the break, and the last two nights – the hotel has wi-fi
• Accommodations for sixty-three nights at the  Jungle Camp

Rustic accommodations in beautiful jungle settings
• Transportation to and from the Camp

Comfortable buses take students to the trail to hike in
• At least two meals a day, always following the 'dieta'  in the jungle

Fresh fruit, juice, eggs, steamed vegetables, rice, lentils, quinoa, grilled fish, potatoes, etc.
• Up to 30 traditional ayahuasca ceremonies

There may only be 28 or 29 ceremonies depending on the flow of the course
• An mp3 player with the curanderos' icaros to be learned

Being able to repeatedly listen to the 18 icaros is a huge help for learning them
• Translation of all lectures, presentations, workshops, and discussions

Course assistants will also add their own experiences, teachings, and explanations
• Medical treatment any illnesses and conditions

The curanderos will attend to all the students' afflictions
• Healing tools like mapachos, agua florida, and massage pomades

Essential for the study of curanderismo
• USBs of photos taken and ceremony recordings from the course

Ceremonies will be recorded and pictures will be taken during the course
• Many more gifts and educational items that you'll pick up along the way 

You'll receive other gifts and healing tools as well
• Post-program counseling session with AyaHelp.com

Discuss your experiences and the process of integration when you get home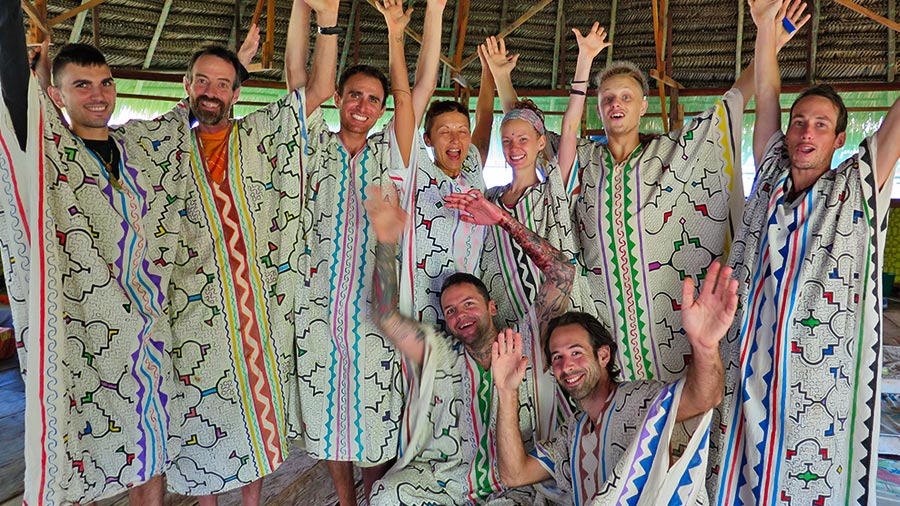 Wonderful! You've just created your first event!
Stick with your free plan below or test drive another
Current Plan

Starter

Free forever
Promote your retreats
Unlimited retreats
Teacher profile
List your centre and get reviews
Enable booking with 10% commission
Receive email notifications for registrations
Aspire


Ideal for teachers

$

39

USD

/mo.

All Starter features PLUS
No commission fees
Take registrations & deposits instantly
Collect balances online
Send custom guest statements
Sell additional items
Auto-send personal registration emails
Customizable registration forms for each program
Basic support
Email
Up to $75,000
1 user account
Envision

$

99

USD

/mo.

All Aspire features PLUS
Credit card processing
Unlimited programs & registrations
Export your data
Manage rooms and lodging
Standard support
Chat & email
Up to $300,000 annual
1 user account
Mandala
$

199

USD

/mo.

All Envision features PLUS
Multi-person registration
Waiting list
Charge taxes
Priority support
Phone, chat, email
Up to $800,000 annual
3 user accounts
Beyond

$

399

USD

/mo.

All Mandala features PLUS
Priority feature requests
Migrate existing data
POS (Coming soon)
Real-time support
Direct developer access
Up to $2,000,000 annual
10 user accounts
×
Thank you!
One of our retreat specialists will get in touch with you within the next few hours to give you a tour of all the extra features that you will have access to.
Return to event
×
Thank you!
We're glad you've joined our retreat community. See you around :)
Return to my event
×