Weekend Retreat: Freedom in Every Breath
Clear Sky Center
Nov 18, 2016 - Nov 20, 2016

(3 days)

Cabin (single) - CAD $491.00 Shared double - CAD $449.00 Shared quad - CAD $449.00
It's a busy and chaotic world. We live at a time when processing large amounts of information has become a fact of life.
People like you are talking to us about how, more often than they'd like, they're feeling disconnected and anxious. They want to feel like they're making a positive difference in the world and they're struggling to do this. Their spiritual resources are being overwhelmed by daily living.
Does this sound like you?
If this has been happening for a while, you've maybe tried and gained a lot from things like yoga, self-development and spending more time in nature. You've maybe made some big life or career changes, or oriented towards new circles of friends. And none of these things seemed to address what you are really going through.
Why?
Nothing felt like it really hit home with a holistic, lasting effect. Nothing offered the support and tools you need – the spiritual resilience you seek and the sense that you're finally on the right track to something that will lead you to transform your experience of life.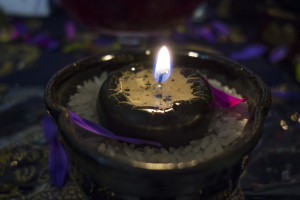 Experience the difference
Come, join us in this place created for this purpose.
As the central focus for many people with the same intention, the center has become a powerful container for the work needed to genuinely transform. Know what it is to truly unwind, and experience the support of a place and community that exists to help you reconnect, reinvigorate and then integrate what you learn into your daily life.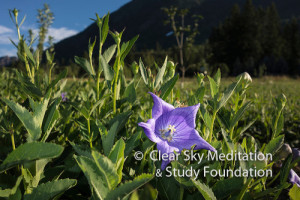 Benefit from a lineage of teachings
Mindfulness of Breathing as a direct path to enlightenment was first practiced and taught by the Buddha Sakyamuni 2,500 years ago. Passed down precisely in the oral tradition of memorization, the teachings were then recorded as a Sutta in the Pali Canon.
In 1985 the Sutta was used by the Venerable Namgyal Rinpoche, Founder of the Dharma Centre of Canada, to teach a 7-day retreat. One student, Karma Chime Wongmo, adapted her retreat notes to produce the book The Breath of Awakening, A guide through Anapanasati, Mindfulness of Breathing.
We now thank Clear Sky's founding teacher, Achariya Doug Duncan – pictured below and one of Namgyal Rinpoche's primary disciples – for kindly developing this signature retreat based on these teachings passed down through the lineage.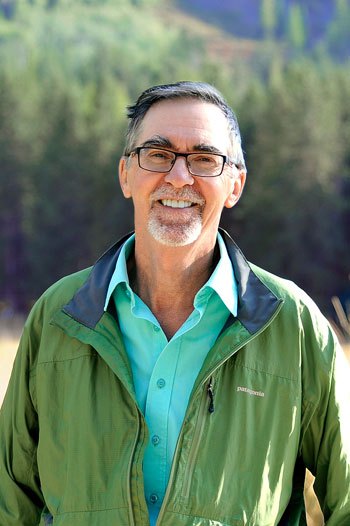 Why retreats are surprisingly necessary
We're busy people too. We consider it the highest necessity to be able to invest in retreat time here, in the place we've built for this purpose.
Why is retreat time so important? You can't truly let go in an hour of meditation, or even half a day. You don't begin to reach the profound space that a retreat can offer, a sense of deep rest or 'coming home'. In this quietness and dropping of worldly concerns you allow for new patterns, understandings, and insights to emerge. And be clear that the effects will show up in your life –  your yoga practice, your relationships, your job – this work is integrated into your being.
Why do your retreat here? Thousands of hours have gone into making Clear Sky one of the premier places in the world to do retreat work. Everything and everyone here is focused on awakening. A recent visiting teacher – a peer of one of our founding teachers – commented that if you can't awaken here, you can't awaken anywhere. We think that's high praise, and we agree with him. This is a special place.
Why this retreat?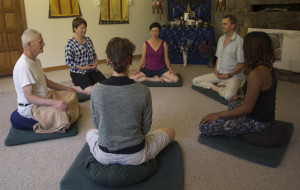 This retreat will teach you to calm and focus your mind by tying it to the in-breaths and out-breaths. With the breath as your anchor you will begin to see the nature of the mind that wanders from thought to thought, feeling to feeling, and does not want to be trained!
You will learn to calm this mind, the first steps to a unified, undistracted state of being that is essential to transforming your moment to moment experience of life.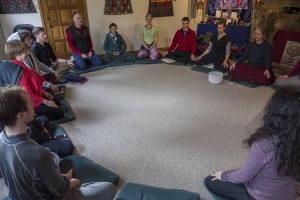 If it's your first retreat with us, we'll be excited to meet you. You may have already tried meditating, and struggled to sit for long periods. Or you may be a complete beginner. Most of us aren't used to sitting on the floor, and that's one reason it's helpful to vary the kinds of meditation you do, whether you're a beginner or not. On this retreat you'll be on a schedule that weaves the formal meditation periods – including walking meditation – into exercise, reflection and meal periods. You can sit on a chair, though long term we advise you to get used to sitting on a cushion.
Concerned about the silence? Well, we won't say anything about that. Just kidding – in fact, on a short retreat like this the period of non-talking will be limited, with supportive transition periods at the beginning and end. By the end of this retreat, you can expect to feel more comfortable with not talking around others, and will probably wish it had gone on a little longer.
Among the things you'll learn on this retreat:
Ways to experience greater senses of calm, focus and bliss and how you can them take back into your daily life.
A unique look at the strengths and positives you already have and how they can be drawn on as part of your spiritual toolkit.
The key to clarity and joy and why they don't need to depend on what mood your partner is in, or whether you get that promotion!
The difference between awareness and concentration, and how to increase them both to feel brighter and more connected.
Why unwholesome thoughts don't need to rule you, and how to start calming the mind to reduce them.
How the concept of impermanence can make you feel more alive and increase your motivation to practice.
Ways to tap into the energy and focus you felt as a child, and how to start getting them back.
 Expectations and Inspirations
Clear Sky is a true haven. We like to call it a 300-acre meditation cushion.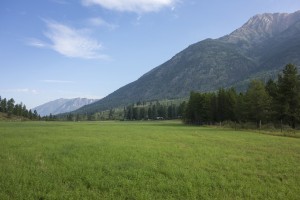 So come, settle in – explore the trails, the views, our 1-acre food forest and restored grasslands plot. Be nurtured by buffet-style meals of organic or local food, eaten over mindful talk or silence. Feel at home in the Sanctuary – a beautiful 3-storey log home overlooking the valley below and with majestic Bull Mountain above. Experience the energy of a shrine room that glows with the many hours of meditation and good intentions.
And, make the most of your retreat by:

– showing up early for classes and participating in all scheduled teachings, group meditations and other activities during the course.

– fostering and maintaining an atmosphere of trust and acceptance in the community of practice that has gathered for this course.

– staying focused on the retreat outcomes, refraining from reading materials not related to the course, while using note taking and journal writing as a means of recording reflections.

– engaging mindfully in daily scheduled Karma Yoga ("Path of Service") practices at Clear Sky, as part of your spiritual practices during retreat.
What's included?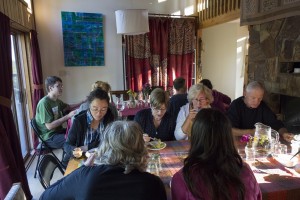 – Two nights' shared accommodation in our main retreat house, with valley or mountain views.
– Six buffet-style organic or local meals, based on a balanced omnivore diet, including dinner on arrival day and lunch on departure day.
– An orientation to the center by a Clear Sky manager.
– Teaching and guidance from a Clear Sky affiliated teacher.
**Clear Sky recommends always purchasing travel insurance or flights that can be changed, for the eventuality that a program does not run.
Next Retreat Dates:
Friday night, November 18th, starting at 4pm,
ending Sunday, November 20th, at 1pm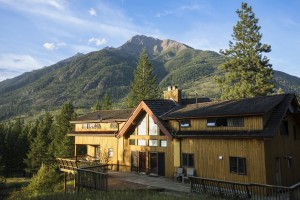 What other people are saying:
What were your expectations from this retreat and were they fulfilled? "0 expectations, excellent experience."  (Julie Burrows)
"The retreat was great and moved my practice and unfoldment. The teaching is great, as are the people and the location.  It was not always easy or fun, but that is part of the awakening process." (Dave Lochtef)
By attending a number of different programs I see life and my role in it from a new perspective, that is both helpful to myself and to others." (Michele Cherot)
From The Breath of Awakening, page 10; (This retreat… )"provides instruction to the ancient practice of Mindfulness of Breathing, which is particularly meaningful and helpful for Western practitioners." (Namgyal Rinpoche) (If you'd like to use this book to support your retreat experience, we recommend you bring it to read during the course.)
Reviews
Write a review - tell others about your experience.
Thank you!
We're glad you've joined our retreat community. See you around :)
Return to my event
×