About This Center
El Mundo Magico offers Ayahuasca and shamanic plant diet apprenticeship retreats in the Peruvian Amazon rainforest, in our centre in the jungle - near the Allpahuayo Mishana Natural Reserve, off the road Iquitos-Nauta - where you will directly be exposed to ancestral shamanic plant medicine like Ayahuasca, Camalonga, Toe', Mapacho and 28 different types of master trees. Our teachers in Peru include: master shamans Don Guido Tuesta Torres, Don Sixto Mejia Paredes, both highly experienced Paleros, Ayahuasqueros, Toeseros, Camalongueros and Sanangueros and Maestra Celia Panduro Huayta, from the Shipibo-Conibo ethnic group of the Amazon, specialized in working with the San Pedro cactus (Echinopsis pachanoi, syn. Trichocereus pachanoi).
In Southern Colombia, near Villagarzon, we offer Yagé retreats with some of the most distinguished indigenous master shamans of Putumayo, traditionally working with the ancestral Yagé medicine. There we work with Taita Bonifacio Gabino Garreta, and - for small groups only - also with Taita Alfredo Juajibioy, from the Camsa' indigenous people.
The ongoing Spirit of Yagé retreat has a fixed length between 1 to 4 weeks, is currently only bookable with either Taita Gabino (no minimum number), or Taita Alfredo (5+ participants onwards, reserving together). Each ongoing retreat is *very intense* with up to five Yagé ceremonies per week.
In the Peruvian Amazon we also offer an intensive Ayahuasca retreat (which includes: 5 Ayahuasca ceremonies, 1 Camalonga ritual, 1 Toe' ritual per week, at night; 3 rituals with master trees and an ancient ayahuasca vine in the jungle, per week; 2 cleansing rituals baths and 2 spiritual purification rituals per week) and the traditional shamanic plant diet apprenticeship retreats (13 weeks onwards, diet with 28 different kinds of powerful master trees, take part to 3 Ayahuasca ceremonies (2 with Don Sixto) + 2 Camalonga dream rituals + 3 Toe' ceremonies per week, as well as 2 smudging sessions, and 3 rituals with master trees in the jungle, each week) with master shamans Don Guido or Don Sixto.
If you would like to join one of our retreats in either Peru or Colombia, please drop us a line! :) Please quote "Retreat Guru" in all your communications. Thank you!
-------------------------------------------------------------------------
For more info, on our Ayahuasca, San Pedro, shamanic diet and shamanic apprenticeship retreats in the Amazon rainforest of Peru and Yagé retreats in Colombia please visit the El Mundo Magico website. We require a minimum of 30 days advance booking for the Yagé retreat, 30 days advance booking for the Ayahuasca and/or San Pedro retreat in Peru, and 50 days advance booking for the shamanic dieta and apprenticeship programmes.
-------------------------------------------------------------------------
Please quote "Retreat Guru" in all your communications. Thank you!
"The Lord hath created medicines out of the earth; and he that is wise will not abhor them." - Ecclesiastes 38.4
Venue Highlights
In COLOMBIA;
Retreat venue: a Finca in the Putumayo's countryside, sitting on a hill, overlooking the mountains. UV-filtered drinkable water, hot water and wi-fi. From here you may venture with our indigenous guide Gabriel to do one of our magical excursions to a sacred canyon and to splendid waterfalls.
In PERU:
Beautiful bungalows with private en-suite bathroom, screened from insects. Running water and flush toilet in the middle of the jungle! Surrounded by luscious jungle vegetation, you are at walking distance from the Allpahuayo Mishana Natural reserve and to the prestigious Botanical Garden of the Research Institute of the Peruvian Amazon (I.I.A.P., Instituto de Investigaciones de la Amazonia Peruana).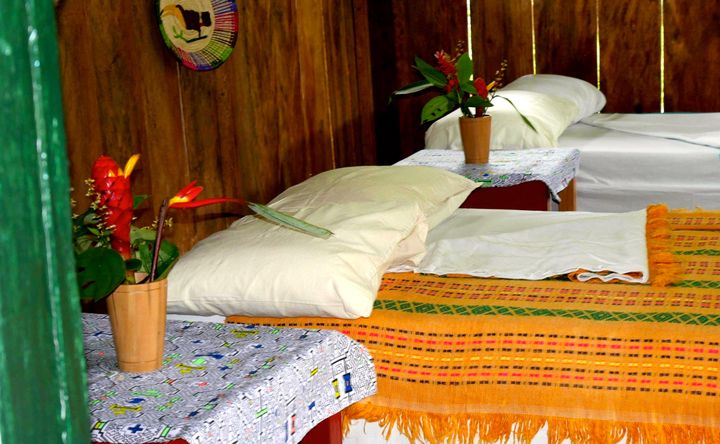 Accommodations
In COLOMBIA.
Accommodation will be in single or double rooms in the Finca we hire in Putumayo, about 1 hour drive from Villagarzon airport. Two double rooms with en-suite bathroom (wash basin, flush toilet, shower and hot water). All the other rooms have shared bathroom at the floors. Free wi-fi in the Finca (located in the countryside, overlooking the mountains, at the merging of the Andes with the Amazon). Standing availability, we may offer the double room with en-suite bathroom to individual guests, at no extra price. UV-filtered drinkable water.
In PERU.
Accommodation will be in comfortable individual or double/triple wooden bungalows, with thatched roof, in the jungle. All bungalows have running water and a private bathroom (wash basin, flush toilet and shower). No hot water (not that you really need it, you are in the Amazon jungle, with a sub-tropical climate throughout the year!). The double/triple bungalow may be occupied by up to 3 people members of the same party and has an area of 36 square metres (single, twin or double beds available). The individual bungalows have only a single bed and measure 30 square metres. We are currently building 6 double, wooden, cabins (16 square metres each), all with en-suite bathroom (running water, wash basin and flush toilet), and shared showers at the end of the building. In each cabin may sleep up to 2 guests members of the same party.
Amenities
Free Wifi
Tour Assistance
Menu Types
Vegan
Vegetarian
Pescetarian
Meat
Dairy Free
Menu/Cuisine
In COLOMBIA & in PERU':
Ayahuasca/Yage'-compatible meals for guests doing the Ayahuasca/Yage' retreat.
In PERU:
Plant diet-compatible food for guests doing the plant diet and shamanic apprenticeship retreat in the Peruvian Amazon with us.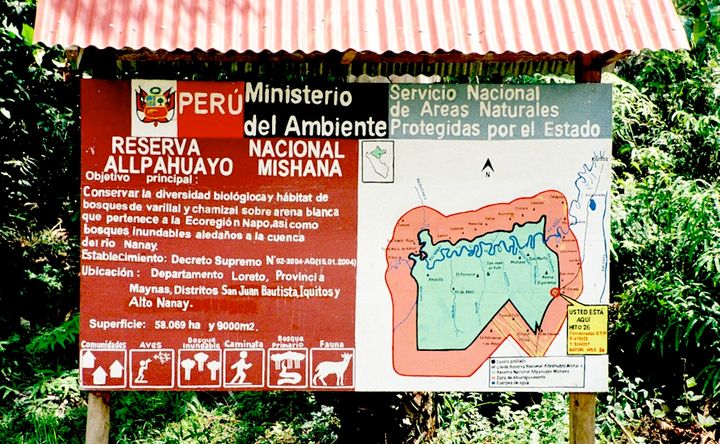 Directions
Retreat in Putumayo, COLOMBIA.
Nearest airport: VILLAGARZON, reachable from Bogota' (El Dorado airport), with SATENA airlines.
Retreat in Loreto, PERU.
Nearest airport: IQUITOS, reachable from Lima, with LATAM airlines.
Transfers to and from our retreat venues in Colombia and in Peru are included in the retreat fees.
Reviews
Write a review - tell others about your experience.
Trenton Doyle January 24, 2019

Authentically Powerful and Life Changing

I spent 3 weeks in Peru with Don Sixto in 2017, and it was one of my life's most formative experiences. He has lifetimes of experience while maintaining the playfulness of a child, and knows how to show people how to engage with the masters of the jungle. He and the entire family I stayed with are with me in my dreams still to this day. I have since walked with plant medicines elsewhere and the authenticity of Don Sixto is unrivaled.

Daniel MacDonell Schmidt December 12, 2018

Shamanic dieta

has been a profound and amazing experience. You can do Ayahuasca in many places and with many different people, but for me it's about who you do it with and where. And find that place and those people to do it right HERE!!! The whole family takes such good care of you with love and big smiles. Nice food and fresh fruit. Eloida, Robert, Oliver, and Robert's mother. You four have thought me many things, fatherhood, love and compassion. I will always cherish that, thank you. Don Clever, aka the bandana man. What can I say? You are a master of people and the jungle. Always there to help and guide. I have seen you in many dreams and visions. You showed me many Palos Maestros in my dreams and when we walked in the jungle. You take pride in your work and I truly admire that. Thank you my friend. Francesco, a big thanks for all your help. Truly appreciate it. Don Guido, Maestro. A true master and teacher. I came here to find out if the medicine path was my calling. Indeed it is, and I found my teacher. Don Guido is an artist, truly amazing. I found out through him that to be a good shaman you need a pure heart and he has that. He is so connected to the trees and plants. He is two steps ahead all the time. He is Ayahuasca and Ayahuasca is him. I am looking forward to next year when I can learn some more of your knowledge and power. If you have a desire to explore the world of Plant Medicine this is the place. Don Clever and Don Guido will guide you with humour and serious work. A great combination. I leave here a different person. A better husband, a better father. And most important of all, a better me. By coming here you can not only heal yourself but your ancestors and the future generations to come. Muchas gracias to everyone here at El Mundo Magico. You are forever in my heart.

Jonathan Swift September 30, 2015

Truly a magical experience

i have taken part in two retreats organized by El Mundo Magico - one near iquitos peru in 2013 and in putumayo colombia 2015. both retreats were life transforming experiences conducted by authentic indigenous shamans and with expertly prepared ayahuasca / yaje. in a world with increasing amounts of "pseudo-shamans" eager to get cash from westerners in these countries of great poverty, it was of great importance to me to have authentic shamans conducting the ceremonies, (and in colombia perhaps the oldest living ayahuasca shaman on earth). the lodging, food, and excursions were all well organized, with the meals especially being so important while on la dieta. the attention to detail in the organizational aspects of the retreat is what allows true freedom in the ceremonies, knowing that you are well cared for and protected, so that you can focus on the ayahuasca and the visions. equally important to me is the dedication of El Mundo Magico to supporting these remaining indigenous tribes and their vast knowledge of medicinal plants and vines. many ayahuasca centers focus only on ayahuasca; in peru, i learned of the many other plant guides and palos maestros which have been used by indigenous shamans in concert with the ayahuasca, and to aid in the visionary realms. this is truly what sets El Mundo Magico apart from the vast majority of the other ayahuasca centers. much thanks to Francesco, Ignazia, and to the four shamans who taught me so much in so little time; i am eternally grateful!!!