About This Center
Welcome to the Ecology Retreat Centre...
Taking full advantage of the breathtaking beauty surrounding Hockley Valley, we provide the ideal setting for retreat groups up to 70 people year round with access to over 200 acres in a lovely rural forest setting. With open meadows, babbling brooks, forest trails and a wonderful, peaceful energy our unique facility is the perfect place to have your retreat or special function.
Our kitchen takes great care to provide you wholesome, nutritious meals. Our Meeting space includes both the Meeting Hall as well as the recently renovated Creekside Room with gleaming wooden floors and large windows to let in the glorious natural sunlight. Both spaces have fireplaces and can be set up specifically to meet your group's needs.
Accommodation includes 22 rustic and clean rooms with 3 to 4 beds per room and a charming Leader's Cabin that can be rented separately.
This quiet, private retreat is only a 45 minutes north of Toronto Pearson International Airport.
We really enjoy coming each year to the Ecology Retreat Centre in the winter. The kids have a great time! They love the skating on the pond and the sledding on the hill, not to mention the delicious food. It is so good for them to be out in the country setting. Thank you so much! -- Etobicoke Suzuki Music School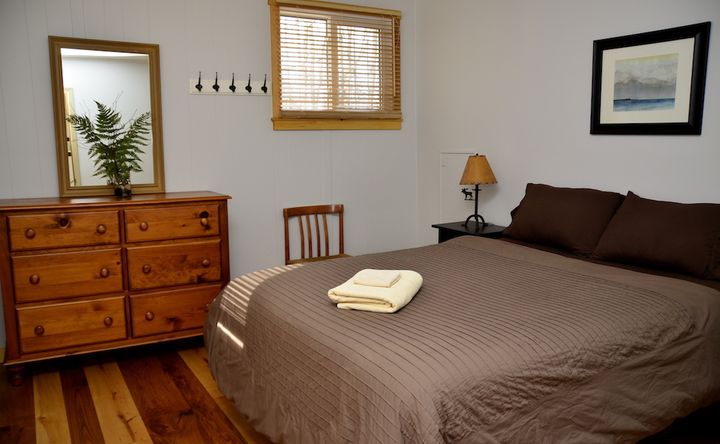 Accommodations
The Ecology Retreat Centre accommodation is comprised of The Lodge, the Bunkhouse and the Leader's Cabin. Our accommodation rooms are simple and clean.
The Lodge is the Centre's main accommodation offering 15 bedrooms, sleeping up to 45 in their own beds. Each bedroom is comfortable and individually heated, keeping guests cozy during Fall and Winter retreats, and has window opening to cool night breezes during Spring and Summer. Located just steps from the Leader's Cabin and Bunkhouse, the Lodge allows groups to keep close and to easily gather in its central Lounge. Furnished with plenty of comfy sofas, and stocked coffee, tea and water self-service area, the approximately 700 foot square lounge is a favourite place for particpants to relax or visit with each other during free time. The Lounge also serves as a conveninet break-out space, especially for groups using the Meeting Hall.
The Lodge
The Lodge has 15 individually heated bedrooms with 3 beds in each (typically one double bed and two twins) sleeping a total of 45 people. Spacious shared washrooms (separate male and female) with 8 showers and 12 sinks. It's bright central lounge can be used for socializing or as another meeting space and it is just steps away from the Leader's Cabin and the Meeting Hall.
The Bunkhouse
The Bunkhouse offers stream-side quarters that can sleep 20 people in 5 rooms rooms with 2 bunkbeds per room. It was recently renovated and now has all new windows as well as upgraded bathrooms and new showers while maintaining its rustic look and feel. It is located a stone's throw away from the Lodge
Leader's Cabin
The Leader's Cabin offers private accommodation for group leaders, facilitators or special guests. Its 2 bedrooms can sleep up to 3 persons (5 max.) Furnished with a kitchenette and sitting area, it provides a relaxing space to unwind, or meet one-on-one. The Cabin has a shared full bathroom.
Amenities
Free Wifi
Towels
Free Parking
Kitchen
Coffee/Tea
House Keeping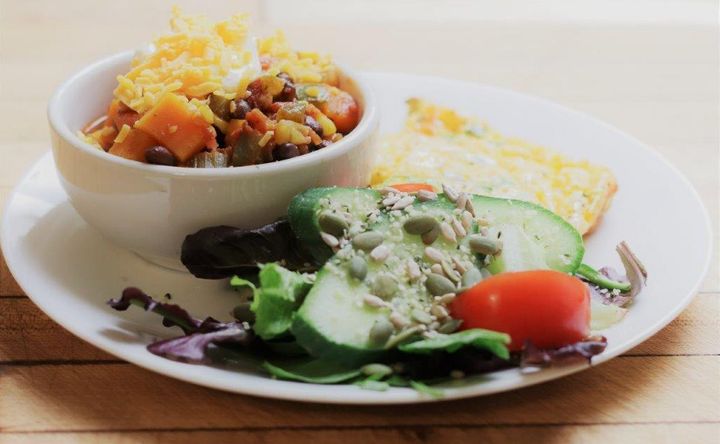 Menu Types
Vegan
Vegetarian
Pescetarian
Gluten Free
Dairy Free
Nut Free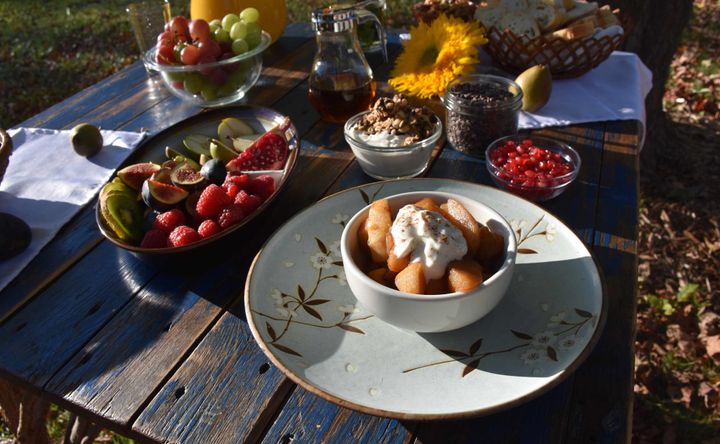 Menu/Cuisine
The Ecology Retreat Centre's menus are guided by the availability of seasonal and wholesome foods that grow in abundance in The Hills of Headwaters region. The result is an assortment of delectable and original dishes that we are sure will delight you.
Guests of the Ecology Retreat Centre, whether dining for breakfast, lunch or dinner can always expect an extraordinary taste experience. Everything is homemade, with an emphasis on using locally sourced, seasonal and wholesome ingredients as much as possible. We continually strive to bring you food that is good for you and good for the community.
Our main fare is vegetarian. We can also prepare tailored diets including gluten free and lactose free. If a group prefers meat or fish then that can easily be arranged upon request.
Directions
Directions from Toronto: Easiest/Most Direct Route
- From Hwy 401 go North on Hwy 400
- From Hwy 400 exit onto Hwy 9 (to Orangeville)
- Drive West on Hwy 9 for 32 km to Airport Rd (at Mono Mills, traffic light)
- Go North (right) onto Airport Road and continue for 7km
- Turn West (left) onto Hockley Road (aka Dufferin County Road 7) at the yellow flashing light
- Drive 2.5 km to the Ecology Retreat Centre sign and turn South (left) up the driveway
- The first building on the right is the Dining Hall, parking is on the left.
Reviews
Write a review - tell others about your experience.
Teacher
The heart of all spiritual teachings is simple:
Be love, be peace, be harmony, be compassion, be joy.