About This Center
Welcome to Tambo del Caminante
- Sacred Valley of Perú -
Journaling the Journey
— exploring peace and tranquility the Tampu way —
In the Sacred Valley of the Inca
an ecofriendly lodge…
peaceful and comfortable…
catering to your adventure and spiritual needs…
serving organic, locally sourced, home-made food…
For Journaling Your Journey in the heart of the Sacred Valley!
Tambo del Caminante is a one-of-a-kind tampu (Quechua, inn), catering to the discerning traveler. Our lovely bed & breakfast-style small hotel is located in the heart of The Sacred Valley, just outside of Cusco in the hamlet of Huarán, next to the Vilcanota/Urubamba River amid breathtaking mountains at the foot of the mighty Pitusiray Apu.
Tambo del Caminante is a contemporary concept of the traditional b&b, built with locally sourced natural materials, designed and managed with eco-friendliness and sustainability in mind. Our goal is to offer the guest looking for a unique lodging and learning experience a family-like, highly personalized service achieved through the vision and dedication of its owner, your host.
With this in mind, Tambo del Caminante offers only six rooms, furnished and decorated to maximize the experience of your stay in this sacred valley, making it as comfortable and peaceful, significant and enjoyable as possible, in order to journal your journey and share it with others.
At Tambo del Caminante we cater to your individual wishes, offering both a selected palette of adventure, body and spiritual activities. There is something for everyone—from beginners to the most experienced. Trekking, Cycling, high-Andean lake Kayaking, Horseback Riding, … the offering is guaranteed to fulfill everyone's sense of adventure. If deepening spirituality is what you are seeking, novices to seasoned practitioners will appreciate our Andean Ceremonies and Initiations, Energy Body Work, Yoga, Flower Essences, Meditation and more.
Imagine a possibility… We will endeavor to make it happen!
It will be our privilege to meet and serve you.
If you have any inquiries, please do contact us!
Munay-ki
He has had the luck of knowing the Tambo and it is an incredibly wonderful place, surrounded by mountains and the beautiful hill, inner peace, they received excellent in the stay, the rooms are very comforting, I recommend the Tambo for the lovers of the nature and to live a great experience in the sacred valley. -Max
Accommodations
We have 6 rooms, each private, with private bathroom, includes towel, soap and bedding.
In the same we have 3 rooms with 2 single beds, 2 double king rooms and 1 quadruple bed.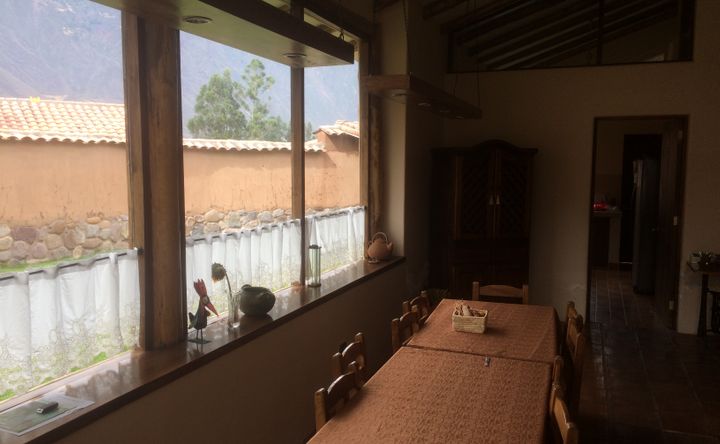 Amenities
Free Wifi
Towels
Free Parking
Kitchen
Coffee/Tea
Cafe
Yoga Studio
Directions
To get to our home from the Cusco airport, you can take a taxi approximately 1: 30hs.
The cost can vary between 50 and 100 pen.
Or there is also the most economical option you can go from Cusco to Urubamba by bus for 6 peninsula and then from Urubamba to El Tambo a taxi for 20 pen.
Tambo del Caminante km 57.400 road urubamba- calca.
If you are in Urubamba or Calca we can pick it up
Reviews
Write a review - tell others about your experience.
Teachers
"In the infinity of life where I am,
All is perfect, whole and complete,
I no longer choose to believe in old limitations and lack, I now choose to begin to see myself
As the Universe sees me --- perfect, whole, and complete." Louis Hay