About This Center
NEW LIFE AYAHUASCA
Costa Rica Ayahuasca Retreat
New Life Ayahuasca offers 5 and 7 day ayahuasca retreats. Our mission is to provide compassionate retreat program options to others who are seeking to restore balance to their lives through spiritual and personal healing. Our retreat includes ayahuasca ceremonies, Kambo(optional), yoga, a massage and a trip to the beach or waterfall. Spacing is limited for ayahuasca retreats to 8 participants per week to be sure we can provide individualized attention and support during such a personal and profound experience.
Ceremonies and Guide
In an era where the word 'shaman' gets overused, authenticity and true intention are hard to find. At New Life Ayahuasca, you're in good hands. Since 2014 Matthew has been traveling to Peru, learning the Peruvian traditions and completing plant dietas under the guidance of his teacher and world renown shaman Don Ron Wheelock, also known as 'The Gringo Shaman of the Amazon'. Our intimate ceremonies are performed with respect to the traditions that have surrounded the use of the sacred medicine ayahuasca for centuries. Matthew is our resident ayahuasquero. While he would never refer to himself as a shaman, Matthew's intentions and passion in his work are unparalleled. There is no question of his integrity or his sincerity in his mission to help others. His presence during each ceremony is strong and grounding. Matthew sings Icaros, plays the gong, guitar and drum to help guide the participants' experience. He is supported by his wife, Jeanae, who plays the flute and acts as sitter for the experience.
Facility and Grounds
Our beautiful facility located in the mountains of San Ramon, Costa Rica, is secluded on a lush 20 acre property about an hour from SJO airport. All guest receive a private room and full bathroom equipped with hot water. Guests are invited to use our pool, hot tub and gym anytime during their stay. Our property is filled with lush vegetation, fruit trees and trails perfect for nature walks. Our facilityalso offers a comfortable back patio with incredible views of the Nicoya Gulf on the Paclific coast of Costa Rica, perfect for watching the sunset.
Therapies
New Life Ayahuasca offers additional therapies to promote maximum healing during your retreat with us. We believe in combining plant medicines with holistic therapies to achieve a healthy balance of energies and to support tranquility, peace, and growth. Therapies we offer include Kambo, massage, yoga and sound therapy. Our goal is to integrate each of these additional therapies into our ayahuasca retreats, with the hope that they will help each individual prepare physically and mentally for the ayahuasca experience .
Kambo
Kambo, also called Sapo or 'frog poison', is a natural non-psychedelic medicine made from the secretions of the Giant Monkey Tree Frog from the Amazon and is used to treat a variety of ailments. One kambo session is included in every retreat and is a great additional cleansing process during an ayahuasca retreat. The connection between Kambo and Ayahuasca is special – being that the spirit of ayahuasca is what, according to legend, brought about the knowledge of Kambo use and its incredible benefits.
Travel
Costa Rica is the perfect destination for a healing retreat. Not only is Costa Rica the safest country in Central America, but it is said to be home to the happiest people in the world, with the country motto "Pura Vida" which translates to 'Pure Life'. Flights are only appx. $500 round trip from the US, and we provide complimentary pick-up at SJO airport, making the transition to our facility stress-free. Our location in the mountains also provides comfortable conditions with temperatures averaging around 75-80 during the day and 65-70 at night.
Powered by Froala Editor
It's very difficult to describe what an amazing experience this was. Matt and Jeanae make you feel right at home upon arrival to their beautiful property. The rooms are amazing and very comfortable, and the view from the back porch every morning is breathtaking. Overall just a very positive energy surrounds this place and I instantly fell in love with it.. The ceremonies are unbelievably astonishing. Matt guides you through this intense experience with absolutely amazing Icaros, Gong, Drum, and Guitar. He becomes one with this medicine during ceremony, and it left me speechless. You can tell he puts 100% of his energy and passion into this, and I hold the upmost respect for him. Jeanae also plays the most beautiful sounding flute I've ever heard, and her presence during the ceremony is very soothing. Matt and Jeanae are very genuine and sincere people and I'm very grateful for what they have done for me. I cannot wait to go back!...Oh and Chopper is the coolest cat you will ever meet! - Sean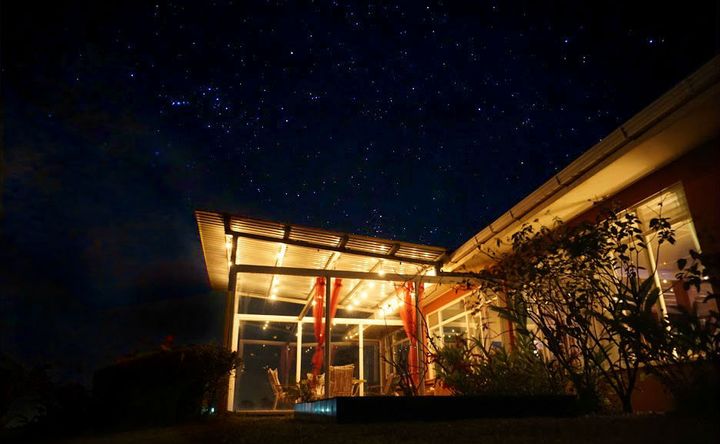 Venue Highlights
We provide complimentary pick-up from SJO airport on the start day of the retreat at 2pm. Our 20 acre center property in the mountains of San Ramon, Costa Rica. We have beautiful panoramic views of the Nicoya Gulf. Guests have unrestricted access to our large indoor pool and hot tub as well as hiking trails surrounding the property.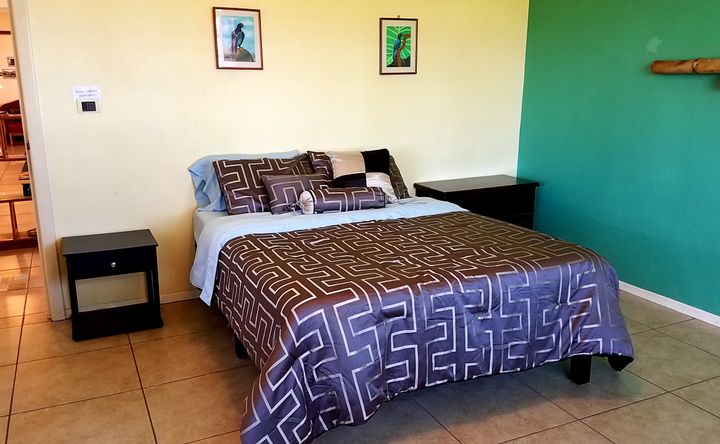 Accommodations
ALL ROOMS
- Private
- 1 Queen Sized Bed
- Full private bathroom (toilet, shower, sink, hot water)
- Towels and Basic Toiletries provided (shampoo, conditioner, soap)
Amenities
Free Wifi
Pool
Towels
Free Parking
Kitchen
Hot Tub
Coffee/Tea
Yoga Studio
Ceremony Space
Menu Types
Vegan
Vegetarian
Organic
Dairy Free
Nut Free
Menu/Cuisine
FULL BREAKFAST - local fruits, bread, organic jam, eggs, oatmeal
FULL LUNCH (non-ceremony days) - A balanced vegan meal with protein and local vegetables.
SOUP LUNCH (ceremony days) - 2 soup options
FULL DINNER (non-ceremony days) - A balanced vegan meal with protein and local vegetables.
Reviews
Write a review - tell others about your experience.
Teachers
Body, like the mountain
Heart, like the ocean
Mind, like the sky. Dogen