About This Center
This hidden paradise is situated on the north coast of Bali directly on a wide beachfront on the Indian Ocean, in Bondalem – Tejakula. Far away from the main tourist stream, where you still find the island of the Gods in its traditional, spiritual and magical variety. It is in the middle of an exotic garden, an oasis with tropical fruits, flowers and coconut trees. This guesthouse is with its generous antique furnished rooms, a perfect place for people who are looking for relaxation and stillness, a place for people who are longing for something unusual.
Our regular Retreat-Weeks start every Sunday and last 7 days. You can book a seven day Retreat Week or combine our different Retreat Weeks. We recommend our guests a stay of 2-3 weeks to get a deep benefit out of our retreats.
Yoga Holiday Week
Ayurveda Retreat Week
Healing-Energy Week
Daily Yoga sessions and Meditation are part of the retreats, as well as consultations and Spa treatments with different healing, relaxing and rejuvenating massages. Aqua-Healing (a combination of Watsu and other forms of aquatic bodywork) in a solar heated pool (35°C) is a blissful way to experience deep relaxation and stillness. Prana Veda's delicious and healthy food is partly grown in the own organic garden. Swim and snorkel at the colorful reef in front of Prana Veda, enjoy a trip with a local fisher boat for watching dolphins or discover temples, volcanoes and waterfalls on a day trip. Prana Veda is a place to fall in love with yourself and discover the magic of the island of Gods.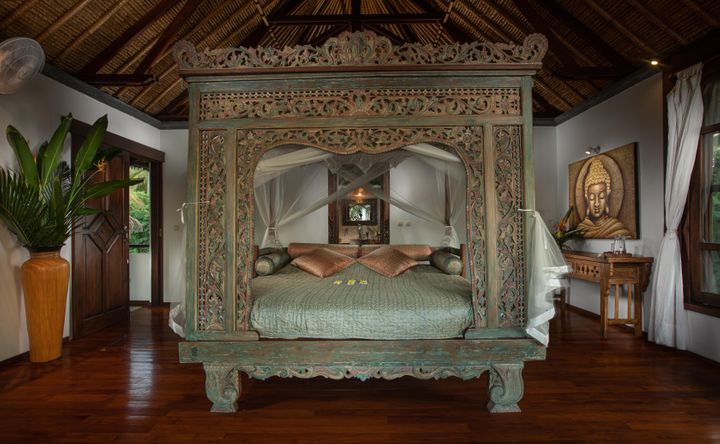 Accommodations
The Main House of Prana Veda Sanctuary has 5 guestrooms.
The Orchid Room – a beautiful garden level air-conditioned room, ocean view, double bed (2x2m) with mosquito net, single bed (1x2m), dressing room and a natural stone bathroom with hot water and a 40 m2 terrace with sitting area and hammock.
The Jasmine Room – a beautiful garden level room with ventilation, ocean view, double bed (1,80x2m) with mosquito net, single bed (1x2m) with mosquito net, natural stone bathroom with hot water and a 40 m2 terrace with sitting area and hammock.
The Sunrise & Sunset Room – two beautiful rooms on the 1st floor, next to the Yoga and Meditation room, with an antique bed (1,40x2m) with mosquito net and a magnificent view across the ocean and a natural stone bathroom with hot water.
The Sunset room has one additional bed (1x2m).
Lotus room – a small (9 sqm) single room with with private balcony overlooking the garden and ocean, single bed (1x2m) with mosquito net, fan and bathroom with hot water
All rooms of the main house have wooden floors and are furnished in Balinese and colonial style with antique furniture and decorated with Indian silks.
The Gecko House has 2 small (9 sqm) rooms with small terrace.
Gecko I with single bed (1x2m), mosquito net, fan & bathroom with hot water
Gecko II with double bed (1,60x2m), mosquito net, fan & bathroom with hot water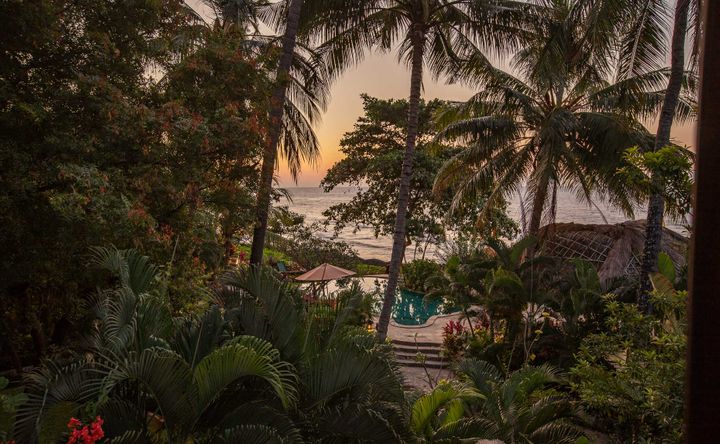 Amenities
Free Wifi
Spa
Pool
Towels
Free Parking
Tour Assistance
Coffee/Tea
Restaurant
Yoga Studio
House Keeping
Menu Types
Vegan
Vegetarian
Pescetarian
Ayurvedic
Meat
Organic
Gluten Free
Dairy Free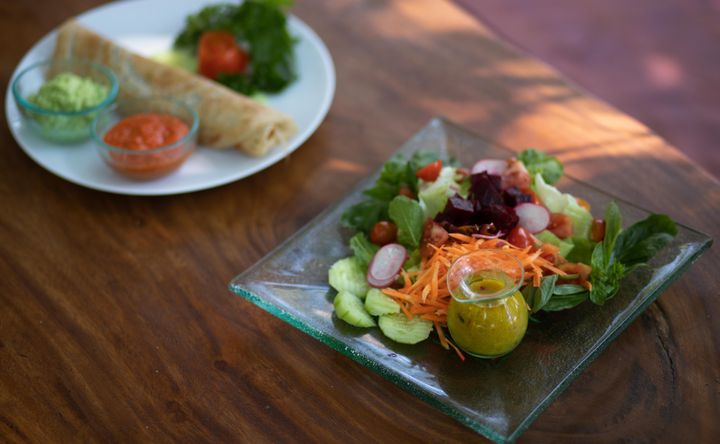 Menu/Cuisine
Prana Veda's highly appreciated organic food and delicious dishes as well as the sharing of meals in community contribute to the overall wellbeing and contentment of our guests. Our tasty food is prepared with herbs, salads, vegetables and tropical fruits partly from our own organic garden and from the local market. It is a synthesis of heath aspects and indulgence.
All our food is prepared in a healthy way and our salads are washed in purified water. We have homemade yoghurt and jam from our tropical fruits, home baked bread and fresh fish directly from the fishermen.
We serve lactose- and gluten free meals as well as vegetarian and vegan food upon request. If you have any food intolerances we adapt your meals accordingly. We can also prepare Ayurvedic health food according to your needs.
Your meals can be served on your private terrace or in the restaurant – a Balinese Bale – by the pool and ocean. You can choose from a Western or Ayurvedic breakfast. For lunch and dinner we will treat you with delicious traditional Balinese, Thai and Italian dishes.
You can book our Retreat Weeks also as Detox-Weeks.
You can order special coffees, cakes, and fresh juices from fruits, vegetables and healing herbs. Mineral water, a variety of teas, Bali coffee and fruits are included in the room price.
As many of our guests asked us about the delicious recipes of our Prana Veda kitchen, we decided to create a cookbook in 2015. It includes the vision of Prana Veda, our philosophy of life and lots of tasty Balinese recipes. Recently, our cookbook is also available as an english version and you can order the book with us via email.
Parts of our fresh ingredients are harvested from our fruits and vegetable garden, which was created using permaculture principles. In order to have as many organic ingredients as possible from our own garden, we are continuously working on its improvement. Our gardeners passionately take care that the flowers are blooming and the fruits and vegetables are thriving well. In the afternoons, our chef is harvesting fresh organic vegetables, herbs and spices for dinner.
Directions
The nicest trip is to drive through Ubud – Kintamani – Tejakula – Bondalem. It takes 3 hours from the airport and 2 hours from Ubud.
The journey goes through beautiful rice fields, artisan villages as well as volcano and plantation landscapes.
From Ubud you are driving north via Kintamani; a few kilometers after Kintamani (in the village of Desa Dausa) turn right (follow the signs to Tejakula / Bondalem); thus, don't follow the course of the main road, which goes to the left; follow the signs to "Shambala", "Bali Mandala" or "Bondalem Beach Club". In Tejakula at the coastal road (T-crossing) turn left; the next village is Bondalem. In the village at the crossing of the temple and the market (Pura Bale Agung) turn right towards the sea (follow the signs "Shangrila" or Bondalem Beach Club"; follow this road until its end; you will find Prana Veda directly by the sea at the left side.
Reviews
Write a review - tell others about your experience.