About This Center
Pachamama Temple is a Traditional Ayahuasca Healing Center located in Pucallpa, Peru. We offer 7 and 12 day Ayahuasca Retreats led by experienced Shipibo shamans who work together with carefully selected and skilled western facilitators. We provide a genuine, caring and safe environment for Guests who want to work with this sacred medicine. The Temple also offers longer stays for those who are interested in a more in-depth study of the medicine and Shipibo culture.
OUR MISSION
Pachamama Temple was created to meet the modern challenges and growing demands of a world in need of healing. Humanity is awakening and reaching deeper into the ancient cultures to learn the old paths of wisdom and connection to the natural world. We believe that modern western culture and the ancient tribes need to learn from and support each other. Our mission is to create an environment where knowledge, education and traditions are shared freely for the benefit of all.
SHIPIBO SCHOOL - CARING FOR FUTURE GENERATIONS
Our vision at Pachamama Temple goes beyond the genuine desire to help individuals heal and grow. Through the healing that we have received on personal levels, we have developed a sincere calling to help the local community and their children, for without them and their ancient knowledge, none of the healing would have been possible. We have our hearts and souls in the project SOI KANO - first Shipibo school of it's kind. The school was built on Pachamama grounds and provides free education for new Shipibo generations. It is an institution that enables the magnificent culture and profound plant medicines knowledge of the Shipibos to carry on. The School project used to be a dream and now has 30 Shipibo children attending it regularly.
WHY CHOOSE US?
In Pachamama, we are a group of individuals who do this work sincerely, from our hearts and with love. Our only motive is to be in service of the Medicine and help those in need of healing, just like we were helped sometimes before on our journey. Many Ayahuasca Retreats in Peru are owned solely by business-oriented Westerners who often keep most of the profits for themselves. Pachamama Temple works closely with the local community and our healers have a big share in the organization and are proud owners of the land that the Temple is built on. We don't just employ these remarkable people. Instead we have decided to work with them on a basis of equality. Pachamama Temple is built in the Shipibo homeland which means our Shamans don't have to leave their families and loved ones for months at a time just to make a living in the jungle of Iquitos.The location of our temple was chosen by Maestros themselves, and wholeheartedly embraced by our common vision. The attraction of deep jungle nature might not be fully present at Pachamama temple, and occasionally we might experience some noise and light pollution from the neighbouring Pucallpa and surrounding villages.
We realise that there is a tendency to approach an Ayahuasca retreat as a means of escape from our busy lives and problems. We want to cut ourselves out from everyday life, close our eyes to all surrounding problems and issues, hide deep in the jungle and dive into our psychedelic journey to the unknown! We immerse ourselves into the beauty of nature and jungle life, we glorify fascinating Shipibo people as forest spirits, free from problems and life struggles, living in harmony with nature, with their environment, and deeply in peace with themselves. This is far from reality and in Pachamama, we decided to take more of a "cold shower reality check" approach to our healing. After visiting our Maestros in their real environment for the first time, we discovered the reality that most of Shipibo people (as well as the rest of Peruvians in Pucallpa) live in. Poverty, lack of basic hygiene and means to provide for their families is the daily existence for these people. Despite their limiting circumstances, they still find the strength to face every day with love, joy and laughter, and provide healing to all those in need.
Hiding this reality behind exotic leaves and flowers of the thick jungle getaway is, in our opinion, simply an unfair and unethical thing to do. We stayed together to face our common challenges and joys as fellow humans.
In Pachamama we don't hide from shadows and we believe that the same should be applied to our healing path. We offer you a retreat with no boundaries where you can face your deepest self, as well as develop compassion and understanding towards others. Apart from the transparency, our location gives us incomparable ability to dive in to modern Shipibo's life and their environment as it is. We did not take them from their life, we became a part of it instead. We live in the community as a family and offer you nothing less than a home full of love and warmth. Isn't that what Ayahuasca and healing is all about? Isn't that the change in the world we want to see? To stand strong as a community in brotherhood and set our differences apart? Honest and supportive to our neighbours and friends, in exchange for their wisdom and healing. We would like to be clear that in all stated above, we do not wish to disregard or criticise other retreats as many of them offer legit and beautiful spaces in nature including the deep work with plant medicines, and for many, that might be the way to go. We simply try to present our beliefs to you in a transparent way and hope it will resonate with your understanding of our modern world and the healing path within it.You are safe and well looked after as healing itself is our biggest motivation. English speaking facilitators are available 24 hours per day with help and support always available if you need it. Our program allows you an individual approach and a lot of personal time with our healers and they are happy to guide you through your Ayahuasca journey.We work with very experienced Maestros. They work as a family and therefore, create a great energy which can be felt during ceremonies. We also have a high ratio of healers to Guests. Each ceremony, all of our Maestros take time to approach every Guest individually i.e. person to person. The healers' most powerful tool is their icaros (sacred healing songs) which they often personalise during this one to one healing sessions. Sitting in front of you, they would also use other techniques such as: blowing tobacco, massage, spraying essences etc, to additionally support your healing process. This means that you will receive a personalised healing from each one of our Maestros at all the ceremonies.Pachamama Temple's Ayahuasca brew is purely made from only Ayahuasca vine and Chacruna plant. There are no other additives as we want to keep the most traditional recipe. Every cup of Ayahuasca we serve to our Guests is cooked here at the Temple and our Guests get the chance to witness and help with the brewing process. During this time, you have a chance to ask our Maestros whatever Ayahausca brewing questions you might have.For the quality of services we offer to our Guests, we are well under the price of other establishments who organise retreats for the same duration. We run this retreat because we believe in a certain set of values, not to get rich. Our main drive and motivation is healing, rather than profit. Our healers, and the rest of our team, are well taken care off financially and we invest in local community projects like our Temple's Shipibo School. Pachamama temple is a genuine and ethical place and we hope you will have a chance to experience our vision and philosophy yourself by becoming a part of Pachamama family.
"it is the journey that is the true destination" ― Rik Boers
Venue Highlights
Pachamama temple represents more than just another Ayahuasca retreat. It is a manifestation of a dream of transformative Plant Medicine healing through balance and sustainability. We provide traditional Ayahuasca ceremonies in Peru as a part of cultural exchange experience. You will receive deep and life-changing healing through wisdom of Mother Ayahausca, as well as a first-hand experience of living with a family of Shipibo Maestros. We have an individual approach to all our Guests and provide various interactive lessons and workshops that will give you knowledge and insights on the life of Shipibo people. In Pachamama, we believe that once the healing starts, it is an unstoppable domino effect and witnessing it happen every day is our biggest reward! Pachamama is a genuine place, our little kingdom of love, and we are a team of simple and humble individuals who have only one dream – make a change in this world by simply giving more.
Pachamama Temple has made a bold step out of the jungle of Iquitos where most Peruvian Ayahuasca retreats take place, and into the native land of the Shipibo people where we strongly feel it belongs. Located in Pucullpa, Peru, our shamans work in their natural, family-like environment where our guests can be provided with the highest level of safety and service. Visiting Pachamama Temple will give you the feeling of visiting the healers in their own home, where they are open, joyful and relaxed.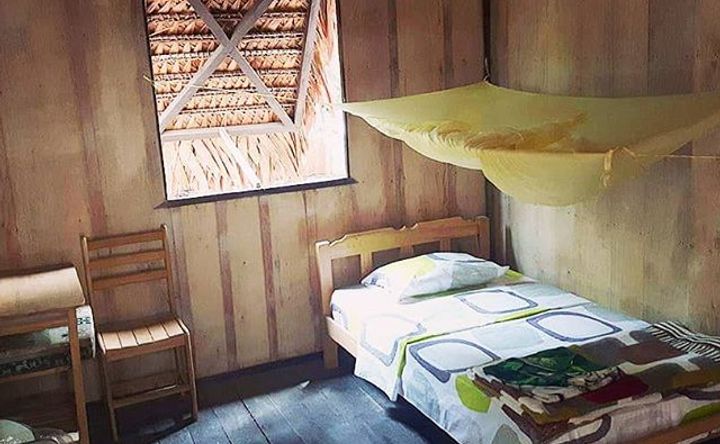 Accommodations
Our Ayahuasca Retreats take place in two Ashram style buildings on the Temple grounds in which all of our guests have a single room for themselves. These simple and rustic rooms are comfortable, safe and protected by mosquito netting. There is a single bed, a desk and a safe box in every room. You can secure the safe box with your own travel lock. There are showers nearby, not more than 50 meters away from your room
Amenities
Towels
House Keeping
Ceremony Space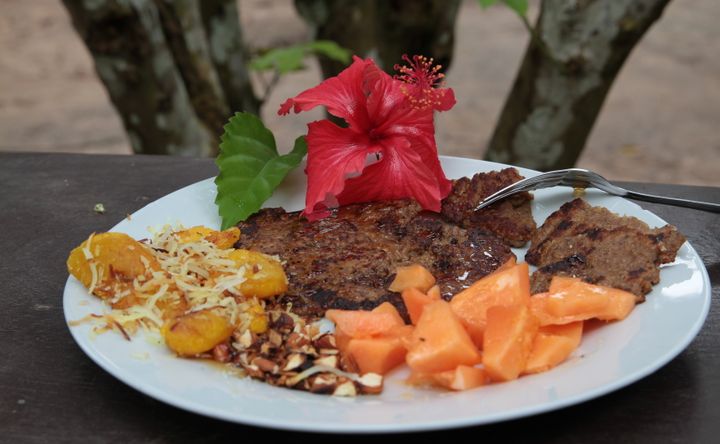 Menu Types
Vegan
Vegetarian
Pescetarian
Meat
Gluten Free
Dairy Free
Nut Free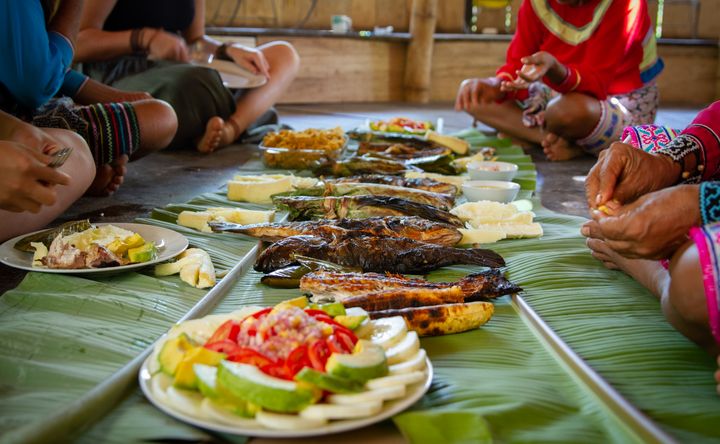 Menu/Cuisine
Our talented cook combines nutritious ingredients with a lot of love and creates food for soul. Our simple meals are prepared with an abundance of fresh fruits and vegetables, and despite Ayahuasca diet being restrictive, dishes in Pachamama are delicious and healthy. We have often been complimented by our Guests that they would come to Pachamama just to have a good meal! Our Shipibo lunch is something that we are very proud of and you will have a chance to taste traditionally prepared Shipibo feast and enjoy it just the way our Maestros do – with fingers straight from banana leaves!
In order to get the most of your Ayahuasca journey with us, please follow the below dietary guidelines:
Please abstain from:
TWO WEEKS BEFORE AND AFTER CEREMONY
Pork
Marijuana
All street drugs (cocaine, MDMA, amphetamine, etc). These drugs in combination with Peruvian Ayahuasca can present a serious danger to your mental and physical health. See our Medical guidelines.
Alcohol
ONE WEEK BEFORE AND AFTER CEREMONY
Salt and pepper. (We recommend a small intake of salt every 3 days).
Chilies or other hot peppers.
Refined sugars and sweets.
Caffeine.
Cacao, cocoa, and chocolate.
Dairy produce, including cheese.
Red meat.
Oils and fats (use very sparingly).
Carbonated beverages (including diet soda), energy drinks, non-alcoholic beer.
Fermented foods (such as tofu, saurkraut pickles, etc).
Overripe, bruised, and dried fruit.
Protein extracts, powdered protein supplements and shakes.
Yeast or yeast-based supplements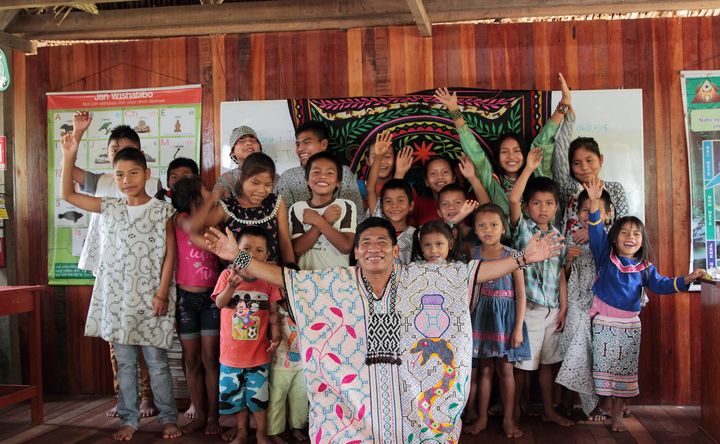 Directions
Pucallpa (which means "red earth" in the native tongue) is located in eastern Peru on the banks of the Ucayali River, which is a major tributary of the Amazon River. Pucullpa still remains quite isolated from the rest of the country by the Amazon Rain Forest and the Andes mountain range. The city is pretty much unspoiled by mass tourism. Here you can still walk the streets without persistent vendors trying to sell you something at every corner. We have found the local residents of Pucallpa to be very friendly and helpful people. We love the place.
DOMESTIC FLIGHTS TO PUCALLPA
Most retreat guests arriving at the Jorge Chavez International Airport in Lima choose to connect their flights straight to Pucallpa, the home of the Pachamama Temple. We do recommend that you leave enough time in between your flights for any delays. You will also want enough time to get your luggage, get to domestic departures and check in again. We recommend that you leave 2.5 to 3 hours between the flights. Pucallpa is easily accessible from Lima, only a little over an hour by plane. There are three domestic airliners that make this commute from Lima to Pucallpa. These are LAN, Star Peru and Peruvian airlines. These flights vary from about US $180 round trip to $300 depending on the airline and how far out you book.
PLANNING YOUR ARRIVAL TIME IN PACULLPA
pucullpa to pachamama temple
When booking your international flight into Peru, its important to keep in mind the time of your connecting flight to Pucallpa. If you are planning to arrive on the day of the retreat, we recommend that you arrive in Lima no later than 5:30 am and make sure your departing flight from Lima to Pucullpa leaves before 8:30 am, as all our guests will be picked up at the Los Gavilanes Hotel in Pucallpa at 11:00 am. This ensures that you have enough time to get to the hotel before the pickup time. The way to get around in Pucallpa is by Motortaxi, which is a kind of tuck tuck. Getting from the airport to the hotel will cost about 8-12 Soles (US$3.00-5.00), depending on your negotiation skills, and will take about 10 minutes.
If you wish to arrive a day in advance, we have an arrangement with the Los Gavilanes Hotel and can provide booking for you at a rate of 105 Soles (US$30-35) for a single room. The hotel will also provide free transport from the airport to all overnight guests. You can find reviews for Los Gavilanes Hotel on Facebook. Please contact us to initiate your booking.
Reviews
Write a review - tell others about your experience.