About This Center
Here Spirituality meets Luxury Wellness
As A Boutique Yoga Retreat & Holistic Center, We Offer A Memorable Experience. Our mission is to add on to the global shift in consciousness, health, and wellbeing so that we, as humans, can awaken to the glorious life.
In times where many are looking for more self-awareness, spiritual connection, and true empowerment – we come to serve and share our wisdom.
We offer a safe process of self-discovery for those who have small and big experiences with yoga, meditation, and spirituality.
Bliss Body is exclusively dedicated to the promotion of awakened life. Beyond providing transformational experiences, we aspire to become a place of self-discovery and spiritual enrichment.
Our priority is a high level of teachings, nature-inspired surroundings, as well as experienced and humble guides and facilitators.
Venue Highlights
The lovely and ultra-private villa is nestled in the Balinese foothills beneath the very small, traditional village. It is set at the jungle's edge, atop a vast amphitheater of rice paddies cascading down into the deep gorge of the holy river. The villa complex commands a panoramic view of a distant ridge of nine ancient volcanoes.
Matching this iconic essence-of-Bali view, the villa itself is equally enchanting. It was created as a stylish, spacious and comfortable family home and is clearly cherished; bursting with character and personal touches.
Accommodation is designed with lovely panoramic views of rice paddies, jungle, and mountains. The master suites have a king-size bed with a wrap-around terrace and glass windows that allow you to enjoy most of the outside beauty. The en-suite bathroom has a custom-made bathtub, hand-carved from a giant tree and overlooking the rice paddies.
The living and entertainment areas are separated via the infinity pool that runs between through the house. A small wooden bridge is used to cross over. The living area has a comfortable seating space to relax and enjoy the rustic surroundings.
Beyond the villa, sure-footed guests may make their way gingerly down to the river or stroll through the rice fields where colorful penjors flap in the wind to discourage birds, and daily offerings are left at shrines to Dewi Sri, the goddess of prosperity and rice.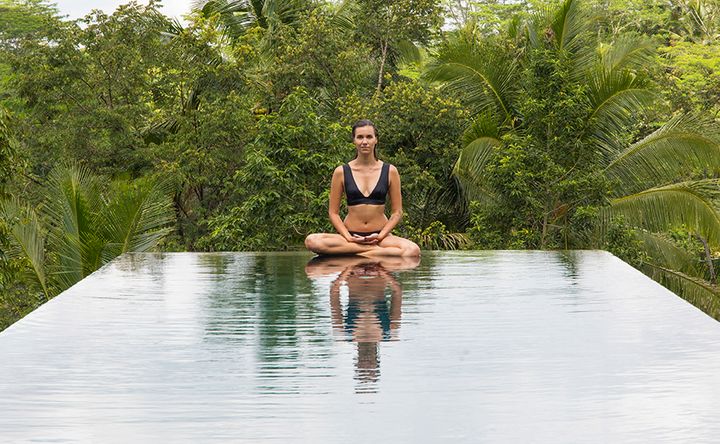 Accommodations
Amenities include
Elegant bath tubes with flowers and natural salts
Organic shower gel, massage oils, shampoo & conditioner, face mask, body scrub
Comfortable queen bed
In-room safe boxes
Chill out and Seminar area
Yoga place with breathtaking views
Free Wi-Fi access
Fusion of modern and traditional Balinese design
Loads of elegant living space
Peaceful & serene atmosphere
Two infinity swimming pools
Stunning master air-conditioned bedrooms
Yoga mats, blocks, straps
Sensational setting and volcano views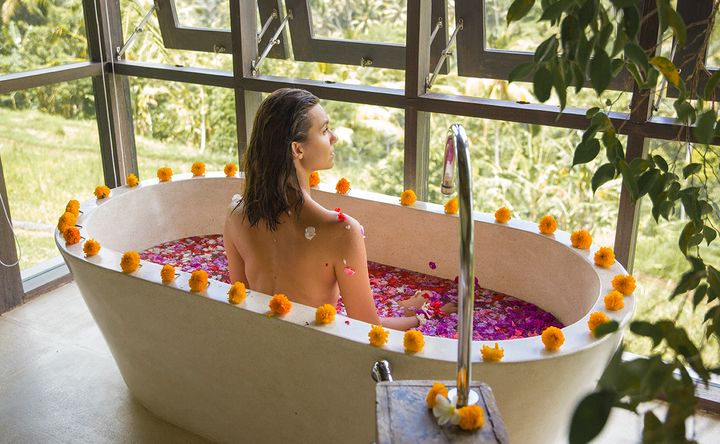 Amenities
A/C in Rooms
Free Wifi
Spa
Pool
Towels
Kitchen
Hot Tub
Yoga Studio
House Keeping
Bicycles
Ceremony Space
Menu Types
Vegan
Vegetarian
Organic
Gluten Free
Dairy Free
Nut Free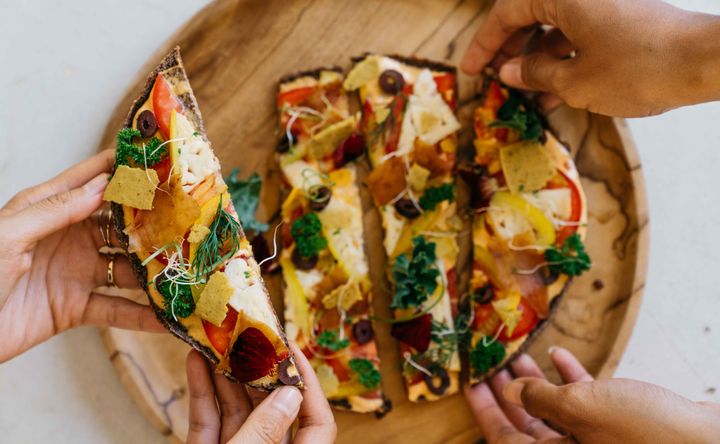 Menu/Cuisine
Bliss Exquisite Food Experience
Whether you're a dedicated vegan or a regular eater, Bliss Body Retreat has something special to offer.
Passionate about the concept "combining delicious and nutritious" our talented chef offers one of a kind gourmet food experience at the events.
Demonstrating the full potential of the high-vibration & plant-based cuisine and a love for sensational food our menu is constantly evolving and innovative. Fusion raw, vegan meals, full of rich taste will not only prove that holistic food can be delicious but also show that there is no need to be vegan to enjoy raw.
We use high-quality, locally sourced and seasonal ingredients that make each dish an explosion of flavors and burst of vitamins.
Our food is healing because the main ingredient we use is Love
Why High-Vibration nutrition is our choice?
We believe that living food has the highest potential for healing one's body and gives perfect results in weight management as well as balancing the nervous system. Eating fresh & organic food during our retreat will raise your energy, your skin will glow, you will feel much more flexible and conscious of your body, mind, and spirit.
We are passionate about eating tasty & healthy food, that's why our special gourmet menu will open new doors for you to the world of healing nutrition.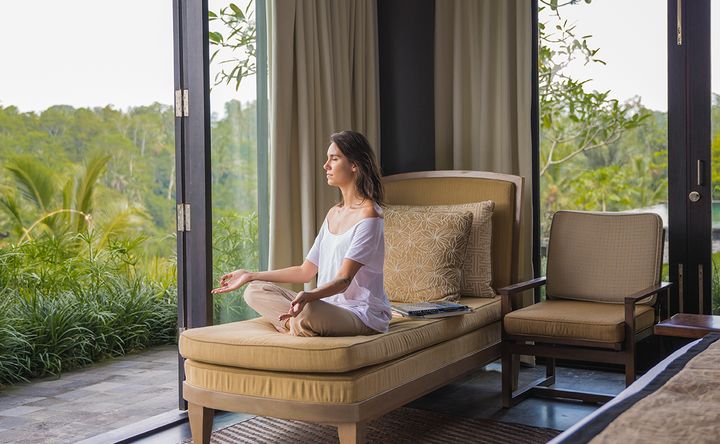 Directions
We offer transfer both ways on and off the retreat venue and it is already included in th eprice.
Reviews
Write a review - tell others about your experience.
Teachers