About This Center
As an eco yoga community set on an organic farm, the Krishna Village endeavours to provide the blueprint of a simple, mindful, spiritually based lifestyle. By allowing our guests to share this experience, we propagate a wholesome (in Sanskrit: sattvic) and sustainable lifestyle that is good for all living beings and conducive to a joyous and loving attitude.
For the last few years we have been developing the Krishna Village from a completely volunteer based farming community to a retreat space for people focused on their personal development and spiritual growth. Staying at the Village will allow you to be immersed in a beautiful community of spiritual seekers from all over the world who are coming together with the intention of sharing their gifts and talents and supporting each others' learning and growth. Rather than providing a scheduled retreat program, we offer a range of classes and activities from which you can pick and choose. Thus, you are able to create your own experience and adapt your activities to your individual needs.
Society at large is becoming increasingly disconnected: more and more people suffer from stress, burnout, fatigue and chronic illness. The happiness that lies in simple experiences like feeling the grass under your bare feet, digging your hands in the soil or sitting with friends around a campfire under the stars has become a distant memory. At the Krishna Village, we aim to create such a space. So take your time, breathe, reconnect to yourself and re-evaluate your life and your priorities. To support you, we invite you to experience:
The simplicity of life on an organic farm
A delicious vegetarian diet
Beautiful yoga and kirtan sessions
Personal growth through meditation and Life Coaching
A peaceful and deeply spiritual temple atmosphere
If you look at the big wisdom traditions of the world, you will notice that certain values have being cherished throughout the ages, across time and space. It is our intention to live true to them and bring them out in ourselves and others:
Love: friendship, kindness, loving service and care for the Divine and all living entities: humans, animals and plants alike
Wisdom: respect, curiosity and open-mindedness, spiritual practice and personal development
Balance: sustainable living, an equilibrium between work, rest and play, giving and receiving
Congruity: aiming to align body, mind and soul, honoring our individual qualities and our personal soul journey
Gratitude: acknowledging the gifts we receive abundantly from the divine, mother nature and those around us
So get ready to slow down, connect to yourself and experience the sattvic way of life!
The spirit of the land here is tangible; a calmness, peace, and feeling of ultimate goodness pervades the atmosphere, and seeps onto your bones. This is a place where the radiant, abundant nature of life is beautifully expressed, in all it's beauty and simplicity. The perfect place to leave the world behind and come home to yourself. - Lili (Melbourne)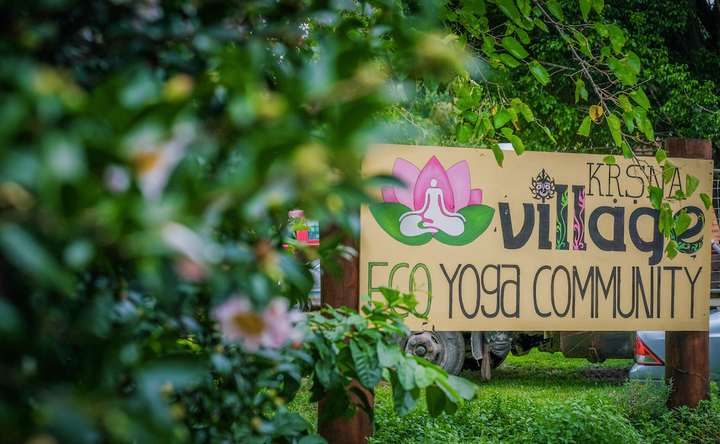 Venue Highlights
Nestled in the foothills of Mount Warning, in the heart of the Northern Rivers of New South Wales, our Hare Krishna Farm "New Govardhana" is a beautiful 1000 acre property with orchards, organic veggie gardens, cows, horses, streams and swimming holes in abundance.
From the moment when you cross the rustic wooden bridge over the Oxley River and pass through the beckoning avenue of trees which comprises the entrance to the farm, you will notice that this Vedic Yoga Sanctuary is a special place and that your soul finds peace and a sense of coming home.
New Govardhana serves as an ashram to a community of yogis who aspire to live according to their deepest vows and commitments on their path of service, spiritual contentment and happiness (Bhakti Yoga). Their service and dedication make this location a beautiful place of growth, healing and spiritual awakening.
Apart from immersing themselves into their spiritual lives, the devotees also run a school, a cow protection program, big organic gardens and orchards, and an infinite number of yogic festivals and retreats throughout the year. In this context, the Krishna Village serves as an outreach program, inviting retreat guests, course participants and spiritual seekers from all over the world and all ages to participate in the farm's activities and experience a simple, happy and wholesome lifestyle.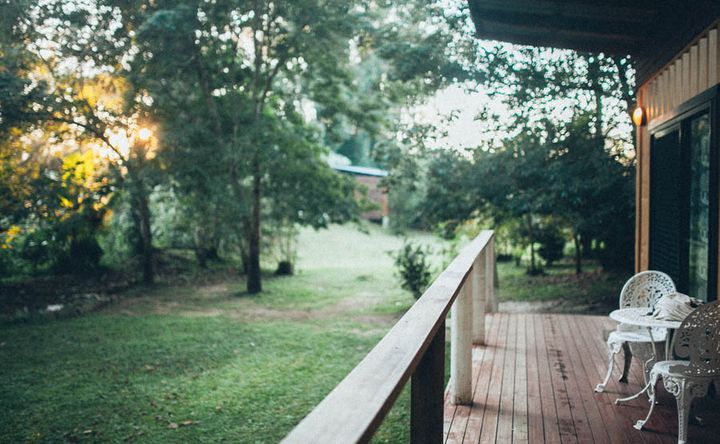 Accommodations
The Krishna Village offers single, double and twin share rooms as well as camping spots for up to about 75 people. All rooms have shared amenities. The amenities block includes showers, toilets and a coin operated laundry (byo laundry powder). All rates include 3 meals/day and all yoga and other classes. Common areas include the kitchen & campfire area (the heart of the Krishna Village), the reading room (with Internet hotspot) and the yoga hall where we gather for classes.
Single, twin share & double rooms
The Krishna Village has 2 double rooms (one big bed), 4 twin shares (bunk bed) and 11 single rooms. They are all set in former shipping containers that have been renovated and turned into simple but comfortable accommodation. Bedding is being provided, but you need to bring your own towels and toiletries.
4-share dorms
We offer a female and a male dorm - each for up to 4 people - and one 3-share dorm. The dorms have bunk beds and wardrobe space for your belongings, and bedding is provided. They are simple, older rooms and about 100m from the amenities block. Dorm accommodation is only available for yoga teacher trainings and permaculture courses.
Camp ground
Set among beautiful mango and lychee trees in our eastern garden, our camp ground can host up to 20 tents and 5 camper vans. The area for the vans is equipped with electricity. The amenities block is only 50m away.
Reviews
Write a review - tell others about your experience.