About This Center
Green Gulch Farm Zen Center, also known as Green Dragon Temple (Soryu-ji), is a Buddhist practice center in the Japanese Soto Zen tradition offering training in Zen meditation and ordinary work. It is one of three centers that make up San Francisco Zen Center, which was founded by Shunryu Suzuki Roshi.
Our effort at Green Gulch is to awaken in ourselves and the many people who come here the bodhisattva spirit, the spirit of kindness and realistic helpfulness. This is how we offer our understanding of Buddha's Way.
Green Gulch Farm is located in Marin County, just north of San Francisco, in a valley that opens out onto the Pacific Ocean. In addition to the temple program of zen and study, it includes an organic farm and garden, as well as a guest house and conference center.
Sundays at Green Gulch
On Sunday, we offer a public program, which includes zazen instruction, a lecture, tea, and a public lunch by donation. Non-resident lay members volunteer with many aspects of the Sunday program. Carpooling is encouraged.
The Study Center
Zen Center's Mountain Gate Study Center offers a variety of classes in Buddhist philosophy and practice. Classes are held on Sunday mornings and on Monday and Tuesday evenings. Sessions of 6 weekly classes are held 5 to 6 times each year and are open to the public.
The Zendo
Traditional Zen meditation retreats (1-day, 5-day and 7-day) are held each month. We suggest that you begin with an introductory sitting. We also hold a number of weekend retreats which include meditation, lectures and group discussion. Some of our retreats are especially designed for families. Click here for more information about formal Zen practice.
Workshops
We offer a variety of day-long and weekend workshops which combine lecture, discussion, and meditation practices.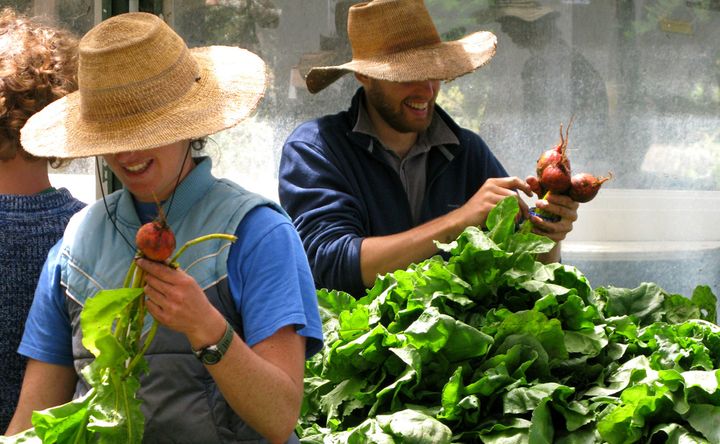 Venue Highlights
Green Gulch Farm Conference and Retreat Center is located in a beautiful coastal valley just a short drive north of the Golden Gate Bridge, in Marin County, CA. Surrounded by hundreds of acres of National Parkland, its organic farm and gardens provide a serene environment for meetings, conferences, seminars, and workshops of up to 30 people.
The Teahouse
A generous donation from a friend of Zen Center enabled us to construct a traditional Japanese teahouse, one of the few such structures in America. Tea classes in the Urasenke tradition are offered weekly. Private viewings of the teahouse and tea ceremonies can be arranged.
Farm and Garden
The Green Gulch garden and nursery are open every day. Classes in organic gardening, pruning, flower arranging, herb culture and related topics are offered throughout the year, and Green Gulch offers an apprenticeship in organic farming each summer.
Staying at Green Gulch
There are opportunities for residential practice at Green Gulch as well as a guest house and facilities meetings and conferences.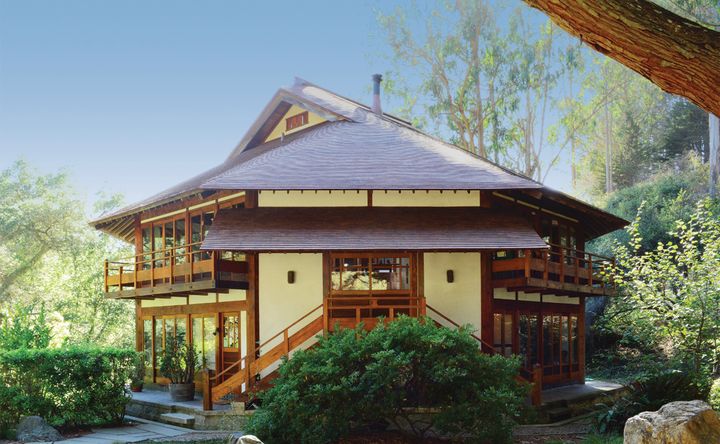 Accommodations
Lindisfarne Guest House
The Lindisfarne Guest House is a distinctive octagonal building with twelve rooms on two floors surrounding a 30-foot skylit atrium. The atrium provides a relaxing skylit sitting area where guests often gather to read or sit with a cup of tea by the fire. The building is constructed in a traditional Japanese style and heated with a central wood-burning stove and passive solar system.
The guest rooms are simply yet comfortably furnished, with large windows opening onto landscaped grounds. Each pair of rooms shares a bathroom and there is a centrally located shower. A sauna with additional set of showers is available in a separate building. The guest house kitchen offers fresh baked bread and jams, as well as seasonal fruit, coffee and tea.
The Wheelwright Center
The Wheelwright Center has four guest rooms directly across from the dining room in the central area. Two of the rooms (A and B) may be combined into a suite. Room C is a small room with a private entrance and shared bathroom. Room D is equipped with its own shower and bathroom and is wheelchair accessible. These rooms are suitable for families and those in need of special accommodation.
Wheelchair-Accessible Room
This new, small, private guest room has its own bathroom and shower, with a double bed for single or double occupancy. It is fully wheelchair accessible and easy to reach from the central parking lot. Specially reserved for our guests using wheelchairs.
Menu/Cuisine
Three organic vegetarian meals, often featuring freshly harvested vegetables from our fields, are offered daily at Green Gulch. With a buffet-style serve-up at 7:15 am, 12:15 pm and 6:00 pm, the dining room is a wonderful place to be nourished and be in community. Meals are included for overnight guests. If you would like to have lunch on both your arrival and departure days, please leave a donation for the extra meal in the box in the dining room.
Directions
1. Driving
Green Gulch Farm Sign Please consider carpooling to Green Gulch. Driving directions are available online at (contact info blocked). Cell phone service is spotty over the last few miles of Highway 1. If you are unfamiliar with the area, please print a map.
Take Highway 101 to the Highway 1/Stinson Beach exit.
Turn left at the Arco station onto Highway 1 (Shoreline Highway).
Follow the green signs for Highway 1/Stinson Beach.
After 2.5 miles the road forks - bear left and down towards Muir Beach.
Continue on for 2 miles. Make a sharp left into the driveway at the large wooden "Zen Center/Green Gulch Farm/Wheelwright Center" sign. (If you find yourself at Muir Beach and the Pelican Inn, you've gone too far. Turn around and go back up the hill. We're on the right, about 1/2 mile up.)
View Larger Map
Parking at Green Gulch Farm is free of charge. To encourage carpooling, "muffin bucks" will be given out by the sangha member collecting parking donations between 8:50 and 10 am on Sunday mornings. These can be used for a dollar off the purchase of the muffins offered at the tea following the Sunday dharma talk.
Note: Due to recently clarified pedestrian and car routes, as well as ADA accessibility improvements, there is less parking overall at Green Gulch. Also, we recommend that you do not leave valuables in your car.
2. Carpooling/Ridesharing
Visit the Rideshare Board online, or join the email group for carpooling to Green Gulch by sending an email to (contact info blocked). You'll be able to easily reach other sangha members who regularly attend the Sunday program. (More information on our Carpooling page.)
3. Transit
Golden Gate Transit offers bus service connecting San Francisco and Marin and Sonoma Counties. The transfer points nearest Green Gulch are the Manzanita Park and Ride Lot in Mill Valley (about 5 miles from Green Gulch) and the Marin City bus stop (about 6 miles away, more frequent and earlier and later service).
To plan transit:
First plan a ride from Manzanita or Marin City (see the next section).
Then go to (contact info blocked) or dial 511 and ask for "Golden Gate Transit" buses.
State your starting point and time.
During commute times give "Manzanita Park and Ride" in Mill Valley as your destination.
Otherwise ask for the Marin City bus transfer point; the address is "Donahue St. and Terners Dr." in Sausalito.
Allow 5 minutes between the scheduled bus arrival and your ride to Green Gulch.
4. Manzanita/Marin City
The Manzanita Park and Ride lot is under the freeway at the junction of Highways 1 and 101 in Mill Valley, just across from the Buckeye Roadhouse. Parking is limited to 24 hours.
The Marin City bus stop is at the Gateway Shopping Center.
Cab fare between Manzanita and Green Gulch is about $30 (add about $5 for Marin City).
5. Airports
The Marin Airporter runs every half hour from 4am-11pm between SFO and Manzanita. The cost is $20 each way (cash and local checks only). Also, the Marin Airporter offers arrangement for taxi service from Manzanita; you can set this up when you board the bus. Reservations for the Marin Airporter are not required. (contact info blocked)
Marin Door-to-Door offers service between Green Gulch and SFO or OAK for $70 each way ($12 for each additional person). Reservations must be made by noon of the day before travel. (contact info blocked)
Cab fare to SFO is about $115.
Reviews
Write a review - tell others about your experience.