About This Center
Our surf and yoga house in Tamraght is the perfect place for couples, friends and solo travelers to relax and chill after surfing and yoga. Our welcoming staff will make you feel part of the family since the first moment.
We offers a Swiss-Moroccan lifestyle living experience with a professional way to approach surf, dance and yoga as a daily sport life. We share all the comforts of a Surf house with the good vibes of our surf camps and the tranquility of a yoga retreat!
We worked hard to create a sustainable surf house, that's why we are an unusually low density accommodation with just 5 private rooms and a shared room for budget travelers.
OUR STORY
We're Abdel and Roberta, the surfer and the dancer, he is moroccan and she is Swiss, a couple who share the same passion for adventure, ocean, sport and good food.
In 2013, after we had quit our comfortable lives and good jobs, we agreed that our dream life would be to live somewhere where we would want to go to work in holiday every day for the rest of our life so the dream of Wave & Dance came to life...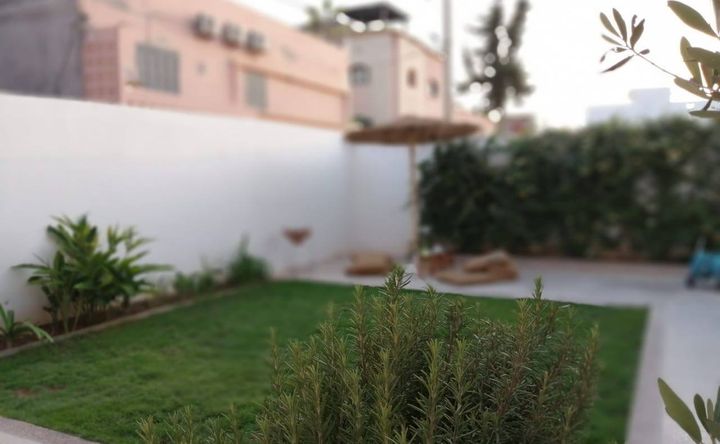 Venue Highlights
Sustainability
Our main goal is to offer a clean, comfortable, safe and unique environment to our guests. In doing so, we also want to be responsible and respectful to our community and nature.
√ We equipped the entire house with led energy saving lamps.
√ We have banned one-way plastic bottles from our camp and we offer filtered water during meals.
√ We use reusable containers for our packed lunch.
√ We install low-flow faucet aerators in all our bathrooms.
√ We add extra warms quilts to private bedrooms and we provide hot water bottles to warm the bed during cooler nights
Accommodations
Rooms
All our rooms are decorated by a mix of souk finds and contemporary Moroccan crafts in a Beldi Moroccan style. We ensure an Eco-friendly environmental, without compromising clean and basic comfort, and offering a unique experience creating an authentic vibe with the help of our guests.
Shared Room
Our mixed shared room is a great option, if you are looking for reasonably priced rooms in our Camp. The room combines traditional Moroccan style with western comforts. There are three bunk beds, with his own reading lamp and electrical outlet and a spacious lock storage for each guest. This room is located on the ground floor with one private twin room, these rooms have a private entrance directly from the garden. Bathroom is shared with a max of eight people which includes a toilet and hot shower. The max occupancy for the shared room is six people.
Privates Rooms with shared bath
Our single rooms are equipped with one bed 90 cm X 190 cm and the twin rooms have two single beds 90 cm X 190 cm for friends or we can push them together at your arrival to make a double room for couples. Bathroom is shared with a max of five people which includes a toilet and hot shower. Each private room is supplied with extras quilts and hot water bottle for cooler nights.
​
Private rooms with private bathroom
Our private rooms have two single beds 90x190 cm that we can make easily a double bed at your arrival. Private bathroom with hot water (the bathroom is door next to the room, not inside, but is used just from this room). In each room there is an useful safe available for guests to deposit valuable items, a wall wardrobe, a large mirror, extras blankets, and a hot water bottle for cooler nights.
Amenities
Free Wifi
Free Parking
Tour Assistance
Coffee/Tea
Cafe
Restaurant
Yoga Studio
House Keeping
Ceremony Space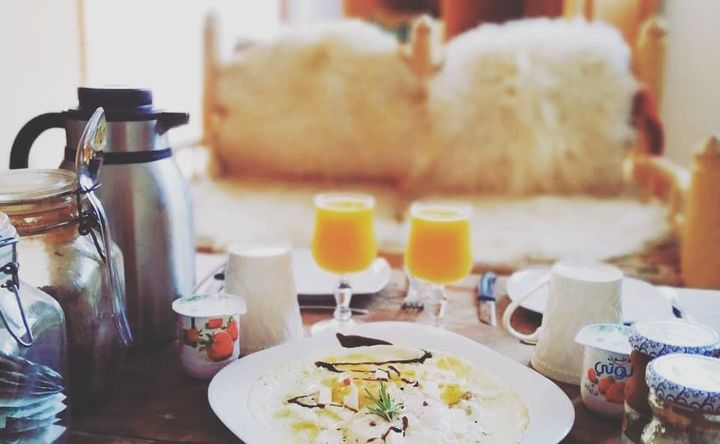 Menu Types
Vegan
Vegetarian
Meat
Organic
Menu/Cuisine
We've put a lot of love to our menu. We believe that a good food experience is the key to an unforgettable surf holiday with us in Morocco. Our menu is a mix of moroccan and western meals with seasonal local ingredients to ensure sustainability and quality. If you are a surfer or yogi food lover, you've found the right surf house in Tamraght! All meals are taken together, generally breakfast is around 9:00am and dinner is served around 7:30pm. We prepare our weekly menu according to what's fresh at the market.
Moroccan Breakfast: Omelette, fruits, amlou, fresh juice, jam and bread
Fresh Packed Lunch: Depends on the day Salad or sandwich with fruits and water.
Dinner: Couscous, BBQ, tagine, batbout night and seffa night .
Options: Vegan and vegetarian friendly :)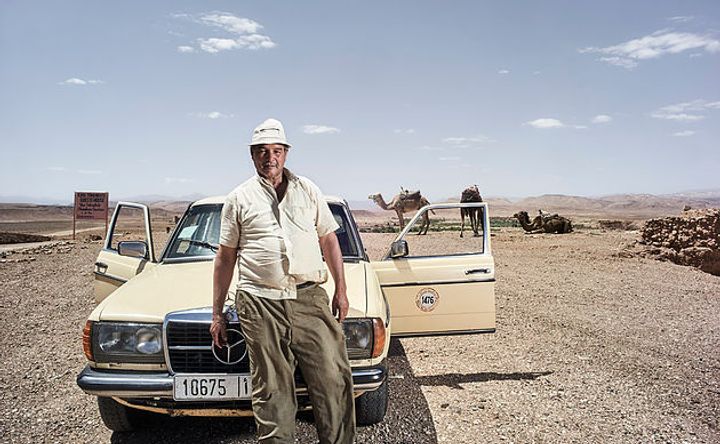 Directions
The closest airport to fly into is Agadir Al Massira (AGA), this international airport is only 45 minutes away from Tamraght. Another option is to fly into Marrakech (RAK) or Essaouira (ESU) and then catch a bus that connect the airport to Agadir city in around 3 hours.
Reviews
Write a review - tell others about your experience.