About This Center
Dharmagiri is a Buddhist inspired retreat centre founded in 2000 by meditation teachers Kittisaro and Thanissara, who trained as monastics in the Forest Tradition of Ajahn Chah. It is on the border of Lesotho and South Africa in the mighty Southern Drakensberg Mountains. It is nestled in Mvuleni-Bamboo Mountain (place of rain, also place of openings.) It is a small centre that hosts mindfulness and insight meditation retreats and educational courses.
We offer silent meditation retreats, inter-active workshops, yoga, and shamanic inspired retreats throughout the year led by a range of experienced teachers who support people in their journey of awakening so they can learn, practice, and deepen their understanding of mindfulness, insight meditation, and other complementary practices. Our intention is to help all beings find more peace in their lives and to live more harmoniously with each other, our communities, and the world in which we all live.
Mindfulness is at the heart of insight meditation. It is the practice of being aware moment to moment, without judgment or clinging, so that we can pay close attention to our immediate experience. With increased mindfulness, we can deepen our understanding of our mind, live more fully present in the moment, and see and discern more clearly in order to allow our a deeper intelligence, wisdom and compassion to guide us.
We live at a time when there a great need to recognise our inter-connectedness with the Earth and all beings. The journey of awakening invites a shift from the dualistic mind, that separates everything out, into our deeper heart, which knows the intimacy of all things. A present, aware and listening heart, attuned to the deeper intuitive intelligence of the Dharma - of life and nature - manifests as wisdom and compassion. When this profound listening is cultivated through meditation, it reconnects us with the awakening process and dynamically informs appropriate response within the world. Rooted in the unmoving ground of being -- unshakeable like the Sacred Mountain – and authentic in our truth, mindful and discerning, we can work towards a more conscious world. Dharmagiri offers pathways to mature this process of awakening while aligning with others who love the Dharma, and who seek to express this love through action.
Please Note - If you booking from within S.Africa and will pay via EFT in Rands, please do not book here, but go directly to (contact info blocked) to make your booking. Thank you.
Have no limits, the teaching has not limits, let your mind be limitless. Master Hua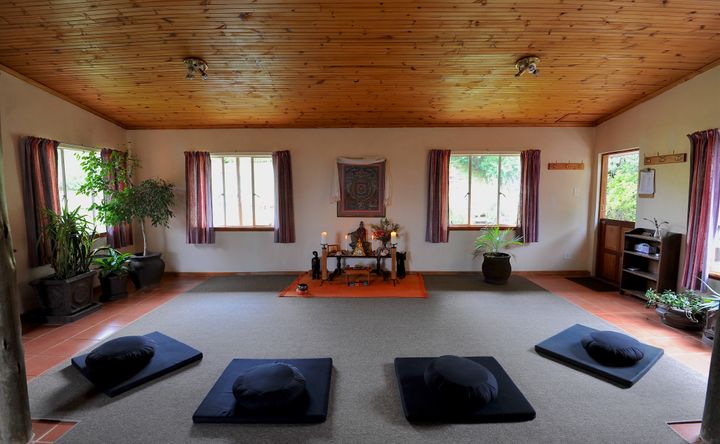 Venue Highlights
Dharmagiri Sacred Mountain Retreat grew out of the influence of its co-founders Kittisaro & Thanissara, who trained in the Thai Forest Monastic School of Ajahn Chah, and who cultivated the atmosphere of Dharmagiri over several decades through hosting and teaching long in-depth retreats that generated a sacred stillness and blessing energy that suffuses the centre.
The core ethos of Dharmagiri is one of simplicity and environmental sensitivity within a fairly intimate space where the practice of authenticity, loving kindness, and care for one another is optimised. Its overarching context is the presence of Mvuleni-Bamboo Mountain and the South Africa-Lesotho Drakensberg escarpment.
Mvuleni (Zulu for "place of rain, or place of openings") Mountain is an ancient sacred site, where many moons ago the Bushman painted their depiction of the rain beast that lives within the mountain who their shamans captured and wrestled to ensure harmonious weather.
More recently, in the early 1900's, a Zulu elder, after a great vision on the mountain founded the Church of Light. Still to this day, disciples come from all over South Africa every few years, women dressed in red, and men with a red lapel ribbon, to climb the mountain for blessings.
Those who retreat at Dharmagiri have access to the powerful blessing presence of Mvuleni, and also the experience of the power of the elemental nature of the mountain weather, it's powerful thunder storms in summer, it's change of light, often magnificent sunsets, spread of bright stars, and feel of wilderness, while being comfortable and secure in one's lodging.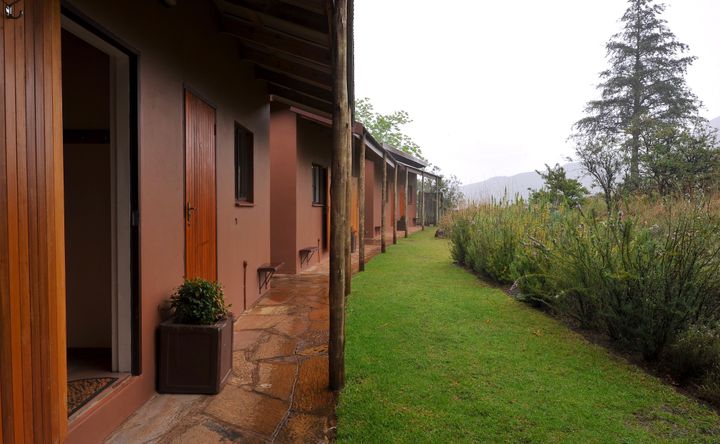 Accommodations
At the moment we can house 12 retreatants (we are in the process of building permissions to add more single rooms.) There are 6 single ensuite rooms, that have a shower and bathroom facilities, a bed, writing desk, and wardrobe. The water is both solar heated and backed up by electricity.
There are also two twin rooms that share a bathroom and shower, and an ensuite twin room.
All linen, towels, and basic requisites are available, including hot water bottles for chilly winter nights.
The main meditation room has yoga mats, meditation shawls, benches, sitting mats and cushions available.
There is a well stocked library with audio Dharma talks.
There are also some books for sale.
While there is no spa on site, there is an up market spa and gym 15k's down the road at the Drakensberg Garden Hotel.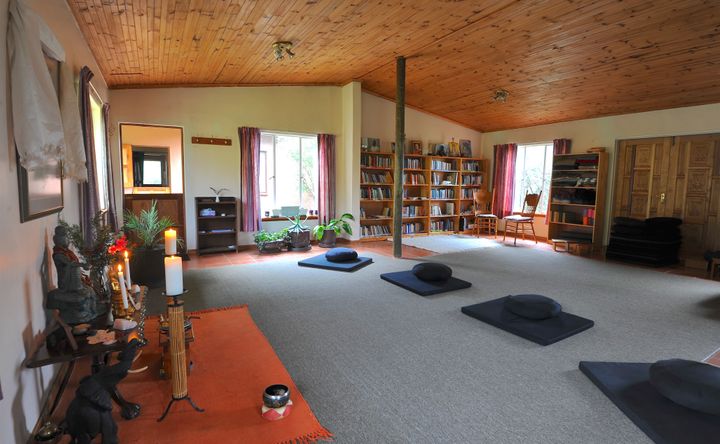 Amenities
Free Parking
Tour Assistance
Coffee/Tea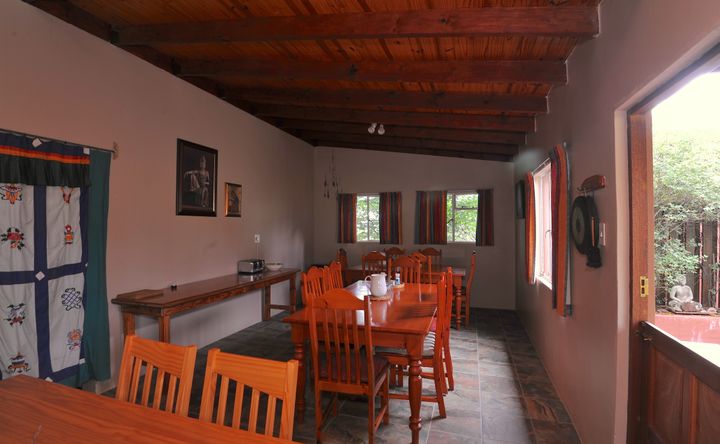 Menu Types
Vegan
Vegetarian
Gluten Free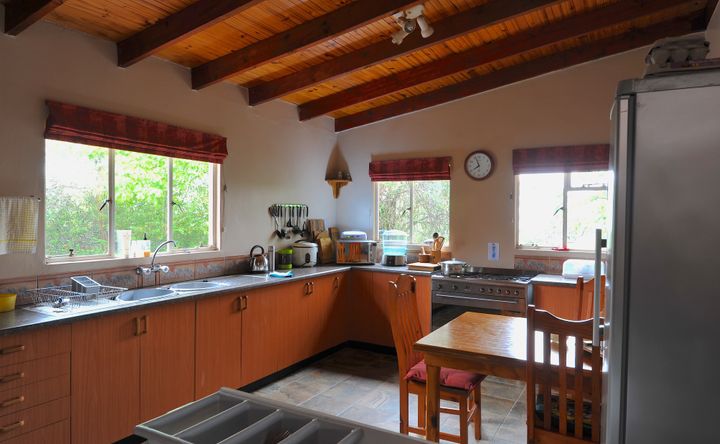 Menu/Cuisine
We offer simple vegetarian and vegan meals. We can cater for gluten free and vegan.
In the mornings we offer African porridge, oats, muesli, fruit, nuts, toast, spreads.
Lunches are a range of veggie / vegan dishes with salads.
Supper is a soup, salads, breads, cheeses, spreads.
Tea, coffee, herb teas, biscuits are available all day at no extra charge.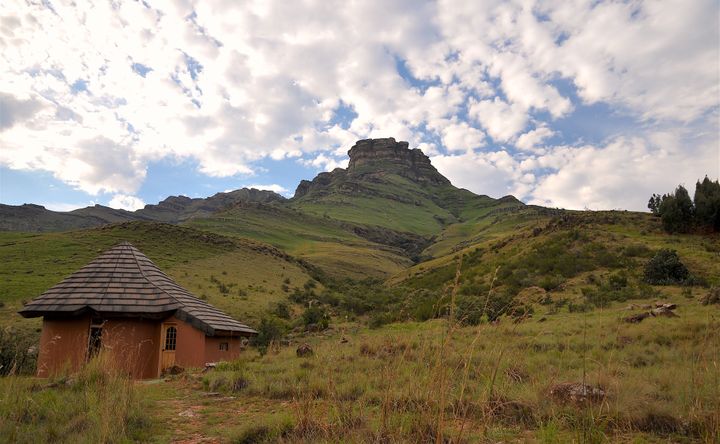 Directions
Our nearest airport is Durban.
You can reach Durban from Johannesburg, it's an hour's flight. (Check Kulula and (contact info blocked) are domestic budget airlines.)
We have a shuttle service that is R1,500 ($130) per person, or if shared by one other, R750 ($65) each, or by two others, R500 ($45) each.
Greyhound buses are also available from all major cities, and many other smaller towns. You need to aim for Howick or Pietermartizburg. The are a very reasonable rate. For example - Johannesburg or Pretoria to Howick, our nearby larger town, is about $30 - $50.
A shuttle from Howick to Dharmagiri is available for about $30.
Post booking for a retreat, the office will help you with your travel arrangements.
Reviews
Write a review - tell others about your experience.