About This Center
Himalayan Vinyasa Yoga School India Certified Yoga Alliance USA offering 100, 200, 300, 500-hour hatha, Ashtanga, Vinyasa yoga Teacher Training courses in Rishikesh India. Vinyasa yoga is considered to be a wider approach to yoga which covers almost all forms and techniques of yoga. The Sanskrit word 'Vinyasa' is referred as 'arrangement'. Vinyasa Yoga teaches us various arrangements of body positions and synchronization of breathing with individual yoga posture in a particular fashion. In Vinyasa Yoga students are coordinated to move from one pose to another yoga posture in sync with the breathing and movements. In Vinyasa yoga breathing is intricately linked with Yogasana and body movements.
The fluid elements of Vinyasa make it special among all forms of stretching, bending and expanding positions. Vinyasa Yoga through our Vinyasa yoga in Rishikesh offers you a perfect harmony of physical movements, breathing, and intellect through various forms and asanas that you often found with Iyengar yoga, Hatha yoga, Vikram yoga, and many such others. Our experienced and energetic yoga teachers will teach you Vinyasa yoga with breaks at perfect positions to explain the benefits with the chord of synchronization. For modern health concern people, Vinyasa yoga can be a real stress-buster with ample of physical movements, cardio patterns and others.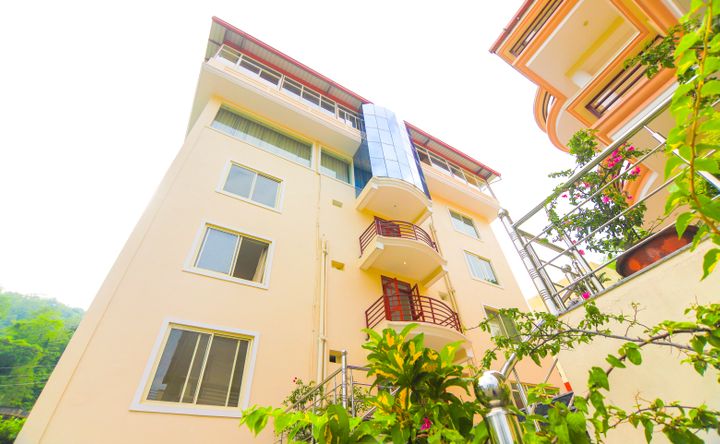 Venue Highlights
Daily yoga classes
Classes suitable for all levels
Meditation and pranayama practices
Certification that eligible to register with Yoga Alliance
Enjoy weekly excursions and outdoor activities
Teaching kit and course-based books
Daily healthy sattvic meals
Neat and Clean Rooms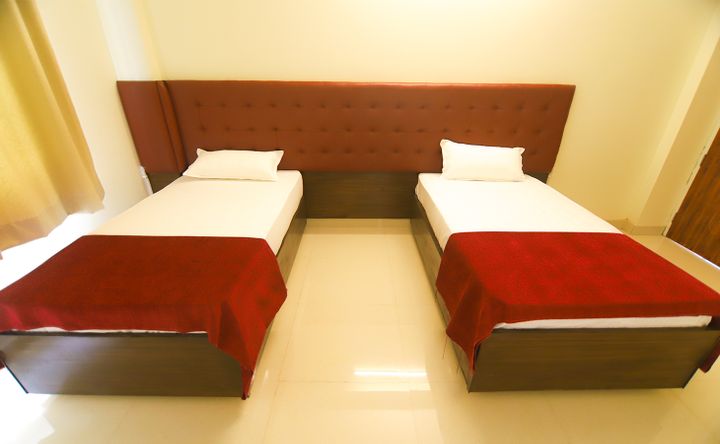 Accommodations
Stay at Himalayan Holistic Yoga School (HHYS) and experience India in a relaxed and peaceful atmosphere with other spiritually like-minded individuals. The school is perfectly situated near the magical waters of the Ganges River and Green Mountains, all the popular shops, markets, and cafes are just around the corner.
Witness glorious pastel-colored sunsets at the end of each day on their terrace/balcony where you are free to do meditation and yoga. Sleep soundly in a quiet, serene atmosphere without disruption. Absorb the beautiful and breath-taking sights of the Green Mountains visible from yoga halls, bedrooms, and balconies.
Wi-Fi access
3 Time meal
2 Time Tea
Hot water running 24 hours a day
Clean, hygienic, and western-style rooms with attached bathrooms
Filtered water system available for students 24/7
Bedsheets, blankets, pillows, and towels are provided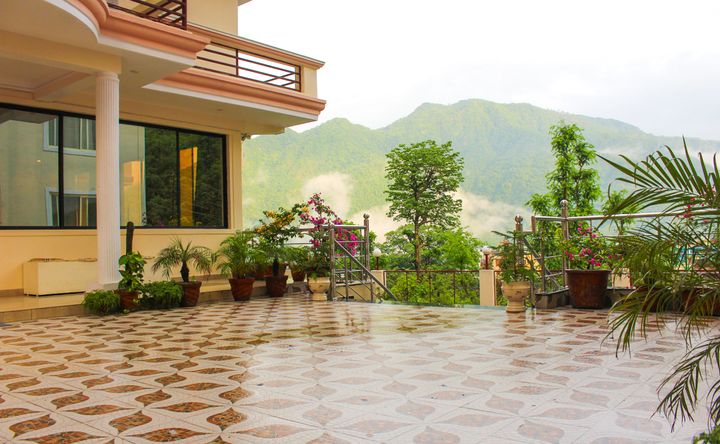 Amenities
Free Wifi
Towels
Free Parking
Kitchen
Tour Assistance
Coffee/Tea
Restaurant
Yoga Studio
Ceremony Space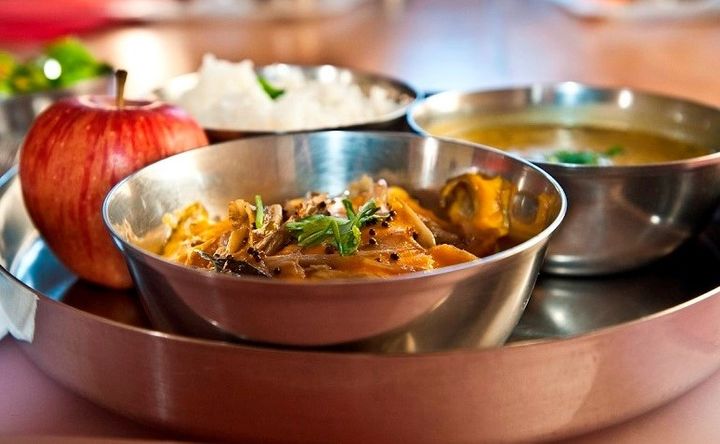 Menu Types
Vegetarian
Ayurvedic
Organic
Menu/Cuisine
During this teacher training program, yogic diet meals will be provided for you by Himalayan Holistic Yoga School Rishikesh. Ayurvedic food is served, completely vegetarian Indian food and full of healing properties. The food is easy to digest and helps in maintaining good health while providing complete nutrition and improving stamina and immunity.
An Ayurvedic diet is an eating plan that provides guidelines for when you eat, what you eat, and how you eat to boost your health, prevent or manage the disease, and maintain wellness. If you follow an Ayurvedic diet, you'll eat primarily whole or minimally processed foods and practice mindful eating rituals.
The diet is based on Indian Ayurvedic wellness systems that date back thousands of years. Some studies have shown that Ayurvedic lifestyle practices (including the diet) can help improve your health. But following an Ayurvedic diet for weight loss isn't necessarily a proven method to lose weight.
The word "Ayurveda" is a combination of two Sanskrit words that mean life (Ayur) and science (Veda), so the literal translation of Ayurveda is "the science of life." Ayurvedic medicine seeks to create a healthy strong body through a series of diet, exercise and lifestyle practices, including sleep and mindful living.
Two-time masala tea will be served one in the morning and another in the evening time. They give proper attention to yogic diet food it's prepared hygienically and with organic properties.
The following meals are included:
Breakfast
Lunch
Dinner
Snacks
Drinks
The following drinks are included:
Water
Coffee
Tea
Detox juices
The following dietary requirement(s) are served and/or catered for:
Vegetarian
Vegan
Yogic
Ayurvedic
Directions
Rishikesh is a city in India's northern state of Uttarakhand, in the Himalayan foothills beside the Ganges River. The river is considered holy, and the city is renowned as a center for studying yoga and meditation. Temples and ashrams (centers for spiritual studies) line the eastern bank around Swarg Ashram, a traffic-free, alcohol-free and vegetarian enclave upstream from Rishikesh town.
Rishikesh is a very safe place for tourists and locals alike. Locals are used to foreigners and things, such as communication, are a lot easier here than other parts of India. Just practice your usual safety precautions and always keep track of your belongings.
Himalayan Vinyasa Yoga School is located at Badrinath Road, Upper Tapovan (near the waterfall), Rishikesh, which is the best place to learn yoga and doing yoga practices in-between nature which is surrounded by highly dense green mountains. The Ganga River is two kilometers far away from the school. In front of HVYS is one beautiful waterfall and it makes a beautiful sound. The cool breeze that flows all around in the early morning and in the evening makes life at the ashram so soothing and comfortable.
Reviews
Write a review - tell others about your experience.