About This Center
What to Expect
The Sivananda Ashram Yoga Retreat provides an immersion experience into the daily practices of a yogic lifestyle. A spiritual sanctuary nestled in the beautiful Bahamas, the yoga retreat offers deeply-rooted teachings of a renowned yoga lineage, as well as a rich tapestry of yoga vacation programs, Yoga Teacher Training Courses, residential study programs, beginner courses, cleanses, professional trainings in yoga and the healing arts, and more.
Story and Offerings
Established in 1969 by Swami Vishnudevananda in the name of Master Swami Sivananda, the yoga retreat is a spiritually supportive environment for active learning and profound healing — presenting a balanced approach to yogic living and spiritual study. The daily schedule includes meditation, breathing practices, yoga asanas, and balanced vegetarian diet.
The yoga retreat's 280+ programs per year often renowned presenters from around the world, teaching about diverse topics such as Ayurveda, healing modalities, science, sound, kirtan, yoga philosophy, spirituality, and more.
Who Visits the Yoga Retreat?
Ashram guests also embody the ashram's foundation of "unity in diversity," visiting from different countries, speaking diverse languages, and sharing their many walks of life. To accommodate for the wide variety of visitors, the ashram offers assorted program options for newcomers, returning guests, solo travelers, couples, friends, and families.
Some guests come to learn yoga for the first time, while others simply seek a holistic beach vacation to rejuvenate and refresh. Many people join the 28-day Yoga Teacher Training Course to deepen their own personal practice or become a yoga teacher ... and others opt for an even longer stay in a residential study program. Returning guests often set a new intention with each visit, trying out workshops, cleanses, experiential courses, and professional trainings.
Relaxing Beach Location
Located on Paradise Island, the ashram is ideally situated with the pristine beach just a few steps away. Guests can conveniently visit the beach and swim from sunrise to sunset. The turquoise blue and crystal clear waters are a swimmable temperature year-round, cooler in the winter months and warmer in the spring and summer.
More Information
If you're searching for a tropical paradise yoga retreat for an immersion into the yogic lifestyle, visit the Sivananda Ashram Yoga Retreat Bahamas.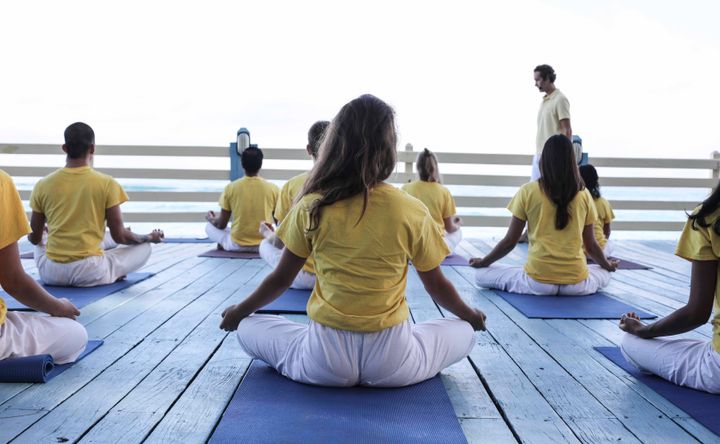 Venue Highlights
The Sivananda Ashram Yoga Retreat is a 30-minute taxi ride from Nassau International Airport (NAS) and a 5-minute boat ride across the bay to Paradise Island.
Package options are available. Meals are included in all packages.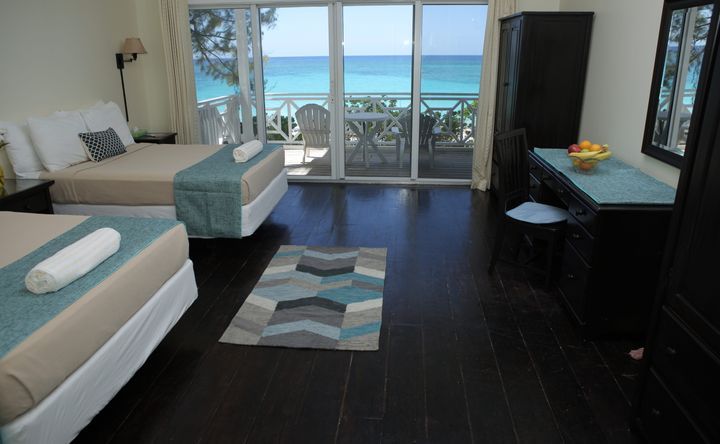 Accommodations
Our housing options are designed for a range of budgets and personal needs and vary from self-pitched tents to luxurious beachfront suites to comfortable cabins. All of our accommodations are welcoming and simple, and the diverse spectrum allows you to relax and enjoy your time with us at the ashram.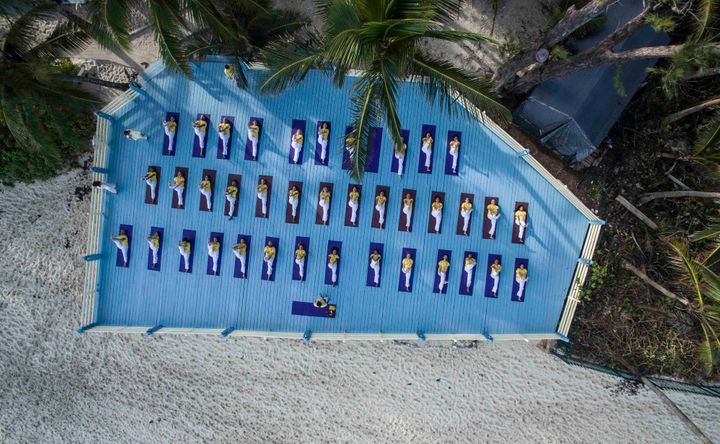 Amenities
A/C in Rooms
Free Wifi
Towels
Yoga Studio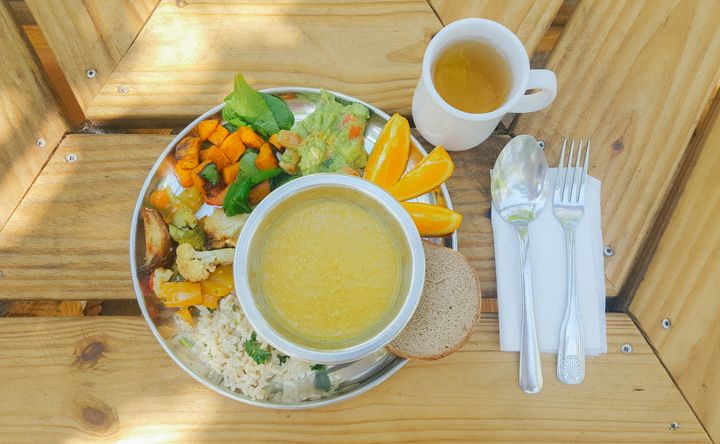 Menu Types
Vegan
Vegetarian
Ayurvedic
Gluten Free
Dairy Free
Nut Free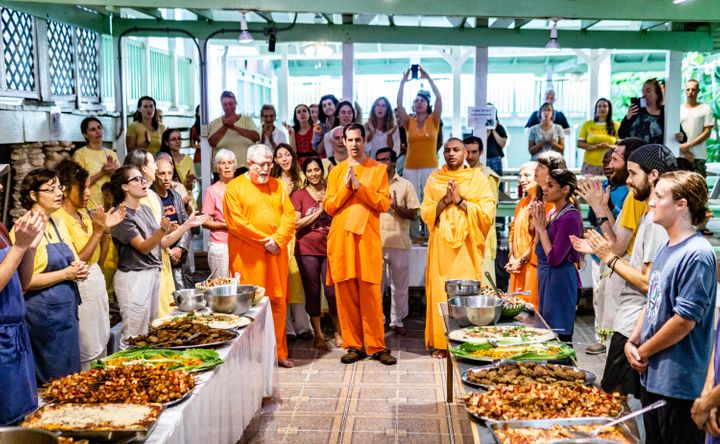 Menu/Cuisine
The yogic diet is a vegetarian diet that is conducive to the practice of yoga and progress in spiritual life. It draws on a balance of fresh fruit, vegetables, whole grains, milk products, legumes, and nuts and seeds, in both raw and cooked forms. Based on the ancient science of Ayurveda, a yogic diet promotes health and balance, reduces stress, and increases vitality, energy, and joy in your life.
Two buffet-style lacto-vegetarian meals are served at the ashram daily, at 09:45 am and 5:45 pm, prepared with love and care according to yogic dietary principles.
Both brunch and dinner offer nourishing vegetable, grain, and/or bean dishes as well as hearty soups. Brunch also includes delicious fruit, homemade granola, or freshly made yogurt. Raw fixings to make your own salad are offered at both meals, as well as our own baked bread. You are also welcome to enjoy a cup of our daily herbal tea selection.
Enjoy your meal by the ocean, in the tropical gardens, or in the main dining area amongst other yogis staying at the ashram.
Directions
We are located on Paradise Island, just across the bay from Nassau, Bahamas.
Wherever you travel from, for the last leg of your trip, we will ferry you across the bay.
Our boat will pick you up from the dock and bring you to the ashram (an easy five-minute boat ride).
From the airport:
Fly directly to Nassau International Airport. Please note: the Bahamas is an independent country and you will need a passport to travel here. Most citizens from the US, Canada, and European countries do not need a visa to visit the Bahamas (you can verify whether you require a visa to enter the Bahamas at Bahamas .com or by contacting your local Bahamian Consulate).
Please note Visitors from some countries are required to have vaccinations before they can enter the Bahamas. Please check with your travel agent or local consulate to find out if you are required to have any vaccinations before your trip.
After collecting your luggage and passing through customs, Call us from a courtesy phone or airport pay phone (they take US coins) at our Bahamian number or use WhatsApp to our American number(you can find both of them on our website) — let us know you are on your way and we will send our boat to meet you at our dock in Nassau. Then take a taxi to our dock at Elizabeth on Bay Marketplace and Marina in downtown Nassau. You can pay for the taxi with American or Bahamian dollars (you can use either currency throughout the Bahamas and at the ashram).
The boat schedule from the dock in Nassau to the Yoga Retreat dock is as follows:
7:45 am
10:35 am
11:05 am
12:05 pm
1:05 pm
2:05 pm
3:05 pm
3:40 pm
6:35 pm
7:20 pm
For airport arrivals - a special boat will be sent for airport arrivals and departures that are more than a 30-minute wait from a scheduled boat or outside the hours of the boat schedule
We look forward to greeting you at the ashram!
Reviews
Write a review - tell others about your experience.
Serve, Love, Give, Purify, Meditate, Realize Swami Sivananda