About This Center
1440 Multiversity is a place to experience time differently—exploring what matters to you, while surrounded by fresh air, delicious food, wellness classes, many ways to unwind, and opportunities to connect with yourself and others. Whether you come for a program with world-renowned faculty or spend a weekend on campus taking 1440 specialty classes, you can look forward to the perfect blend of learning, vacation, and space for reflection.
The natural world has been an inspirational catalyst of wonder and creativity for 1440 since its inception. It was while spending time in her garden that cofounder Joanie Kriens recognized the beauty of the moment she was in, and thought about all of the minutes available to experience the feeling of being fully alive. That's the inspiration for 1440. Once Joanie and her husband Scott decided to cofound a place where people could stay and explore what's most meaningful to them, this 75-acre campus became the clear choice because of its towering, ancient redwoods.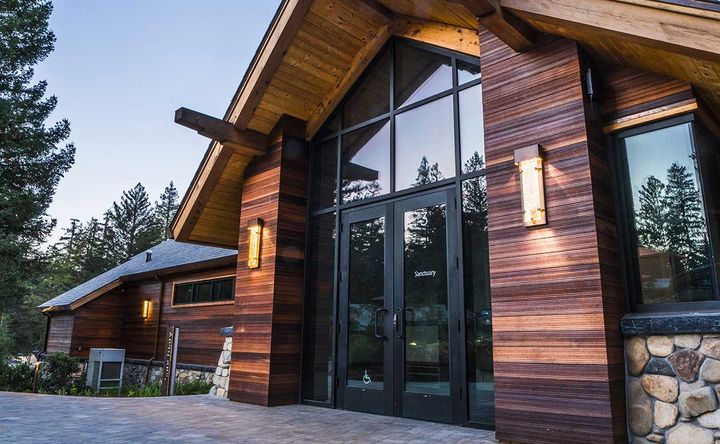 Venue Highlights
Redwood trails, copper-adorned buildings with majestic views, and decks built around sky-high trunks keep you wrapped in nature while on our 75-acre campus.
Part wellness resort, part Ted-talk auditorium, part conference center, our campus features state-of-the-art classrooms, meeting spaces, and accommodations tucked away in a lush forest between Santa Cruz and Silicon Valley
The Lodge: is the welcoming center, open twenty-four hours a day. Amid massive wooden beams, stone pillars, copper and iron accents, you can relax in plush leather chairs, cozy couches, and outdoor patio seating—a variety of perfect places to enjoy morning coffee, wine in the evening, or a chat with a friend.
Kitchen Table: Perched on a ridge above Carbonera Creek sits Kitchen Table—a defining and incredible communal element of campus. Gather with friends old and new and linger to enjoy healthy, seasonal, and locally sourced meals while sitting by the fireplace or dining al fresco—overlooking the forest canopy.
Accommodations: From modern sleeping pods to expansive suites, our accommodations in Oak, Madrone, Sayanta, Trillium, and Redwood offer a variety of room types for every preference and budget. Artisan craftsman construction combines with simple, modern indoor accents in each of the buildings.
Classrooms and Meeting Spaces: feature leading-edge technology, top-notch acoustics, and flexible seating arrangements for groups large and small. Thought-provoking art installations accent hallways and gathering places across campus.
Cathedral: The Cathedral is an enchanting forest amphitheater set amidst the oldest redwoods on campus. Carbonera Creek flows quietly behind the stage. This unforgettable spot offers an atmosphere like no other—perfect for enjoying an event or sitting quietly in reflection.
The Sanctuary: is a renovated midcentury chapel bathed in natural light and accented with modern, elegant features. More than a building, the Sanctuary is an experience. Take a meditation class, enjoy special evening events, or host your next corporate retreat in this inspirational space.
Healing Arts: Beautifully situated in the redwoods, the Healing Arts center features 22 treatment rooms, changing rooms with lockers, steam rooms, private showers, and an expansive patio with a 250-square-foot, outdoor infinity tub with an awe-inspiring view of the forest.
Crest: Atop campus on a hillside of gnarled trees sits Crest—an outdoor gathering space, classroom, and yoga deck. Wind your way up the stairs in the early morning or after your afternoon program session to enjoy a yoga practice or a few moments of quiet reflection under the vast California sky.
Common Grounds: Enjoy a morning cappuccino, midday snack, or evening treat at Common Grounds, the campus café in the commons. Accented with bright colors, refurbished wood, and antique clocks, this is a hub for doing puzzles with friends, relaxing with a book, or sitting outside by the fire pits with a glass of wine.
Common Goods: Visit Common Goods shop for thoughtfully chosen retail items, from handcrafted jewelry to botanical body products—and of course, books on every 1440 program topic imaginable. Get lost in a sea of gorgeous gifts and great reads by cutting-edge thought leaders.
Fitness Center: Tucked among the redwoods, our 1,440-square-foot (yes, really!) Fitness Center is open daily. Use stationary bikes, yoga props, free weights, and ellipticals to boost your heart rate and mood. Enjoy your own personal practice, or bring a workout buddy for more time to connect.
Forest Trails: As you walk the redwood trails, look up, hundreds of feet into the sky, and watch treetops sway in the wind. Look down and notice the dark beauty of the soft forest floor. Take deep breaths of pine-scented air while sitting on a handcrafted bench for a moment of reflection. When you bring your awareness to your senses, notice tension melt away. A special spot is the Cathedral of redwoods, where you'll find the mother tree—estimated to be 1,200 years old.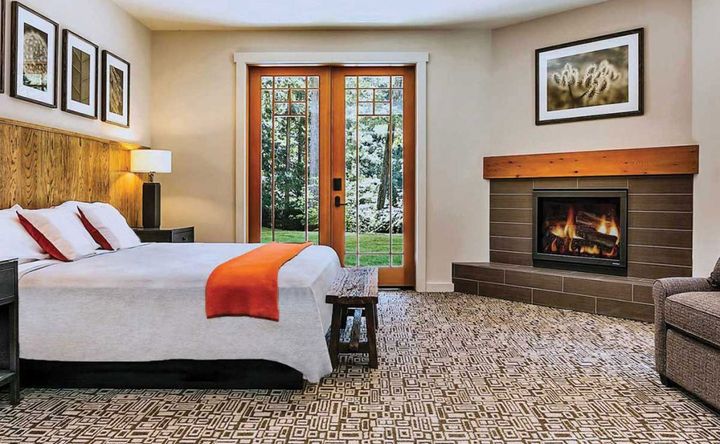 Accommodations
Settle into custom-designed rooms featuring handcrafted, artisanal fixtures and artistic displays of natural elements. To support relaxation and personal reflection, there are no televisions or phones. Each floor has Wi-Fi and a courtesy phone. Your accommodation rate includes locally sourced meals, wellness activities, use of the Fitness Center, access to the infinity tub, and more.
Many people like to come with friends, others alone, and we even offer an option to be paired with someone else.
Options:
Suites: Wake up with a cup of coffee near the fireplace then curl up with a good book on the sofa as you make yourself at home.
Deluxe Rooms Featuring two beds and a private bath, Deluxe rooms are spacious for solo travelers and perfect as a shared space with family, friends, or colleagues.
Standard Room: After a full day on campus, get a good night's sleep in a cozy, standard room option.
Pods: For solo travelers and those who enjoy community spaces, book a modern, Asian-style pod in a room that sleeps eight, with shared bathroom
Menu Types
Vegan
Vegetarian
Meat
Organic
Gluten Free
Dairy Free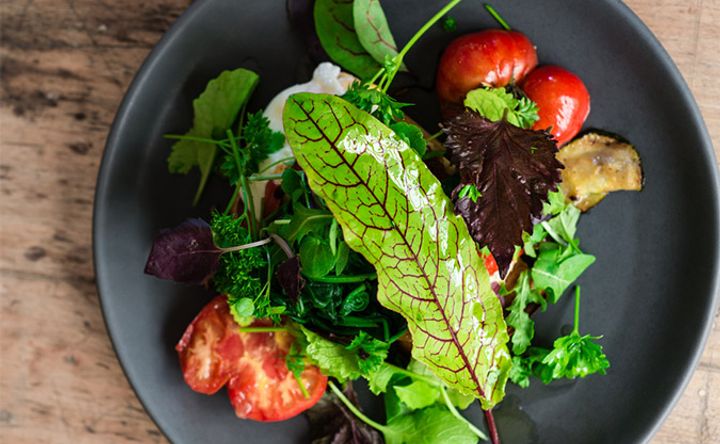 Menu/Cuisine
Fresh, organic, locally sourced, and seasonal—these words reflect our commitment to nourish you during your stay at 1440 Multiversity. While focused on plant-based cuisine, daily menus also include sustainable sources of animal protein as well as gluten-free, lactose-free, and paleo options.
The heart of sustenance and connection on campus is Kitchen Table. Gather with friends near the stone hearth and glowing fire or dine al fresco with a view of the redwood forest. Our menus feature a variety of locally sourced homemade foods and cooking styles, from lively lighter fare to hearty favorites and inspired culinary creations.
For espresso drinks, savory snacks, and sweet treats, Common Grounds café is a centrally located, eclectically decorated spot for lively conversations or time with a good book between classes. In the evenings, take a glass of wine onto the patio and relax by a cozy fire pit.
Directions
We are conveniently located between Santa Cruz and Silicon Valley, just off Highway 17. We provide shuttle transportation from both San Jose Airport (SJC) and San Francisco International Airport (SFO).
1440 Multiversity
800 Bethany Drive
Scotts Valley, CA 95066
Reviews
Write a review - tell others about your experience.