About This Center
Spirit Plant Journeys is a safe, experienced and transformative Ayahuasca Retreat nestled in the Peruvian Andes, created to help you open your heart, look within, and awaken to a new way. We offer intimate retreats with small groups in which we closely guide you through your journey within. We provide a healing space for you to acknowledge your truth; to feel, express, allow and transform.
Ayahuasca is a powerful tool that can help us uplift ourselves, heal our wounds, and let go of anything that no longer serves us. In working with plant consciousness, we become open and sensitive to everything that we are in relationship with, and in this, gain awareness, perspective, and wisdom. Our highly-trained, experienced facilitators will closely guide you as you immerse yourself in this process. We believe that true healing is a beautiful process of opening up and awakening, and we feel strongly that this process can and should happen in a nurturing, loving way. As facilitators between cultures, and bridges between worlds, we provide a safe, open space in which we honor and respect every human being's process in a gentle and kind way.
Every element of our retreat is designed to sustain real transformation. With a down to earth, heart-centered approach and kindred family spirit, we provide the opportunity for a life-changing healing experience. Our programs are held in the Sacred Valley, a safe haven from the noise of the city and the dangers of the jungle, and we limit our group size to a maximum of 12 people, allowing our Facilitators and Maestros to give you close, personalized guidance during your time with us. We are blessed to be working with a team of powerful Shipibo Maestros, the oldest lineage of Ayahuaqueros in South America, and we bring in both men and women maestros on retreat to strike a crucial balance between the energies of the Divine Masculine and Feminine.
Our experienced and trained facilitators serve as a cultural bridge on your journey, providing a link between cultures and plant medicine realms. They walk alongside you on this journey, guiding and empowering you with the tools to truly engage with your healing process. We specialize in providing support through pre-retreat intention sessions, sharing circles and self-inquiry on site, and post-integration sessions. The healing process truly begins to take root when our guests go home, and as such, we believe strongly in checking in and providing support after the retreat. These are the keys to real transformation, to embody your healing experience in your daily life, enabling you to bring lasting change and growth into your life. After your last ceremony ends, the ceremony of life truly begins.
When one experiences truth, the madness of finding fault with others disappears. ― S.N. Goenka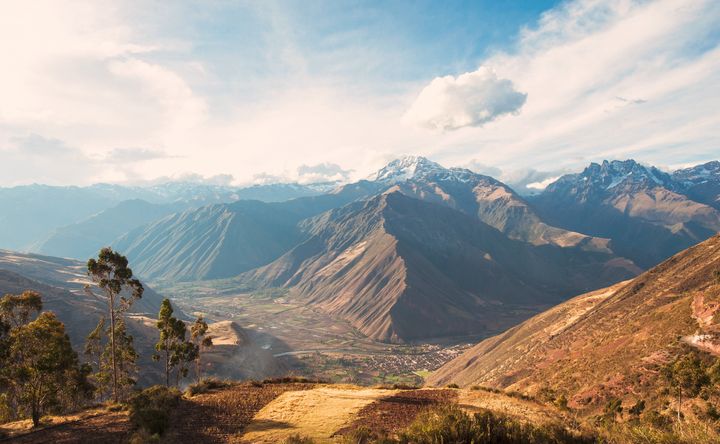 Venue Highlights
Spirit Plant Journeys is located in the Sacred Valley of the Incas, a safe haven from the noise of the city and the dangers of the jungle.
The family-run farm and lodge where we are blessed to hold our retreats is a labor of love, closely tied to the local community, and has an organic garden that supplies much of the food that end up on our dinner plates.
The lodge is nestled between two mountain ranges, with stunning views of the Valley and nearby Apus, the guardian mountain spirits that look down upon the land. There are numerous hiking trails and hidden spots around the property, which provide a perfect refuge for moments of quiet seclusion and contemplation. A river flows through the land at the entrance of the property, and the walk over this river into the lodge, beneath a tree-lined canopy, feels like a mystic entrance into a hidden paradise.
Accommodations
We offer different room types depending on budget.
Each room includes fresh towels, hot water bottles every night, and regular housekeeping. Though we strive to be as environmentally-friendly as possible, made easier by the year-round sunshine, we can provide electric heating if desired. All of the rooms have stunning views of the valley and mountains. Natural light pours through the windows onto the woodboard floors every morning, giving each room a cozy, warm glow to wake up to. The lodge itself has a rustic, authentic feeling, while still offering modern amenities.
We offer private and shared rooms, with either shared or private en-suite bathrooms. These rooms include either large twin beds, queen bed or double beds, depending on room selection.
For those traveling on a budget, we offer offer economy-rooms. Our economy rooms all have large twin beds, windows with views over the Sacred Valley, hot water, wood board floors, beautiful wooden balconies and shared showers/bathrooms downstairs.
Amenities
Towels
Free Parking
Tour Assistance
Coffee/Tea
House Keeping
Menu Types
Vegan
Vegetarian
Pescetarian
Gluten Free
Dairy Free
Nut Free
Menu/Cuisine
Every meal that goes on our table is not only perfectly in line with a traditional Ayahuasca Diet, but also reflects the love and care we put into every aspect of our retreat. We use lots of vegetables and fresh herbs from the organic gardens on-site, and can accommodate a wide variety of dietary needs, allergies and restrictions, including Gluten-Free, Vegetarian, and Vegan diets. Though we strictly follow the guidelines of a traditional Ayahuasca Diet, we strive to integrate traditional Peruvian flavors into our meals. The meals serve not only as a cleansing, rejuvenating companion to your ayahuasca experience, but also as a flavorful connection you to the tastes and colors of the local culture. One of the retreat highlights is our "Pachamanca", a delightful outdoor luncheon in which potatoes and herbs are baked in an underground oven, and served in the round with herbs, guacamole and lots of delicious "aji", or herb-sauce.
Directions
The nearest airport to our retreat center is Alejandro Velasco Astete International Airport, located in the city of Cusco, Peru.
Cuzco is a 1:15 hour flight away from Jorge Chávez International Airport in Lima, the starting point in Peru for every international flight entering the country. We recommend that guests stay a night in Cuzco the day they arrive in order to rest and acclimate to the altitude in Cuzco. On the first day of our retreat we will meet guests at a central meeting point near the Plaza de Armas, in the City Center of Cuzco.
A 15 minute cab ride from the Airport will get you to the City Center, and should not cost you more than 20 soles ($7).
We will provide detailed instructions beforehand on how to get to the meeting point. Upon picking up the group at the meeting point, we will embark on a stunning hour and a half long journey through the mountains to our retreat center. We will also provide transport back to Cuzco on the day that the retreat ends.
Reviews
Write a review - tell others about your experience.