About This Center
The Expanding Light Retreat, a non-profit organization, offers many public retreat programs – spiritual growth retreats, spiritual travels, yoga trainings – based on the universal teachings of Paramhansa Yogananda, the world-renowned author of Autobiography of a Yogi. Our retreat center is situated within the 700 beautiful acres of Ananda Village, just outside Nevada City, California.
Guests have visited here for almost 50 years, from all parts of the world, with many different spiritual perspectives, to learn more about the path of Kriya Yoga meditation, Ananda Yoga for physical and spiritual healing, and the contemporary application of Yogananda's teachings to help people realize their true potential.
Founded by Swami Kriyananda in 1969, Ananda Village is a spiritual cooperative community, an expression of one of Paramhansa Yogananda's ideals that people live together harmoniously, united in the goal of Self-realization. Ananda Worldwide has communities on the West Coast, and in Europe and Asia.
Ananda's primary goal is to help people achieve Self-realization: a state of consciousness that comes through shedding all outward self-definitions. Ananda has, therefore, created communities and centers that welcome all sincere seekers, regardless of race, religion, national origin, gender, sexual orientation, age, or disability. We are committed to providing an inclusive, welcoming environment for everyone to pursue the search for God.
This is Ananda's U.S. retreat center, located at Ananda Village in Northern California. This is where we do most of our teaching, along with many other experienced teachers. It is open year-round and offers a wide variety of programs in:
Spiritual Growth
Holistic Health
Meditation (including Meditation Teacher Training, which Diksha co-directs)
Ananda Yoga (including Yoga Teacher Training, which Gyandev directs)
Personal Retreats
International Retreats
Work Exchange Programs
With the caring assistance of the teachers and staff at The Expanding Light, I was able to relax and turn inward. A grounded and calming sense of peace arrived within me-- a sense that can be easily buried in our busy lives. Ideally, I will keep this sense of peace with me even when off my mat!" - Kate, Sacramento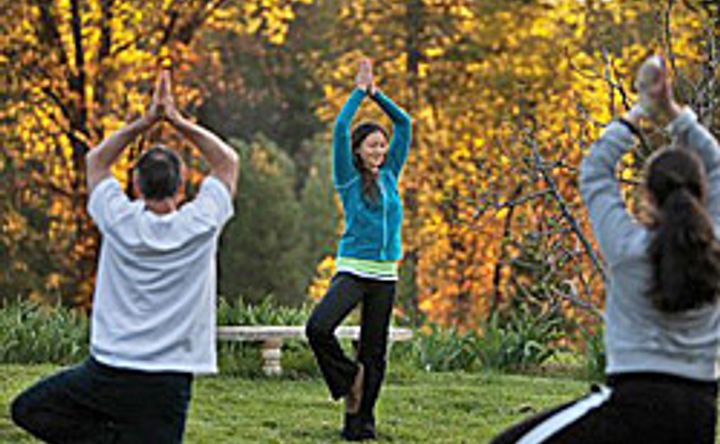 Venue Highlights
Ananda Village, home of The Expanding Light, is an intentional community, with about 200 resident adults and children, situated on 700 acres of meadows and forests amidst the foothills of the Sierra Nevada Mountains in northern California, just outside of Nevada City. It is one of the most respected spiritual communities in the world, founded in 1969 by Swami Kriyananda, a direct disciple of Paramhansa Yogananda.
Accommodations
Retreat Accommodations
Each guest room includes two twin beds, carpeting, heat, air conditioning, towels, and bedding. A limited number of queen-sized beds are available. Fresh linens and towels are available weekly – no daily maid service. Wi-Fi is available for all guests except those in cabins or tents. (We also have centrally located guest computers.) Limited handicap accessibility.
Deluxe Rooms – Private and Shared
Harmony House
Each room has a private entrance, a private bathroom, air conditioning, a ceiling fan, and a hairdryer. Harmony House is dedicated to expressing Yogananda's expansive approach to religion and his belief in celebrating God through beauty. Simply and elegantly appointed, each room is decorated in the theme of one of the great world religions.
Available are the Yogananda Room, Buddhism Room, St. Francis Room, Madonna Room, Taoism Room, Islam Room, Judaism Room, and the Hinduism Room.
Standard Rooms – Private and Shared
Serenity House is an inn-style house with twelve air-conditioned rooms and four hall bathrooms. It has a comfortable lounge / classroom equipped with a video player and a library of inspirational videos. The lounge / classroom also has a small refrigerator for personal items. On occasion, the lounge is used as a classroom, so it is not always available. We are building a new Temple with 2 new classrooms, so that will change summer of 2019.
Cabins
Each cabin has one room, which is larger and more private than other standard rooms; cabin occupants share separate men's and women's shower houses about a minute's walk away. All cabins have A/C.
Tents and RVs
We have sites for those with their own Tent or RV.
Tent camping is available on varied campsites. Camping has moved closer to the shower houses and main buildings. The new sites are below the shower houses.
RVs are welcome year-round, but we do not have RV facilities or hookups. Guest Services staff will show you the options for camping or RV stays.
Meals are included for Tenters and RVers. Tent spaces DO NOT include facilities for cooking or picnicking. We are in fire country. No campfires are allowed. Tenters cannot use candles, kerosene lamps, or anything with an open flame.
We live by the woods. Because of animals, food is not allowed in the tenting area. We have a refrigerator on an outside deck behind our kitchen, which is available for use by guests.
The tent sites are close to the shower houses, and there is an outhouse. Men's and women's bathrooms are available with showers, toilets, and sinks, a couple minutes' walk from most tent sites. RV sites are a little bit further away, but still close to the main campus.
People choosing to camp in winter conditions are asked to sign a waiver accepting responsibility that will be provided by our Guest Services staff.
About the Shower Houses
For Those Staying Outdoors
All outdoor accommodations have access to separate men's and women's shower houses an easy 2 or 3-minute walk across the meadow. Facilities have flush toilets, plenty of hot water, and shower and toilet partitions for your comfort and privacy.
Menu/Cuisine
Lunch at the Exanding Light
Three delicious and satisfying vegetarian buffet meals are included with the cost of your stay. Some of our dishes contain eggs and dairy. We use organically grown foods as much as possible, including some organically grown eggs and produce from right here at Ananda Village, and organically grown Fair Trade coffee. We have a variety of teas and fresh fruit available all day.
We can accommodate some special dietary needs with non-dairy, non-wheat, and egg-free choices. If you have other dietary needs, it may be that we will not be able to accommodate them.
A small refrigerator for guests who are staying in Serenity House Lounge and a full size refrigerator outside our kitchen are available for storing special foods guests might need during their stay. There is a Market in the Ananda Village if you'd like to buy special items.
Directions
Fly and Drive/Ride
The best airport to fly into is Sacramento. Reno Airport is also an option but is less preferable.
Rides options from Sacramento Airport
The best shuttle value AT OUR PRESCHEDULED DAYS ONLY: The Expanding Light's Sacramento Airport Pick-up and Drop-off.
Carpool from airport or anywhere: Visit the Free Carpool Matching Service.
For on-demand pick-up or drop-off, we will do our best to accommodate you. We cannot guarantee service, but click On-Demand Shuttle to learn more.
Rent a car
Driving: Consult Google Map & Directions and our Map for our exact location. Be careful about relying fully on GPS or online maps. Google Maps is accurate, but be careful not to miss the exit when I-80 turns toward Reno.
Public Transportation, bus or train.
Reviews
Write a review - tell others about your experience.
Teachers