About This Center
Shakti Ashram, Healing Center and Academy was launched by Sonia Indigo in January 2018 as an integrative result of many years of healing and counselling practice. It continued the mission of International Sonia Indigo Academy project, which started in 2012 in Varkala Beach, India and offered Retreats, Courses, Workshops, Therapies as well as Classes in the areas of Reiki, Yoga, Meditation, Life Coaching, Astrology & Numerology, Counselling.
The Academy is an abode of peace and shelter from the pressures of mundane life. It provides a safe environment for personal development and the pursuit of a spiritual path. Our world-wide students often visit India looking for a deep connection to themselves, in moments of life change, and to experience the profound spirituality of Ancient India and ancestral Yoga, Ayurveda, healing, astrology and shamanic traditions.
Here we offer a safe space, time, teachings, therapies and tools for the students/clients to recover from their daily life's, look inwards and make a real inner change.
We also provide for our students, clients and guests a spiritual /alternative/esoteric library to make their own study as well as the guidance what could be a good book for them to read according to their needs.
OUR MISSION
Train Skilled Professionals in the areas of Reiki, Yoga and Massage with the courses Massage Course, Reiki Workshops levels I, II, III & Master level, the Workshop For Healers.Provide tools to help students find their own truth, transform themselves and start their Life Change process, offering the Life Changing Seminar and Sacred Feminine Workshops.Help people heal, know, accept, love, nurture and improve themselves at all levels (physical, emotional, mental & spiritual), inspiring them to believe and achieve their dreams. The Therapies available are Life Coaching Sessions, that include the following sessions: Psychotherapy & Counselling, Astrology & Numerology, Life Change & Self Transforming Process and Sacred Feminine. In the Academy you can also find therapies such as Reiki Distant Healing Sessions, Aqua-Floating Therapy and Yoga Classes and Retreats.Inspire and train yoga beginners and advanced practitioners to do their practice by themselves and deepen their knowledge in Meditation, Yoga, Chakras, Doshas, Diet, Pranayama, Asana Benefits, during the Yoga & Meditation Classes.
In our Healing Center you can undergo one of the proposed treatment programs, book the therapies and yoga classes separately, take part in workshops, as well as receive a consultation and individual healing plan appropriate to you.
We also offer Reiki courses for I, II, III and Master levels, including theory, practice, initiation and certification.
We speak: English, Spanish, Portuguese, French.
"A lovely peaceful quiet place surrounded by tropical trees and vegetation for you to heal, re-connect and empower yourself only 20 minutes walking away from the beach, shops and restaurants."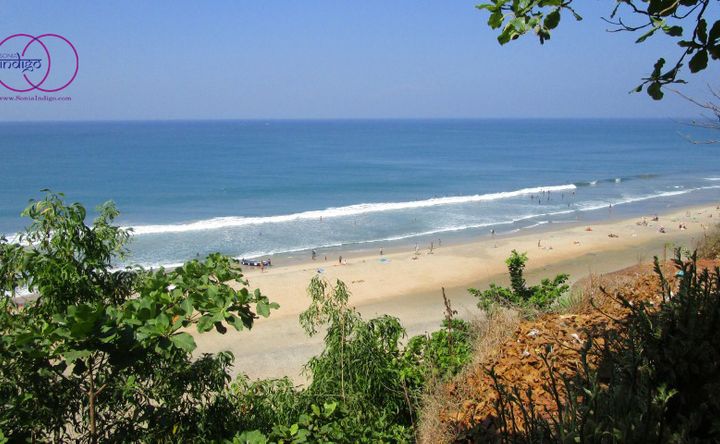 Venue Highlights
South India, Kerala (God's Own Country), Varkala beach, one of the Top 10 beaches in India, rated the 3rd place by tourists, and one of the First 30 Tour Destinations in the Planet, rated 28th place among the 100 top 'Best Value Index' around the globe.
The main beach is Papanasam beach. The word Papanasam means washing away sins. The legend says, that taking a dip in the waters of Papanasam Beach will wash away all the sins in one's life.
Shakti Ashram, Healing Center and Academy is surrounded by tropical trees.
Facilities Include: - fast Wi-Fi service, shared kitchen and mineral water. Excellent location in a quiet residential area with the beach and supermarket just 10 minutes walking distance.
Accommodations
Ashram Accommodation Options ":
- Double Deluxe W/ AC - RS1500
This room has been lovingly crafted to provide our guests with a comfortable and homely experience. Our room have one large comfortable bed and private bathroom. The room is ideal for single travelers, couples or couples with children. The rooms is well ventilated with two large windows.
Size: 14 sq m
Beds: 1 Double(s)
-Deluxe Double W/ Hot Water - RS900
This is a room with a private bathroom.
Size: 14 sq m
Beds: 1 Double(s)
Standard Double Room - RS700
Size: 14 sq m
Beds: 1 Double(s)
- Open Air Dormitory - RS400
This is a common room with a shared bathroom and a dinning room.
Size: 50 sq m
Beds: 1 Single(s)
Amenities
A/C in Rooms
Free Wifi
Towels
Free Parking
Kitchen
Restaurant
Yoga Studio
House Keeping
Bicycles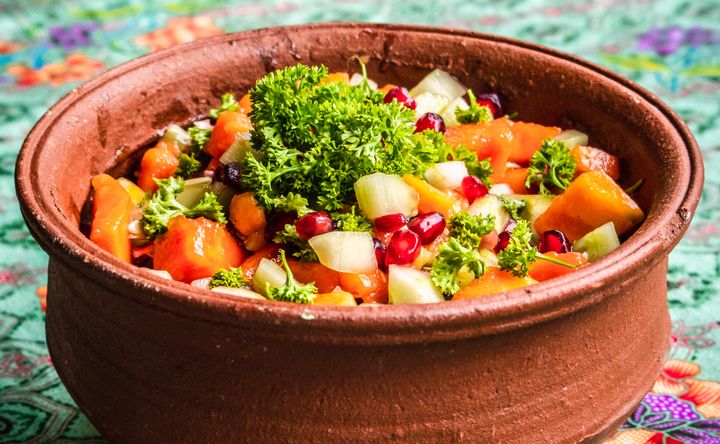 Menu Types
Vegan
Vegetarian
Organic
Gluten Free
Dairy Free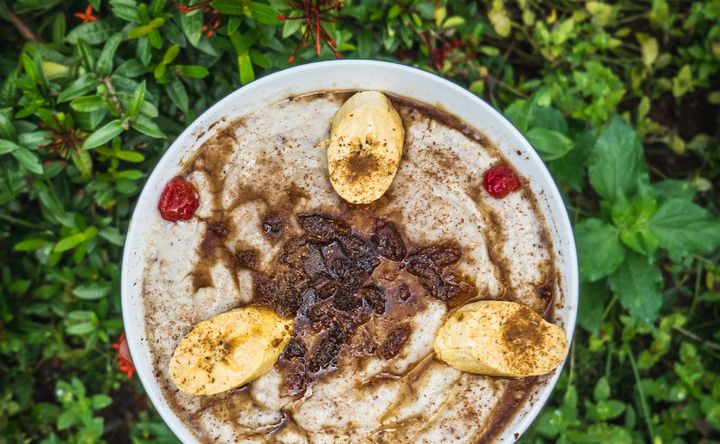 Menu/Cuisine
Delicious, healthy, organic and vegan meals are provided. You are free to order your Healthy Breakfast and Lunch on the days you decide to eat in :)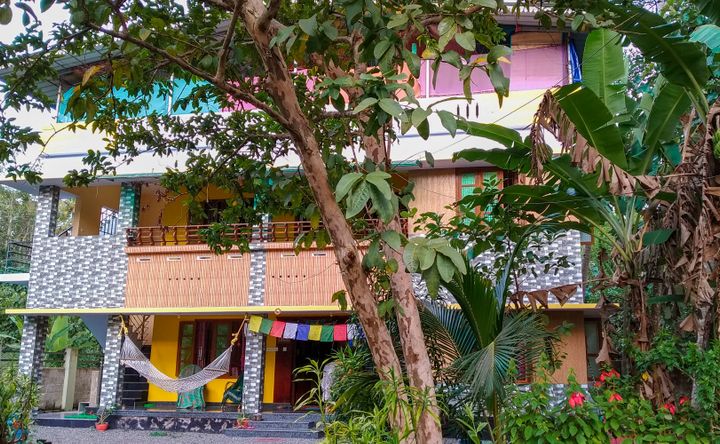 Directions
Direction: Makairam, (House number VMC 29/84 D, 29/84E, Sy. No.41/1, in Varkala SRO), Vacharmukku, Varkala P.O. 695141, Trivandrum, Kerala, India.
HOW TO REACH HERE
We are 10 minutes from Krishna Supermarket, in NorthCliff (5, 10 min walking) near Kurakkani Junction. On the opposite side of the road from Krishna Supermarket, looking to the left, there is a blue bus stop and a road going up between walled properties. Walk 5 to 10 minutes up this road. After a few corners, you will see purple Shakti Ashram paintings guiding you to the Ashram. We are just after the house on the left side with 2 white rabbits, around the corner along the left earth path. It is the first stunning house on the right side.
Reviews
Write a review - tell others about your experience.
Asha Loika January 20, 2019

Great vibes

Was well received in Shakti ashram, loved the colors in my room, the decoration and the art around. The people were very friendly and the food was absolutely stunning as much visually as for the taste buds. Truly a beautiful place and with good vibrations.

Katie Bouva January 16, 2019

Truly Amazing and Friendly Space

Truly awesome space for learning, transformation and personal growth !
Teacher
One day
a nameless spring mountain
began to smile Nobuko Katsura