About This Center
The Idea
Rosemary is a unique centre which empowers individuals by giving them the tools they need to live their optimal way of life. We'll find your perfect balance between mind body and modern world by reconnecting to yourself nature and the tools to create a conscious impact on the world.
Who are we?
We are an international group of people who create unique experiences that will empower you to live your optimal way of life. Rosemary Dream is our working project being designed to inspire, educate and activate people from all around the world to be happier, more productive and to achieve their goals. We give people the conditions, tools and life lessons to enhance their everyday life, in whatever context they may find themselves in. Through a systematic process of inspiration, immersion, rewilding and self-discovery we are able to allow people to understand, develop and utilise their inner strengths. Come and join us in helping people live a better way of life.
How did it all start?
WE DREAM, WE DARE, WE DO.
We started as travellers and went crazy all the way with the idea of living a better life and helping others to do the same. Then we bought a very, very big piece of land between forest, mountains, ocean, lake and a river in a fishing village called Barra Da Lagoa in Florianopolis, Brazil; the 'Magic Island' of Santa Catarina. Since Feburary 2016 we have been building this place to create the optimal conditions, and we're still building!. Bringing in the right people to create the perfect space to grow, experience and enjoy. We are surrounded by a warm-hearted community where waving "Oi" to a stranger, hugging an old woman and chatting with the peaceful fisherman is normality.
​​The experience blew our minds to the moon. We learned at Rosemary that you have powers you never dreamed of. You can do things you never thought you could do. There are no limitations of what you can achieve except the limitations of your own mind. Thank you, we love you from the deepest part of our hearts! - ​​Nikie AND Didier Duplas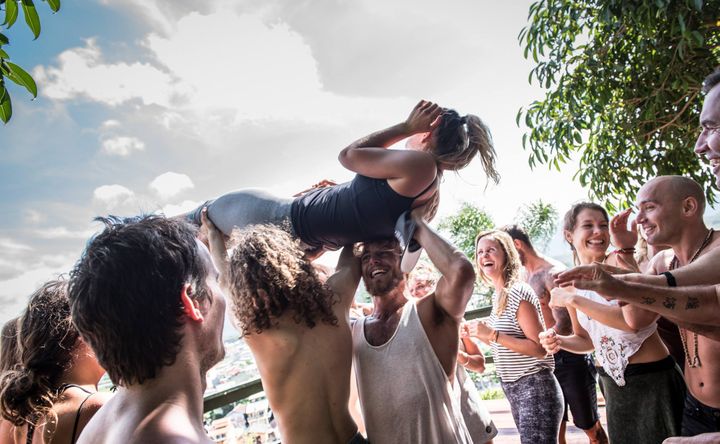 Venue Highlights
THE RIVER, LAKE, FOREST AND MOUNTAINS.
Our home is set in 72,000m² of wild nature which provides the ideal environment for you to challenge your body and mind. We have a natural playground at our disposal, including a river flowing from Barra to the local town, the ocean waves to surf and splash in, the saltwater lake to swim, the forest to explore and the mountain to conquer. There are many amazing hikes and walks to do in the area; one to the lighthouse overlooking Barra da Lagoa, another to an astro-archaeological site, another to nudist beach and many others. You can choose to escape to whatever landscape you feel and reimmerse yourself into the wonders of the natural world.
Get ready to climb trees, run through the forest, hike up mountains and splash with the fishes.
THE HOUSE, THE ACTIVITIES, THE FACILITIES, THE OPPORTUNITIES, THE ATMOSPHERE.
This is not a surf camp, spiritual sanctuary, self-help centre, wellness retreat, hippy community, etc. This is an experience based in the wilderness to enable to self-empowerment.
Living Space
The open communal area has a modern kitchen for you to enjoy and a wooden deck for shared family meals. Climb up high to our library deck or hang out in the fishing net, enriching your mind with books from philosophy to comics and everything in between. Explore to our hidden attic quiet room to meditate, read or enjoy a well-earned nap. Home will provide you with an amazing shared living space perfect for building a sense of community and the opportunity to form new and lasting friendships.
Weekly Activities
Each week we create a different schedule that includes all the daily activities. The type of activities depend on which members of the family we have currently at Rosemary. We have everything you could imagine in one place: parties, yoga, surfing, studying, topical talks, discussions, fasting, gardening, detoxing, meditating, surviving, sailing, moving, eco-building, dancing, cooking, WORKING, hiking, free diving, self-sustainability teaching, public speaking , self-expression, painting, singing, acting, book reading, goal setting, poetry… YOU NAME IT… WE'VE GOT IT (or we'll just make it happen)! Not only this, but we also have weekly empowerment session where we will discuss, teach and learn about topics such as social fears, personal barriers, goal setting, personal identity and finding purpose. We also encourage you to go on a fishing trip with the local fishermen to experience real culture and help the community.
Facilities and Opportunities
Rosemary is not just a really cool house. Although we do have wifi free to use, you might be distracted with our two yoga decks overlooking the sea and Barra, which can be used for many activities or just to sit and admire the view, yoga mats, hanging hoops and our surfboards if you fancy yourself as a rad surfer dude. We live within the perfect balance of nature and urban life. There are plenty of activities in the surrounding area, such as sand boarding, clubbing, kayaking, live music, to do at a low coast. The International Airport, Bus Station and City Centre are all less than an hour from our door.
Atmosphere
The people that come to volunteer at Rosemary are special. They are part of the family because they share our values and strive to create a positive living space. Whilst you work here you will experience the dynamic energy of positive, fun and ambitious people who want to push themselves and Rosemary to new heights. We are constantly looking to improve and challenge ourselves in order to positively impact the world and make us happier and more productive people.
Accommodations
All volunteers are given their accommodation according to their commitment of time to Rosemary and what we have available. Our shared mixed dorms come with a bathroom and lockers. Every bed has its own plug, light and curtain for privacy. They have been built with reclaimed wood that we collected, so each has it's own unique character. We provide towels and sheets and of course, we have lovely hot showers. We also have a range of accommodation to use at your will, including jungle hammocks and areas for wild camping.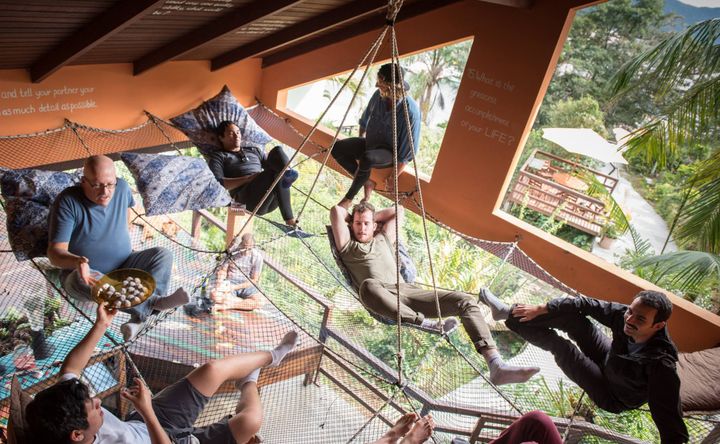 Amenities
A/C in Rooms
Free Wifi
Pool
Towels
Kitchen
Tour Assistance
Coffee/Tea
Yoga Studio
House Keeping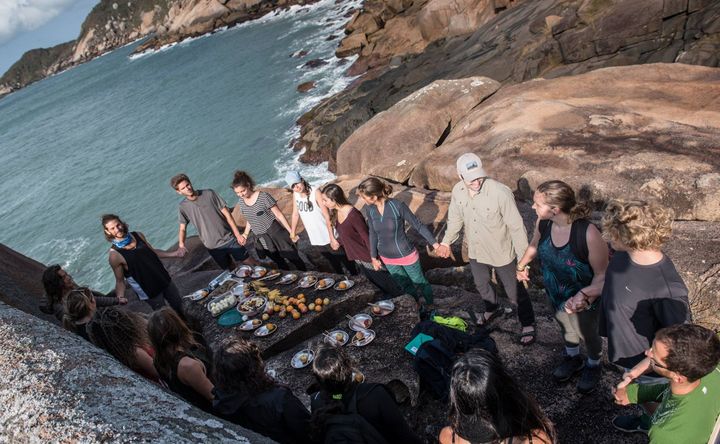 Menu Types
Vegan
Vegetarian
Pescetarian
Ayurvedic
Organic
Gluten Free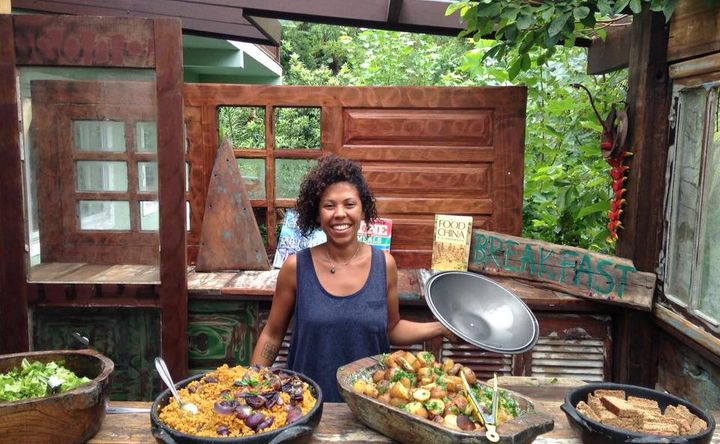 Menu/Cuisine
We provide breakfast and lunch everyday (excluding Sunday), which is usually a buffet-style vegetarian selection. On an average day we have fresh fruits, such as watermelon, apple, banana and papaya, raisin and coconut oats, egg frittata, fruit compote and a healthy treat of some sort. Lunch is equally as tasty and healthy, but changes from day to day. Every Tuesday and Friday we get together; team and guests, to eat a family meal. This is a shared dinner to strengthen bonds and form new ones around some filling food.
Directions
Bus
Rosemary Dream is based in Barra Da Lagoa. The cheapest way is to arrive is by bus. From the central bus station (Terminal Centro), it will take you 1-2 hours depending on the day. When you arrive at Centro, you need to exit and head right to the local bus station (Terminal Urbano). Here you will need to get either the 320 or the 330 to TILAG (Terminal de Integração da Lagoa da Conceição) and then the 360 to Barra Da Lagoa. At the final stop you will see a big blue bridge which you need to cross and then follow the path right for 100 metres until you're at Rosemary Dream.
Uber
It is around 50 Reis to get an uber from the Terminal Centro to Barra da Lagoa so if you don't mind spending that little bit extra, jump in!
Flight
If you took a flight to Florianopolis, you can either get a ticket for a minibus to a nearby bus station and get a bus from there to Terminal Centro, Floripa inside the airport before you exit, or alternatively you can take a taxi there too.
If you need to know where we are, check it out on Google Maps: (contact info blocked)VKbcUKSKTQx
Reviews
Write a review - tell others about your experience.