About This Center
Yoga & Ayurveda Retreat - 19th July to 22nd July 2018, (3 Nights / 4 Days)
Join us for our sixth Yoga & Ayurveda retreat at the Kairali Ayurvedic Healing Village in Palakkad, Kerala.
This retreat is the perfect opportunity to dive deeper into the practice of yoga and immerse yourself in Ayurvedic treatments. A four day program, in which you get to completely disconnect from your daily lives, technology and traffic. We will be spending our time in the stunning luscious nature of Kerala, taking part in yoga, ayurvedic massages, meditation, along with 3 delicious ayurvedic vegetarian meals.
Kairali-The Ayurvedic Healing Village, Palakkad, Kerala, is one of its kind of a holistic space, which heals you internally and externally with traditional and authentic Ayurvedic therapies, treatments and medications along with Yoga and Meditation. Adhering to Indian tradition and ancient ayurvedic values, Kairali has emerged as the shining beacon of hospitality in the wellness industry. Kairali Ayurvedic Group, as a responsible service provider, strongly believes in the welfare of the seekers who approaches them to help them heal. To avoid any discomfort to the visitors and in a bid to achieve those lofty standards, a well-proof and an extremely professional system have been crafted to keep everything in place. This includes effortless and smooth information panels, fleckless accommodation facilities, restorative infrastructure conforming to Vaastu Shastra, unmatchable technology and an interactive and immaculate website that is a source of immense information.
Venue Highlights
6 Yoga classes & Meditation sessions
6 Ayurvedic Treatments
Consultations with the Ayurvedic Doctors
Vegetarian Ayurvedic buffet (3 meals per day)
Accomodation in cottages
Introduction to Ayurveda talk
Ayurvedic Cooking Workshop
Mantra Chanting
Ayurvedic treatment courses for specific health conditions
Palmistry consultations
Vedic Astrology readings
Spiritual ceremonies (pujas)
Accommodations
The exclusive villas, each conforming to "Vastu Shastra" architecture - the Indian version of feng shui. The resort is surrounded by herbs and trees with immense curative and restorative powers, making it the ultimate peaceful abode to relax in! There is a big swimming pool, tennis court, library and gym facilities.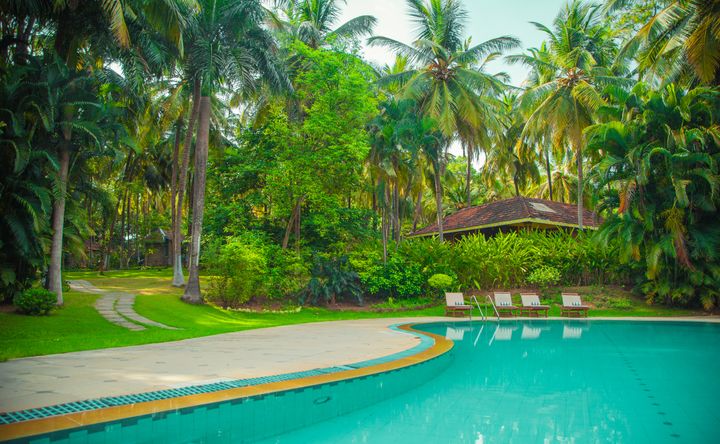 Amenities
A/C in Rooms
Spa
Pool
Restaurant
Fitness Center
Yoga Studio
House Keeping
Menu Types
Vegetarian
Ayurvedic
Organic
Directions
Kairali – The Ayurvedic Healing Village
P.O. - Olassery, Kodumbu,
Palakkad Dist. - 678551, Kerala (INDIA)
(contact info blocked)
Reviews
Write a review - tell others about your experience.
Teacher