Event
About This Center
The Optimum Health Institute (OHI) is a healing ministry of the Free Sacred Trinity Church, which promotes healing through the use of non-medical, all-natural, holistic healing practices.
As a healing ministry, it provides 2 holistic healing centers in central Texas and southern California. People of all spiritual traditions are welcome at OHI Austin or OHI San Diego to participate in our holistic healing program that emphasizes physical, mental, emotional, and spiritual well-being
The Optimum Health Institute, as a mission of the Free Sacred Trinity Church, prepares individuals to receive healing.
Our mission
We will serve as a change agent for humankind by improving the physical, mental and spiritual well-being of everyone we touch.
Core values of Optimum Health Institute
Holism, Generosity, Relationships, Life-Long Learning, Stewardship and Service
Guiding principles
Trustworthiness, Respect, Empowerment and Alignment
The five p's to optimum health:
Purpose to achieve a natural balance and reconnection to the Divine
Positive mental attitude that supports the healing process
Persistence in following the holistic disciplines of the OHI holistic healing program
Patience with your body and yourself as you allow your body, mind, and spirit to heal
Prayer to a higher source who will share the load with you.
Our beliefs
We believe that God created humans as holistic beings with an integrated body, mind, and spirit. We believe we can achieve optimum health when the body is purified, the mind is quieted, and the spirit is renewed. From that place of total integration and wholeness, people are then able to strengthen their connection to God, and are transformed to receive optimum health.
We honor the virtues of love, peace, forgiveness, self-reliance, accountability and true service. We believe these values enable us to achieve a natural balance, a reconnection to God, and to cross the bridge to our spiritual path.
My entire stay at San Diego was transformational, especially on a spiritual level. In a regular church, you share an hour with people and then you shake hands. At OHI, you share your life with people and then you link hearts. - J. B. from Asheville, NC, USA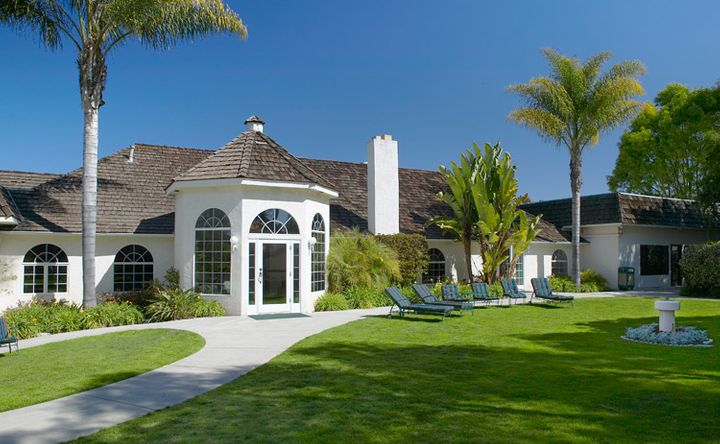 Venue Highlights
The OHI San Diego mission is an oasis of serenity nestled in Lemon Grove – a nearby suburb of San Diego. When you arrive at this southern California retreat with one of the best microclimates in the world, you are greeted by a spacious lawn with comfortable lounge chairs, surrounded by well-manicured gardens where flowers bloom year round.
After checking in at reservations, settle into one of our unpretentious rooms, which will serve as part of your OHI "home" away from home. Then discover friendly gathering places – including the main lobby, dining room, large meeting room, and courtyard where people meet for conversation and laughter.
During your stay, take time to rest in the shade of giant trees. Or visit the chapel to meditate. Explore our organic garden and vibrant greenhouse. Stop at the Optimum Health Store where you can purchase inspirational books, personal care products, and more. Or grab your swimsuit for a refreshing swim or relaxing hot tub. Enjoy your time of relaxation and renewal at OHI San Diego.
Menu Types
Vegetarian
Organic
Nut Free
Menu/Cuisine
Because foods begin to lose essential nutrients and enzymes when heated above 105 degrees F, our staff creates healthy meals using food in its purest form – fresh, certified-organic, and raw. OHI meals do not contain nuts or oils to support the detoxification process.
Some of our chef's favorite dishes include:
Zucchini spaghetti and mock meatballs
Spinach soup, cauliflower salad, spring mix and sprouts
Vegan pizza with spring mix and sprouts
Corn tortillas with seed cheese and tomatoes
To help you maintain a healthy diet after you leave one of our healing centers, our program includes hands-on classes that teach you how to:
Combine foods to optimize digestion
Soak and sprout nuts, seeds, and grains
Ferment foods to improve digestion
Dehydrate foods to create crackers, pizza crusts, and snacks
OHI offers sprouting packs and cooking tools such as juicers and dehydrators to help you prepare raw food at home
Directions
San Diego is the nearest airport
Taxi service from San Diego International Airport
OHI San Diego has contracted with the Orange Cab Company at the San Diego International Airport to provide a special rate. If you arrive at the airport needing transportation, proceed to the Orange Cab curbside and request the special flat rate to the OHI San Diego campus.
Directions from San Diego International Airport
Exit AIRPORT onto HARBOR DRIVE toward San Diego Turn LEFT onto GRAPE ST.
Take the I-5 S ramp, and merge onto I-5 S. Take the 94 E exit.
Keep LEFT at the fork in the ramp, the merge onto 94 E.
Take the MASSACHUSETTS AVE exit, Turn LEFT onto MASSACHUSETTS AVE.
Follow MASSACHUSETTS AVE past BROADWAY to the traffic signal at CENTRAL AVE.
Turn RIGHT onto CENTRAL AVE. OHI is at 6970 on the RIGHT.
Reviews
Write a review - tell others about your experience.