About This Center
Casa De Pawua is a medicinal plant healing center nestled in the wilderness of the Bolivian Amazon. In Ashaninka, "Pawua" signifies the creator of the universe. It is because of the deep connection our maestro, Niño de la Selva, is building with Pawua that we decided to build the center in his name.
We work very closely with the sacred medicine Ayahuasca and Tobacco and hold weekly ceremonies under the watchful eye of our maestro. For all medicines that we work with, we carefully collect the plants right in our own backyard (close to Parque Nacional Madidi) and prepare them in the traditional manner. Our center has seen patients with issues ranging from spiritual imbalance, depression, alcoholism, drug addiction, leg infections and lesmanyasis. Of course, oftentimes our patients will join our ceremonies out of spiritual curiosity and to learn more about curanderismo.
The world is permeated by an overwhelming number of illnesses, most of which can be cured with the use of plant medicine and by tracing back to our roots. The jungle is the only true pharmacy we truly need.
Our vision is to create the first center of its kind in Bolivia that fosters a space for learning and healing through the use of various master plants. Our goal is to cultivate a space where patients and students alike can come, rest up, learn but most importantly heal on a physical, mental and spiritual level. Master plant diets that range from three days to several months are at the core of our philosophy and our team is constantly dieting new plants.
"Es tiempo ya, ya es hora."
Venue Highlights
Casa de Pawua is a medicinal plant and healing center in the Bolivian Amazon. We're a team of healers, artists and nature enthusiasts from all walks of life brought together by the master medicine Ayahuasca. We hold Ayahuasca and tobacco ceremonies in traditional indigenous style as per our maestro's background.
We pride ourselves in the fact that we manage all aspects of cooking the medicine. From venturing far out into the jungle to find the most powerful plants to preparing and cooking it. There are no shortcuts.
We are a school and we ourselves are constantly learning. Through plant diets, our team is constantly getting a deeper understanding about curanderismo and the practices that come with, which include learning new and creating our very own medicine songs.
Accommodations
Though we do not have a fully dedicated location at this time, we work closely with a local jungle lodge to house our patients and to hold our ceremonies. The space is located five minutes outside Rurrenabaque and features waterfalls with natural swimming pools, nature trails with birds-eye's views of the city as well as private rooms, showers and an open-air kitchen.
Menu Types
Vegan
Vegetarian
Pescetarian
Organic
Gluten Free
Dairy Free
Nut Free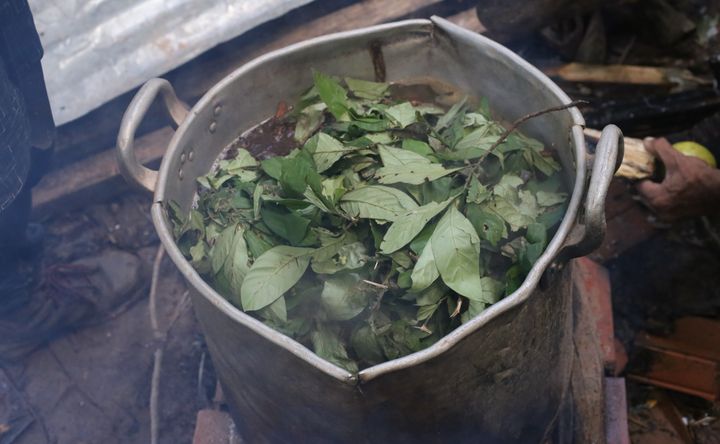 Menu/Cuisine
Our master plant diets, usually a minimum of eight days, consists of very strict eating restrictions (no dairy, no oil, no salt, no sugar, no spices, no fruit etc.) where the patient stays at our location in solitude and with minimal distractions. Our team will prepare the food each day as part of the diet includes a "dieta de fuego" where you cannot be close to fire.
Typically, the diet consists of oatmeal, boiled vegetables and eggs with rice, quinoa, yuca or pasta. No condiments are used. Occasionally, we will serve one type of fish, the Pahua, which is the only one allowed in the diet as it is a toothless fish.
Three times each day, the patient will drink her medicine and, depending on which plant it is, this may be combined with rapé as well.
The diet starts with a Tobacco Ceremony and depending on the length of it, it will include at least one Ayahuasca ceremony.
Throughout the diet, the patient is urged to spend as much time as possible in solitude, walking in the jungle and meditating. If done right, plant diets are very powerful tools that can lead to transformative experiences as well as to heal and prevent illnesses.
Directions
We are located in Rurrenabaque in the beginning of the Bolivian Amazon. You can easily get here either by a 15-hour bus ride from La Paz (around 70Bs one way) of by airplane to the local airport (from La Paz, tickets are about 450 Bs (with TAM) and between 650-750Bs with Amaszonas).
Reviews
Write a review - tell others about your experience.
Americo August 03, 2018

Inolvidable

Mi experiencia con mi familia junto a niño y josefine, fue realmente unica e inolvidable, porque mi padre y mi hermano participaron de la ceremonia, nos sentimos muy seguros al cuidado de niño y josefine.El sitio donde se realiza la cernonia es un lugar muy hermoso para estar en contacto con la naturaleza. Recomiendo casa de pawa, por que niño es un asombroso chaman que tiene mucho conocimiento sobre las plantas maestras de la pachamama.

Ric Ardo August 03, 2018

Smooth selva

I was with Niño for almost 8 days before i tried the ayahuasca ritual and i have to say that it was a grat experience. Niño and Josephine are really reassuring guys and the whole experience is like a trip inside yourself with the help of the ambient and the great presence of nature in all the process. I continue my travel but i know that i will come back

Cindy Flückiger May 08, 2018

Awesome experience:)

I stayed with Niño and Josephine for one week at the Casa de Pawua. We dieted plants and did two Tobacco- and three Ayahuasca- Ceremonies. The place is perfect to disconnect for a while, mediate, swim and connect with nature. The Ceremonies were so nice and I felt like Im in good hands while the trip. Would love to come back and do this again one day!:) I can really recommend Niño as an experienced Shaman who knows a lot about natural medicine and the Ayahuasca.