About This Center
Majestically poised 7000 feet high in the Sierra Madre Mountains, nestled amongst mature oaks and mighty pines, our Yoga and Wellness Mountain house boasts breathtaking views of famous Lake Zirahuen and its surrounding community in the colonial Mexican state of Michoacan. The Mountain Retreat is designed to bring mindfulness into all aspects of everyday that you are here, elevating your human vibration, and allowing you to move with intention.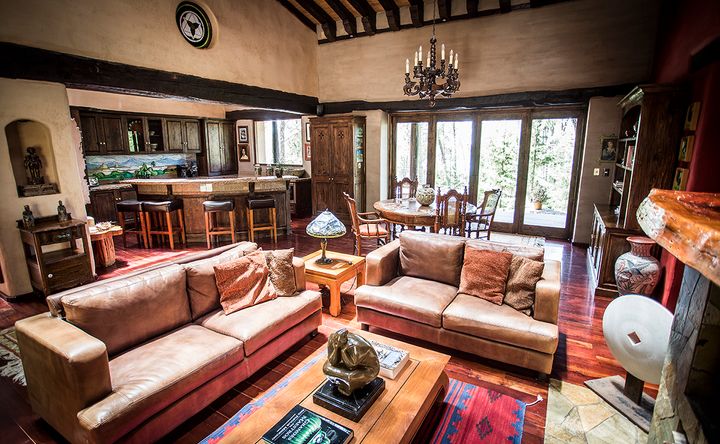 Venue Highlights
Five breathtaking suites are available. Price per night.
Whole property $850
Accommodations
The Bunk House
* The Bunk House accommodates four individuals, very comfortably: over-sized bunks with double beds, personal dressers and night stands, windows with views of the main house and over-looking zen gardens, a fireplace and lounge area, and a bathroom with 2 showers, a toilet, and a vanity.
* $100 per person
The Cabin
* The Cabin is the most private space available on the property: nestled into the upper corner of the zen garden, and bordering the pine forest. This unit is equipped with a fireplace, a lounge area, a shower, a toilet, a vanity, a dresser, and a king size bed*, accommodating an individual or a couple.
* $180 – single occupancy / $150 per person – double occupancy (*couple)
The Master Suite
* The Master Suite is one of three over-sized rooms in the main house. Extremely over-sized in fact, the ceiling in this room 20 feet tall at its peak! Over-looking the lake through a panorama of more-than-full-length, sliding, glass doors, you have private access to the main deck and an over-sized private deck space. In addition, this sprawling room is equipped with a fireplace and lounge, a flatscreen TV and lounge, two closets built into circular-shaped walls, drawers built into an over-sized vanity that follows the contour of the walls, a sauna, a toilet-vanity combo, a shower, and a king-size bed with view of the fireplace! Depending on the needs of the individuals utilizing this space, two more beds can comfortably be added to the floor plan – accommodating up to four people in total.
* $180 – single occupancy / $150 per person – double occupancy $130 per person – triple occupancy / $100 per person – quadruple occupancy
The Blue Door Suite
* The Blue Door Suite is one of three over-sized rooms in the main house. Waking up in this room is absolutely stunning, as a giant window acts as the headboard for the king size bed* – giving an incredible perspective of the canopies of indigenous trees on the property. Another huge window in the room over-looks the zen garden. This room has a private entrance, through an antique door of which it is named after, adjacent to the water fountain at the entrance of the main house. In addition, this room is equipped with a toilet-vanity, and a shower.
* $150 single occupancy / $130 per person – double occupancy (*couple)
The Lake View Suite
* The Lake View Suite is one of three over-sized rooms in the main house: over-looking the lake through more-than-full-length, sliding, glass doors, and private access to the deck – it is obvious how this room got it name. The sleeping quarters are more cozy than the rest, with a double size bed* and an armoir; however, it is still very spacious with tall ceilings. This room has a notably over-sized bathroom with circular-shaped walls, taking up even more floor-space than the bedroom itself. A view from the window in the bathroom over-looks the outside dining patio, yoga shala, and forest. The bathroom has a toilet, a vanity, and a shower, as well as additional space to keep your belongings.
* $150 single occupancy / $130 per person – double occupancy (*couple)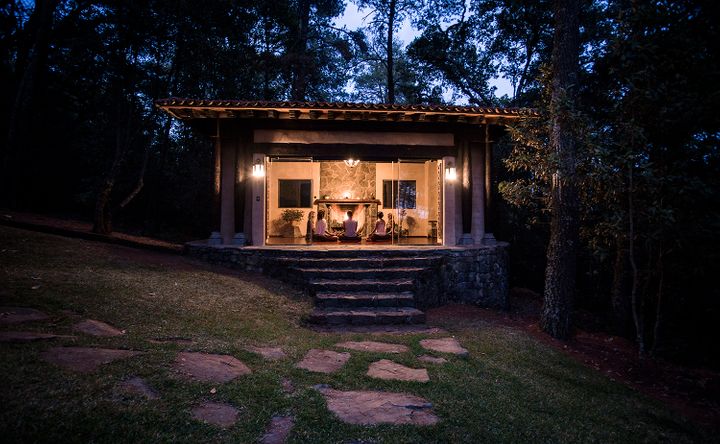 Amenities
Free Wifi
Sauna
Towels
Kitchen
Tour Assistance
Coffee/Tea
Yoga Studio
House Keeping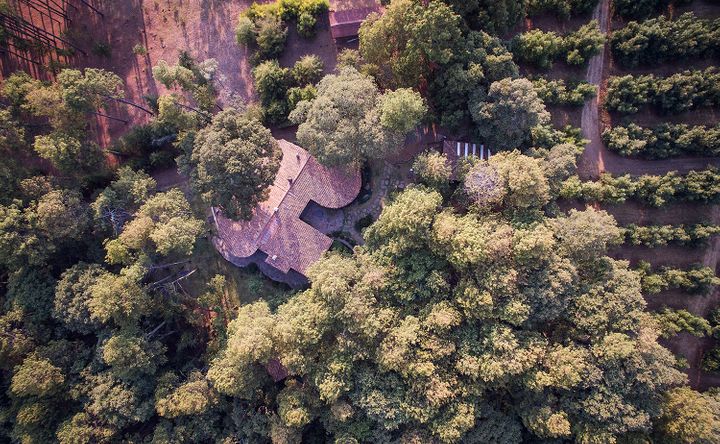 Directions
Lake Zirahuen is located near Patzcuaro, just off the Patzcuaro/Uruapan highway in the Sierra Madre Mountains of Michoacan, 68 kilometers south from the colonial city of Morelia, the state's capital. The breathtaking setting of Lake Zirahuen is unforgettable. Its crystalline waters, which range from a deep blue to a jade green reflect the surrounding ancient forests of pine, oak, cedar, and fruit trees. The lake gets its name from the indigenous pre-Hispanic Purepecha language, where Zirahuen translates as "Mirror of the Gods."
Lake Zirahuen is a peaceful fishing lake bordered by corn and avocado fields, horse ranches, and authentic Mexican pueblos. Wild thistle grows alongside the road and luscious blackberries are cultivated in the region. On the shore lies the village of Zirahuen, known for its rustic wooden casitas called 'trojes', traditional structures which for centuries have been used for casitas, grain storage and small businesses. At an altitude of 7000 feet with a moderately cool climate, Zirahuen is ablaze with colorful flowers most of the year including pink and red geraniums, explosive bougainvilleas, white calla lilies, delicate begonias, and a variety of roses, wildflowers and petunias that all thrive in this climate.
The shoreline is dotted with simple docks for fishing boats, mom-and-pop restaurants, rustic cabins for rent, and small shops selling assorted miscellaneous items. One of the most memorable visuals is a long wooden pier that stretches out into the lake waters. The pier is covered, and the geometric pattern of the wooden posts and railings artistically highlight the sunlight shimmering on this pure body of water. Motorized vehicles are prohibited on Lake Zirahuen, with the exception of two or three tour boats which operate on the weekends only.
Along the pier lies a series of small shops and cafes, surrounded by a profusion of blossoms, offering such authentic fare as charales (tiny, whole, crisp-fried white fish) fresh caught lake trout, sopes (hand-made tortillas stacked with fillings such as black beans, locally made cheeses, chorizo and chicken) and sopa de hongos (mushroom soup.) Crafts of the area include hand-carved wooden trays, spoons and toys, as well as colorful hand woven tablecloths and a variety of textiles.
Zirahuen's historical adobe brick town church is centrally located, and is dedicated to El Señor del Perdón (The Merciful Lord.) This beautiful building represents the architecture which prevailed throughout the region since the 16th century. Its vaulted ceiling is made completely of hardwoods from the mountain's forest, and the small choir loft can be reached by climbing a classical spiral staircase. The gable roof is made of ancient terra cotta tiles, and to the right side of this romantic house of worship lays a 16th century bell tower, entirely made of stone.
This village of fishermen and farmers has a fierce passion for music. The musical bands of Zirahuen are famous throughout the country. Also famous are the women's choir and their festive dance groups.
Reviews
Write a review - tell others about your experience.