About This Center
Tassajara is one of three practice communities that comprise the San Francisco Zen Center, which also includes City Center in San Francisco and Green Gulch Farm in Marin. Tassajara is nestled in a mountain valley, inland from the Big Sur coast in a remote part of the Ventana Wilderness and is dedicated to Zen Center's mission, which is "to embody, express, and make accessible the wisdom and compassion of the Buddha."
In 1967, Tassajara was established as the first Zen training monastery outside of Japan, and offers monastic training periods during the fall and winter months. Each year from May to September, Tassajara, or Zenshinji (Zen Heart-Mind Temple), as it is known formally, opens its gates to students and guests alike for the summer guest season.
Long known as a place of healing, the hot springs of Tassajara were first used by the native Esselen people. Since the 1870s, generations have traveled over the ridge and into the valley seeking renewal and tranquility. Today, the summer guest season still offers an opportunity to enjoy the valley's peace and beauty, along with a glimpse into the daily practices of resident monks. Our cabins and buildings are situated along Tassajara Creek. Combining a Japanese aesthetic with rustic hand-built details lovingly crafted over theyears, they perfectly complement guest stays based in enjoying the natural hot springs, hiking trails, and stunning vistas.
Venue Highlights
Tassajara is a welcome departure from the pace of modern life. With no locks on the doors and very few clocks, it offers the
perfect environment to slow down and recharge. Surrounded by wilderness, guests are afforded the rare freedom that accompanies isolation from cellular and internet access, and often find books are better than laptops when relaxing with their feet in the creek.
People come to Tassajara for many reasons—to hike, soak in the hot springs, participate in a wide range of retreats, or simply relax in the peace and tranquility. Experiencing life at a gentler tempo, guests often make new friends or deepen relationships.
At the top of many lists of things to enjoy at Tassajara is our Japanese style bathhouse. Traditional design blends with a contemporary aesthetic to create a soothing and contemplative space. There are no private showers in individual accommodations. Communal bathing and sharing the hot springs is part of the Tassajara experience. The bathhouse is clothing-optional with gender-separated facilities including communal showers, a private tub room, steam rooms, indoor and outdoor plunges, deck space for sunning, and creek access. Many accommodations have private toilet facilities but there are also housing options with shared toilets and sinks. Public toilet facilities are located throughout Tassajara.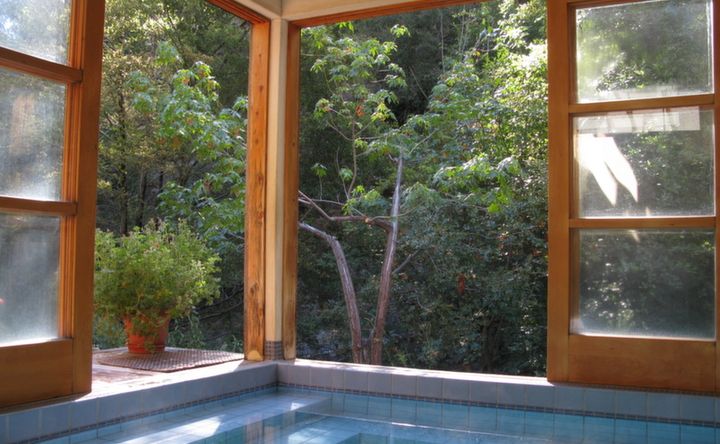 Accommodations
Guest Accommodations at Tassajara are humble and cozy, ranging from private cabins to shared dorms. Whether you are staying in a private room overlooking the creek, or find yourself nestled inside our quiet hideaways tucked along the mountainside, there are many options for settling in at Tassajara.
Creekside Cabins - These charming cabins offer a private deck with a view of the creek; some are original Tassajara structures, particularly the Stone Rooms and Pine Rooms. These more spacious cabins are rustic and have delightful features -- they have private bathrooms, are cooler in summer and warmer in April and May. All Stone and Pine rooms are suitable for children and are closer to the bathhouse.
Mountain Path Cabins - With similar character to Creekside Cabins, these dwellings open to the main path running through Tassajara. Many have decks offering comfort and seclusion, particularly the Yurts. Yurt 1, closest to the pool, is ideal for guests with children!
Redwood & Tatami Cabins - These endearing cabins are in the style of some of Tassajara's early lodgings and typically accommodate two guests. Some of these cabins feature traditional Japanese tatami mat flooring made of thickly woven rush grass. Redwood Cabins have regular beds, while Tatami Cabins have folding foam mattresses (shikibuton) which go directly on the tatami. All Redwood & Tatami Cabins have private restrooms.
Sycamore Cabins & Courtyard Rooms - Sycamore Cabins and Courtyard rooms have shared restrooms, Courtyard rooms have private sinks en suite. These cabins may be set up for a variety of shared housing, and are a great option for participating in a retreat with your friends.
Sycamore Dorms & Guest Practice Accommodations - We offer Men's and Women's dorm and Guest Practice rooms; they are shared housing, in a cabin style similar to Sycamore Cabins and Courtyards.
Menu/Cuisine
Our accommodations and overnight stays include family-style breakfasts and dinners featuring Tassajara's gourmet vegetarian cuisine. Guests can enjoy lunch in our dining room perched over the creek or prepare a bag lunch. Each day, we serve fresh-baked breads, which can also be purchased to take home.
Directions
Tassajara is located approximately two hours by car southeast of Carmel in the Ventana Wilderness Area. The last 14 miles of the road require special precautions, and there is no direct public transportation.
DIRECTIONS
From the north, take Hwy 101 south to the Hwy 156 / Monterey Peninsula exit at Prunedale. Follow Hwy 156 to Hwy 1 south. From Hwy 1 turn left at Carmel Valley Road and follow it until you reach Tassajara Road on the right.
From the south, take Hwy 101 north to Greenfield. Turn left onto G16 (Elm
Avenue). Follow G16 until you reach Tassajara Road on your left. Turn onto Tassajara Road and continue until you reach Jamesburg, where you can park your car and board the stage or continue driving into Tassajara.
THE STAGE
A four-wheel-drive eight-passenger vehicle is available to transport overnight guests over the last 14 miles of the road. We particularly recommend taking the stage if this is your first visit to Tassajara. Passengers may board the stage at Jamesburg at 10:30 a.m. daily, and the trip takes approximately one hour. Departure time from Tassajara is usually 3:00 p.m., although occasionally Tassajara may have to run the stage at different times. Reservations are required. The non-refundable round-trip fare is $35.
DRIVING PRECAUTIONS
For the last 14 miles, Tassajara Road is a winding dirt road with sheer drop-offs and a steep, narrow descent over the last five miles. Four-wheel-drive or standard transmission is recommended. We urge you to observe the following precautions if you choose to drive this road:
Make sure your car is in good working order, paying special attention to brakes, fuel, and cooling system. Fuel and repair services are not available at Tassajara or Jamesburg. The last gas stations are at Carmel Valley and Greenfield.
Travel during the cooler hours of the day if possible to avoid overheating the engine.
As you begin your descent over the last five miles, shift into the lowest possiblegear and PUMP your brakes as needed. DO NOT apply steady pressure to your brakes or they will overheat.
If your brakes begin to overheat or feel mushy, pull over immediately and allow them to cool for at least 20 minutes before continuing.
BY AIR
The closest airports are Monterey (2 hrs.), San Jose (4 hrs.), and San Francisco (5 hrs.).
Please allow ample time for travel and stage connections into Tassajara.
Reviews
Write a review - tell others about your experience.