About This Center
Esfera ("sphere") is a powerful symbol of aboriginal mysticism that references to the Pre-Columbian stone spheres of Costa Rica, that remain to this day a mystery. In sacred geometry, the sphere is the mother, the all encompassing shape that can hold all others in its womb.
The seed of Esfera was planted on the 21st of December 2012. Coincidentally (or not so coincidentally as we have come to believe) this was a day of strong energetic shifts as it was the end of the Mayan calendar as well as the winter solstice. On this day, our family decided to create a space for the comprehensive development of self. The planets aligned and plans were put into place. Plans became blueprints, blueprints became buildings and a few years later Esfera germinated. We have been blessed with this oasis, situated in the rolling hills of the Central Valley of Costa Rica , only 10 minutes from the airport.
We have many activities such as an active yoga schedule, women's circle, massages, meditations and guest lectures as well as workshops varying in themes such as ancestral medicine, family constellations, meditation, pranayama and we have had the honor of hosting the first international African Dance retreat in our grounds. We also help create memorable occasions, offering Esfera as a venue for social events (baby showers, weddings, etc) as well as wellness activities. The space is one of possibility, open to ideas and co-creation.
This place is a vision brought to life, every structure was lovingly created with mindfulness and care and each space feels wholesome and warm from the moment you enter. The views are breathtaking, the owners are inviting and the instructors are beautiful souls inside and out. It is worthy of visit you will not be disappointed. ~ Sanyika C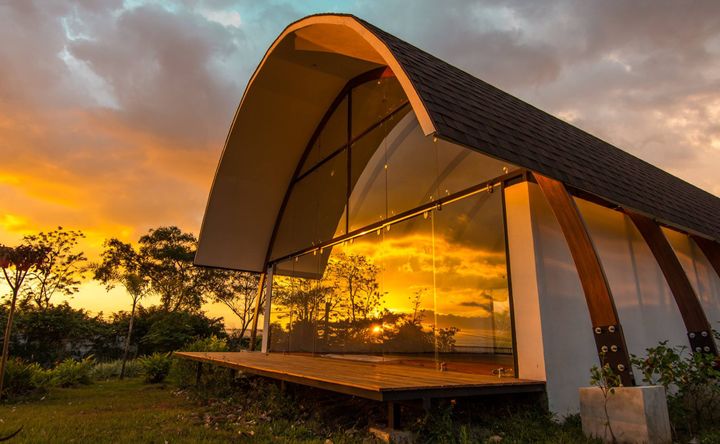 Venue Highlights
We are a new retreat center and are finishing construction of 3 spheres which will be used for lodging after March 2019. Almost everyone who visits Costa Rica comes through the international Airport which is located just a few minutes away.
Esfera has the advantage of being located near many attractions such as the Poas Volcano, coffee farms, as well as being only 90 minutes from the Pacific Ocean and tropical beaches.
We have our own organic garden where our chef gets much of the ingredients he uses to prepare the meals.
Amenities
Spa
Free Parking
Tour Assistance
Coffee/Tea
Yoga Studio
House Keeping
Directions
Parqueo seguro. Ubicados apenas 3km del Aeropuerto Int. J.S.M. Waze: Esfera Espacio Holístico.
Reviews
Write a review - tell others about your experience.