About This Center
We are a tranquil and architecturally unique event facility that is lookin to host more yoga related retreats and other events. Here is more information on our venue.
The Hacienda:
Tucked away on the lush grounds of Hacienda Sac Chich, Casa de Maquinas is a complex of 3 limestone buildings, a water tower and an 85 ft. chimney. Surrounded by palm filled gardens Casa de Maquinas consists of three (contact info blocked). rectangular structures that date to 1850. Throughout the hacienda there is evidence of its previous utilitarian life. Iron wheels and massive beams are remnants of its past. One building, CASA ANTIGUA, houses the living room, 2 king bedrooms, a loft bedroom with a queen and a double and 2 bathrooms and a colonial kitchen. Opposite the Casa Antigua is another building, the CASA NUEVA, where a dramatic central hallway is the entrance to 3 bedrooms and 3 bathrooms, all with soaring 26' ceilings and 13' high doors. The large master has a sunken living area, and outside within a walled garden is a settee and plunge pool.
Between these two buildings the open-air living room and dining pavilion, the Loggia, is surrounded by lily and fish filled reflecting water ponds and dramatic lighting. From the loggia climb an enclosed spiral staircase to a rooftop lounge and star-viewing platform. Here you can watch the moon, stars, sunset, an approaching storm or enjoy the night breeze. Through a seashell mosaic tunnel from the inner courtyard you find the 40-foot pool. Once the water tank for the hacienda, the freshwater pool is now a shimmering refuge from the heat of the Yucatan. A steel and bamboo pergola and a playita of shallow water with a hammock suspended above provide areas for rest and shade. Beyond the pool, in a hidden garden you find the regulation size bocce ball court. Framing the entire hacienda are dry stacked stonewalls, tall hedges of fica and walls creatively designed with metal cages filled with local limestone. The grounds are filled with exotic rare palms, bamboos, gingers, tropical plants and fruit trees. The house restoration has been a project of the renowned Mexican architect Salvador Reyes Rios and his partner and wife Josefina Larrain. Most of the furniture throughout is designed by Salvador and fabricated locally.
Casa Sisal:
Relax in the privacy of this contemporary home. Casa Sisal is adjacent to Hacienda Sac Chich, Casa de Maquinas. Surrounded by water lily reflecting ponds and a large green lawn, this 2000 square foot home is built within the 2 acre henequen drying fields of the hacienda and is enclosed by the haciendas original 10-foot wall, creating its own private world.
Casa Sisal has 2 bedrooms (one king and 2 queens), 2 baths, full kitchen, living area and dining for 8. Walk out of the living area on one side you'll find a patio with a 30- foot lily pond and out the other side is a beautiful 3-sided infinity edge swimming pool, palapa and patio. This home is constructed of hard woods, limestone and plaster polished to a sleek finish by the ancient Mayan technique called chukum. The ceiling and door heights are 10 feet giving every room a sense of great space. The house is lit very dramatically and on the lawn there are two rows of royal palms that at night seem to be suspended in space. Designed to experience the beauty of the Yucatan light and sky you will find Casa Sisal a respite from it all.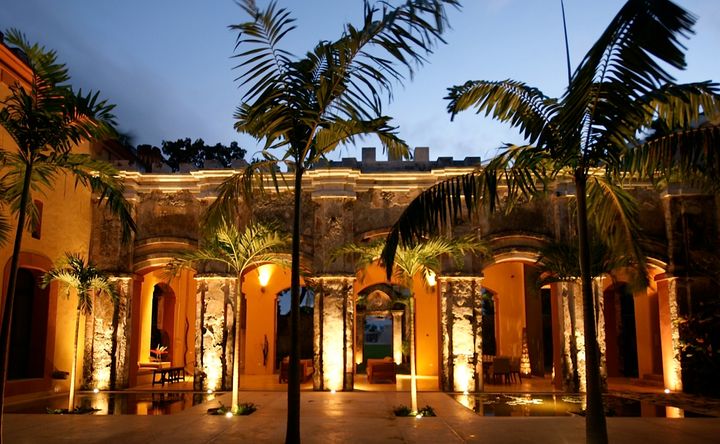 Venue Highlights
The Hacienda and Casa Sisal are located 35 minutes outside the colonial capital of the Yucatan state, Merida and a three hour drive from Cancun, Playa del Carmen or Tulum.
Located in a small pueblo of 50 families. The hacienda is close to several towns and their convents, cenotes, nature reserves with flocks of flamingos, gulf of Mexico beaches, Mayan ruins and the colonial city of Merida.
At dusk several of the lawns here come alive with thousands of fireflies, a sight to behold.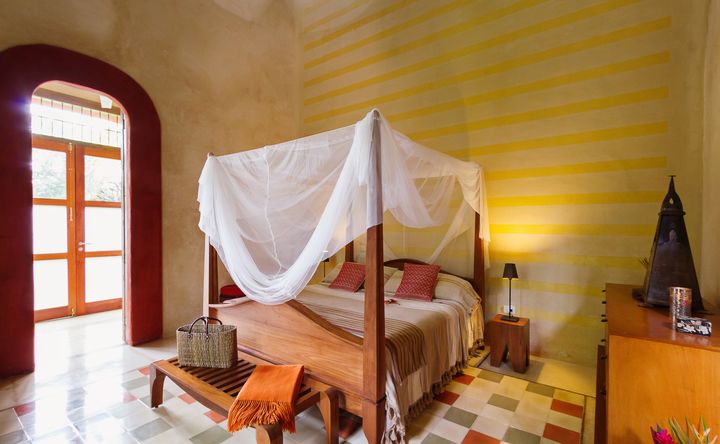 Accommodations
The Hacienda-sleeps 13 in 6 bedrooms
3-bedrooms with king beds and private bath
1-bedroom with queen bed and private bath
1-bedroom with king bed and loft bedroom above with 1-queen and 1-single bed
All toiletries and towels are provided. All rooms have AC and fans.
Casa Sisal-sleeps 6 in 2 bedrooms
1-bedroom with king bed and private bath
1-bedroom with 2-queen beds and private
All toiletries and towels are provided. All rooms have AC and fans.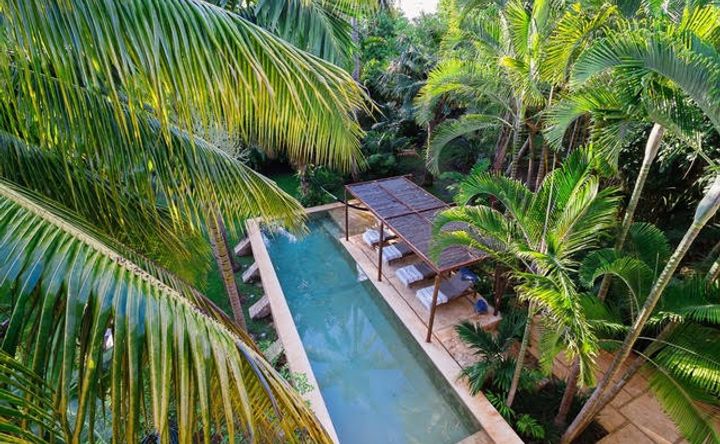 Amenities
A/C in Rooms
Free Wifi
Pool
Towels
Free Parking
Kitchen
Tour Assistance
Coffee/Tea
Yoga Studio
House Keeping
Bicycles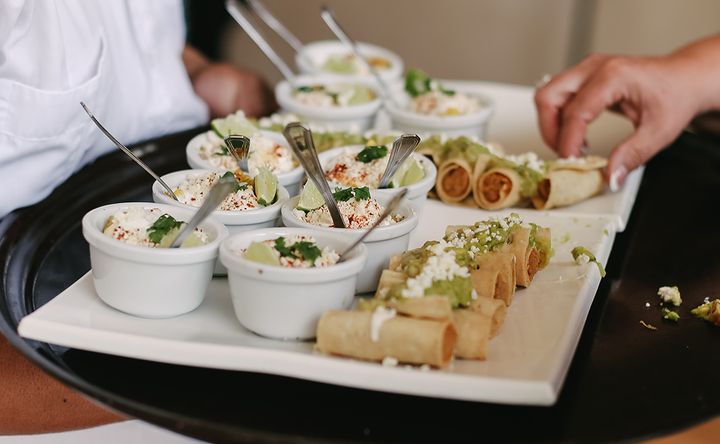 Menu Types
Vegetarian
Pescetarian
Meat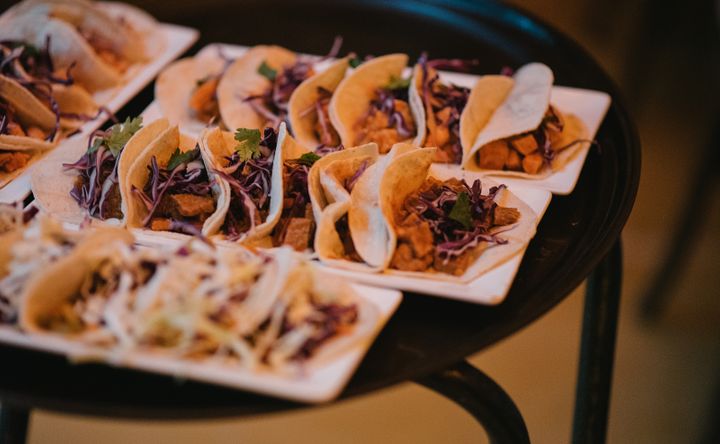 Menu/Cuisine
We can provide local Yucatan food meals with the organizer selecting from a list of offerings. Chefs are available for enhanced dining experiences and to fulfill dietary restrictions.
Directions
We are 35 minutes from the Merida intl. airport. Transport is available from taxis or Uber. Private pickup is available upon request.
We are a 3 hour drive form the Cancun International airport. Bus service is available from the airport to Merida, then Uber or taxi to the hacienda.
Rental cars are available at both airports.
Google Maps also knows where we are.
Reviews
Write a review - tell others about your experience.