About This Center
Springbank Retreat for Eco-Spirituality and the Arts: A place for deepening one's sense of ecological belonging - 7 sacred sites.
Rest the body, Renew the Spirit, and Refresh the MInd
Founded as a plantation in the 1770s, Springbank has been an ecumenical center for retreats, hospitality, healing, Earth education, and the arts for more than 50 years. Located on 80 acres, in a quiet, rural setting, Springbank is surrounded by a wooded area, walking trails, ancient live oaks, magnolia trees and flowering camellias. The swamp wilderness, meanering through stately gum trees, is home to a unique ece-system and a vast array of vegetation and wild life.
Springbank provides a healing and supportive environment for those in transition, those in need of spiritual and physical renewal, and those seeking new ways of relationship and ritual with the Holy, Earth self and all beings. Encounter new sources of hope and a deepening of your spiritual journey in an atmosphere anchored in simplicity and love of Earth.
Springbank offers 4-12 week sabbatical programs, Fall and Spring. Participants enjoy time for leisure as well as adventure. Springbank offers opportunities to be enriched and challenged by a diversity of programs: Integral Ecology, the New Universe Story/Cosmology, Indigenous Wisdom, creative activities (oainting, pottery, poetry ...) thus awakening anew our connection to the Whole.
Springbank is an ideal place for hosting groups (10 - 25) during non-sabbatical months; private retreatants are welcome anytime. Artist in residence: writers, painters poets, can reserve time and space for an extended stay.
Springbank Retreat Mission Statement
In the Dominican and Franciscan traditions we choose to live simply, to create beauty, to respect Earth and all beings, and to share the learned wisdom as co-creators with the Divine for a sustainable future.
Wonderful experience -- Well balanced program: Spirituality, Arts, moments of quiet, solitude, eye opening experience of Eco-Spirituality - mind stretching - bath of beauty, good companionship, time for relaxation, visits, leisure -- new vision of creation and inter-connectedness. Sr. Pierrette Ganon, DW, Quebec, Canada, Spring 2018 Springbank is among the World's Greatest Wonders. Words cannot express the many blessings which I've experienced here at Springbank. Every moment has been filled with the beauty of nature. I came in search of renewal and further direction in my ministry. I leave with a broad sense of purpose to re-ignite my ministry in whatever way God calls. My heart is filled with gratitude for this Oasis of Love in our Cosmic Universe. Sr. Jane Nienaber, OSF, Illinoise, Spring 2018 Each visit to Springbank uplifts, inspires, and rejuvenateds my entire being. Cincy Barkei, RN, North Carloina, Board Member Springbank sabbatical was a great renewal experience for me. I managed to put my first life vocation as an artist and my second life vocation as a religious missionary in Africa together. My awareness was that one did not exclude the other. By reconnecting with my creative being, I got in touch with the best energy I have been given by Creator to keep the co-creating process. The contact with the wonderful nature of the surroundings and inputs renewed my deisre to a greater commitment to care for our suffering Mother Earth. Sr. Maria Carmen, MSOLA, Rome, Italy, Fall 2016 Incrediible! It truly was a transformative time for me and my faith and my love of the wonderful creation God has gifted us with. The staff have quickly become my friends and I have returned three times since by sabbatical. Fr. Ken Ramon-Landry, Mississippi, Fall 2015 My soul was yearning for a more relaxed & creative approach to life based around Creation Spirituality; Springbank reanimated me. My knowledge of the Universe Story became grounded in every aspect of my being & I reached a new level of consciousness/awareness/commitment. My creative juices have been unleashed in ways only God imagined; I am continuing to take time for my native flute playing, painting, studying and sharing aspects of the unfolding Universe. Sr. Christina Aiken, RSM, Australia, Fall 2017 A time of review, deep reflection, surrounded by beauty, amazing creative expeeriences, all held by Native American traditions. A time of healing, regained confidence. A humbling experience every day of 'manaakitanga' hospitality in its deepest form which means 'to feed the spirit' - from the beautiful team and the environment that is Springbank ... Sr. Cheryl Connelly, RSM, New Zealand, Spring 2016 Informative, transformative, revitalizing. Left with a desire to do something more to care for Earth and to share the New Story. Sr. Gail Jagroop, OP, Trinidad, Fall 2017 Words cannot express the extent of my gratitude to you all. Everyone of you have been so generous with gifts, talents, time, patience and love. I loved my time here and I hope to come back. Sr. Eileen Fuchs, BVM, Fall 2017
Amenities
A/C in Rooms
Free Wifi
Towels
Free Parking
Kitchen
Coffee/Tea
Menu Types
Vegan
Vegetarian
Gluten Free
Dairy Free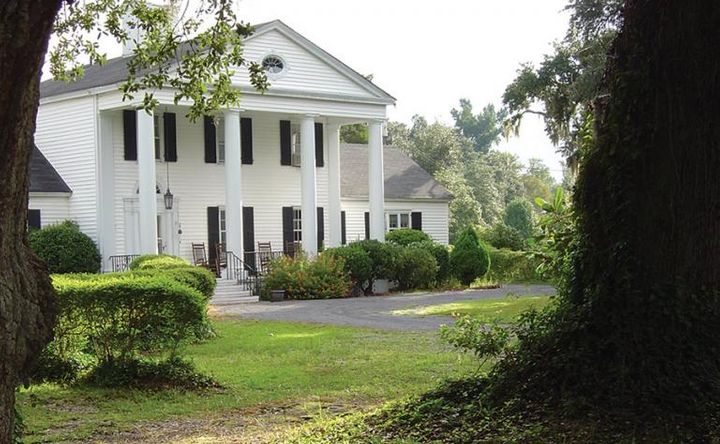 Directions
We are in a rural area about 14 minutes outside of Kingstree, 1345 Springbank Road, South Carolina, 29556
South Carolina. Airports : Charleston, Myrtle Beach, Columbia - almost 2 hours away; Florence Regional airport - an hour away. Airport transportation provided by Springbank Retreat - $70 roundtrip.
GPS: will take back roads to get here .... you can request more direct driving directions.
Reviews
Write a review - tell others about your experience.