About This Center
Easton Mountain is a community, retreat center, and sanctuary created by gay men as a gift to the world. Through workshops, programs, and events we provide opportunities to celebrate, heal, transform, and integrate body, mind, and spirit. We offer our land, rich in beauty and wisdom, as a home to a community that extends beyond the land. We are a worldwide fellowship of people enriched by our connection to Easton Mountain. This fellowship is a force for positive change in the world.
We Value:
Each individual's spiritual path and the quest for connection and understanding.The beauty of the earth, and our practice of stewardship of it.The joy and wisdom our bodies bring.The expression of love, intimacy, and erotic communion.Service, and those who strive to make life better for others.Creativity, celebration, fun, and gaiety.Respect, honesty and the peaceful resolution of conflict.Community, the support it provides, and the strength and love it brings.Work towards peace, nonviolence, and social justice; ending oppression and healing its impact on all people.Hospitality that welcomes all others as sisters and brothers.
It was so wonderful to be in such a beautiful mountain setting with the community. The opportunity to have intellectually stimulating conversations with a variety of men of all shapes, colors, and ages in a beautiful rustic face-to-face setting was spiritually enlightening and a welcomed change ... The majestic 170 acre setting was bursting with wildlife and it is actually on the top of a beautiful mountain with two ponds (one has a water-fountain), a big new swimming pool, and one really large wood-fired sauna along with a huge hot-tub too... I hated to leave and I can't wait to get back!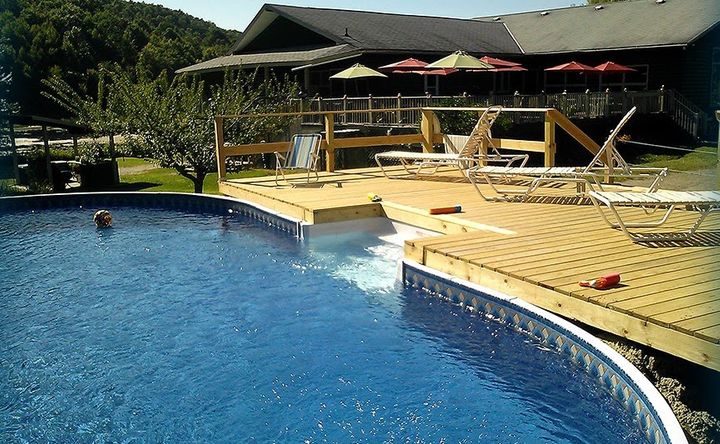 Venue Highlights
Easton Mountain is a retreat center located near Albany, New York. It is a place for learning, healing, and growth, in a setting that also provides opportunities for recreation and appreciation of nature. We are located on 175 beautiful wooded acres and have multiple options for meeting spaces suitable for small to large groups. For overnight, weekend or longer events, we have a variety of accommodations, including private rooms, semi-private rooms, rooms for four, and dormitory-style rooms. In the warmer months, guests are also welcome to bring their own tent and camp in a number of wonderful sites.
Accommodations
We provide several options for housing:
The Guest House - Offering two room options, our two-story Guest House includes in-suite bathrooms with shower, and WiFi access. Room options include two beds or two bunk beds.
The Garden Cabin - A dormitory-style accommodation with five bunk beds, our Garden Cabin offers WiFi access and shared toilet facilities. Shower facilities are located on the ground level of the Lodge, approximately 500 feet away
Camping - Guests are also welcome to bring their own tent and camp in a variety of beautiful locations on the land. From a platform right on the duck pond to our hillside next to the Guest House, this option allows you to enjoy the beautiful land while still offering you the comforts of facilities available at the Lodge.
Amenities
Free Wifi
Sauna
Pool
Towels
Free Parking
Kitchen
Hot Tub
Coffee/Tea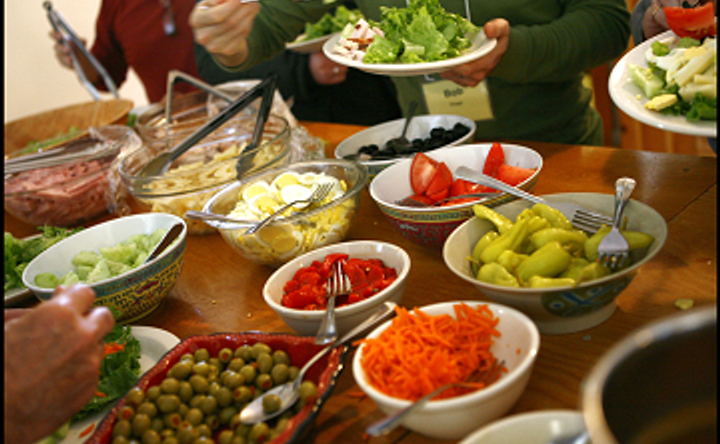 Menu Types
Vegan
Vegetarian
Pescetarian
Meat
Gluten Free
Dairy Free
Nut Free
Menu/Cuisine
Meals are provided three times daily: breakfast, lunch, and dinner. Breakfast is usually served continental style, with assorted breads, bagels, and cold cereals available, along with a hot cereal, yogurt, a hot breakfast entree, and fresh fruit. For some retreats, the last day will feature light snacks in the early morning and a late morning brunch. Lunch and dinner are usually hot meals with fresh bread and salad available. We serve meat, usually in the form of beef, pork, chicken, turkey, and fish. A vegetarian option is also available at each meal; we ask that this be reserved for those who request vegetarian meals, as there is not enough of the vegetarian option prepared for everyone to eat.
Snacks such as cold cereals, fruits and nuts, along with coffee, assorted hot teas, chilled water, and iced tea, are available 24 hours a day in the dining room. Please note that we can not always accommodate special dietary requests for food allergies. If you have specific food allergies, we suggest you contact us ahead of time and bring some special food for yourself to supplement any food that we serve which you can eat. Refrigerator space can be provided for you if needed to store your food.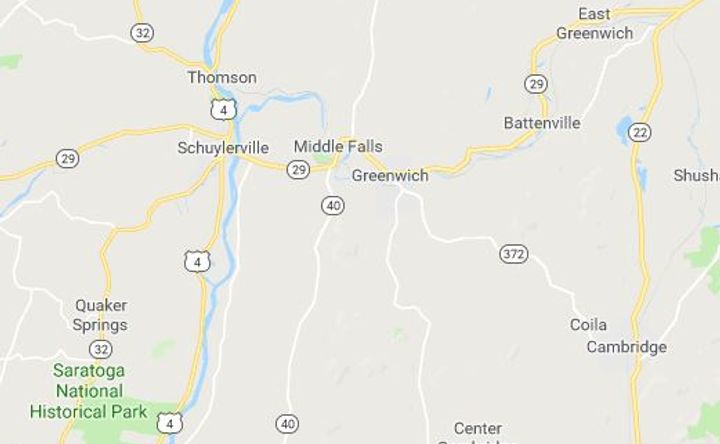 Directions
Easton Mountain is located in the Hudson Valley approximately 30 miles North of Albany, New York and conveniently located within a three-hour drive of Boston, New York City, and Montreal. Please see our website for turn by turn directions. To set up your GPS, use the following address: 391 Herrington Hill Road, Greenwich, NY 12834.
You can fly into the Albany airport, take the Megabus or AMTRAK to Albany (Rensselaer Station), or take the Greyhound/Trailways to Albany. We can usually arrange for a volunteer to pick you up. Please refer to our website for details
Reviews
Write a review - tell others about your experience.