About This Center
Spirit on the Water is dedicated to the practice and rituals that remind us to be playful, to connect to one another, to dive deep into our spiritual practice, and to love, yes most of all, to love.
Our retreat center grew out of a desire to create a safe place for people to do their personal work. A visiting Shaman from the Amazon in Ecuador once declared that we are built on a vortex, which prompted us to expand even more so that we can contribute to your expansion.
We believe that perfect is overrated. We do our best, we live with mother nature and all the joys that come with that, and we work together to help make a difference for each other. We are Team Spirit. How can we help you get what you want?
Our Mission is to provide a safe space for people to connect to Source, Self, and Essential Knowledge through yoga and other heart-centered retreats.
Our Vision is to unite a worldwide community of people helping each other transform and expand through yoga, nutrition, sacred ceremonies and creative expression.
The sense of peace that you can almost touch when you enter the space was like nothing I had ever experienced. It took awhile for me to settle into this new feeling and as the days past I found that the way I was looking at the world was changing. Gary K.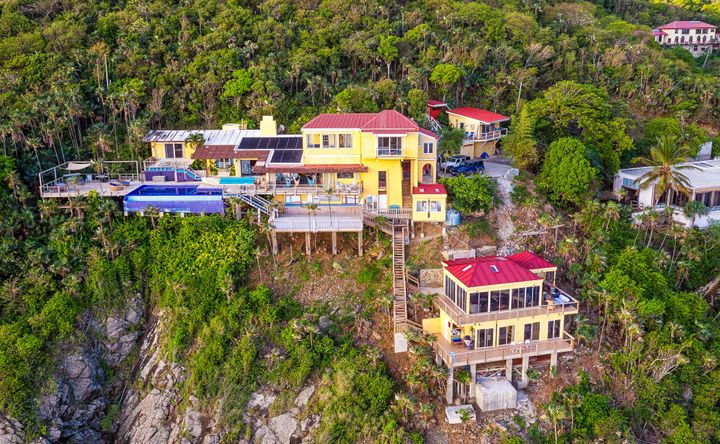 Venue Highlights
We are the only Yoga Retreat Center in the Virgin Islands. (no passport required from the USA)
Spirit on the Water is proud to welcome and host our friends around the yoga planet – we love sharing this incredible environment so teachers and students can deepen their practice in partnership with a deeply connected community. Our fully private, safe, and breathtaking Caribbean property provides the perfect venue for both world class teachers and devoted students to expand and enhance their practice in the only Self Care retreat center in the US and British Virgin Islands.
We are currently booking for 2018/2019, so please use our contact form to begin a conversation about your upcoming retreat. Here at Spirit, our special focus is a home environment that honors growth, creativity, and the ultimate space to slow down and stretch out. It is our privilege to share this rich, beautiful, inviting space for the spiritual, emotional, and physical work that creates expansion and supports the intentional transformation of our planet. We get that you're here to generate something magnificent and momentous for your people, and we are here to provide the environment for that to happen. We get that we are one.
Why the VI? The Virgin Islands as a Destination
St. Thomas is one of 3 U.S. Virgin Islands in the territory. All are accessible without a passport if you are a U.S. Citizen. St. John is a quick 15-minute ferry ride away and is home to an expansive national park. There are also a handful of British Virgin Islands that are accessible via ferry out of Redhook, which is 15 minutes from the retreat center. We are happy to help you design your Virgin Islands retreat by adding experiences for your guest that range from hiking to boating to tax free shopping and everything in between.
The Virgin Islands have an average year-round temperature range that maintains itself in the 80's. The aqua blue Caribbean Sea averages a temperature of 80 degrees as well.
St. Thomas is home to the World-famous Magen's Bay, a mile-long white sandy beach rated in the top 10 beaches across the Globe. Magen's Bay is only 7 minutes from Spirit on the Water. There are paddleboard and kayak rentals available at reasonable rates if you want to add this to your retreat menu.
Day sailing/boating excursions are available for booking. Guided snorkel tours are available as part of the charter experience. Come swim with sea turtles, stingrays and explore the beautiful coral reefs of the Virgin Islands.
We are committed to your success. We will list your retreat on our website and across all of our social media platforms as well as share the event with our mailing list. We can help with booking day excursions, transportation and connect you to caterers if needed for your event. The airport code for Cyril E King Airport in St. Thomas is STT.
Optimum Group Size: 12-20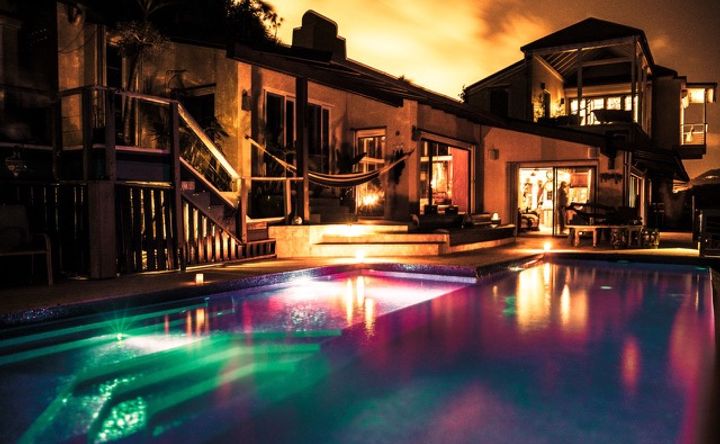 Accommodations
There are three stand alone properties that make up Spirit on the Water: The Main Villa, The Vision and The Treehouse. Depending on your package, you will have access to the infinity pool, and all of the event spaces, common areas, and kitchens on site. Each individual bedroom is carefully placed on the property to provide for the best views and connection with nature.
Spirit on the Water in its totality sleeps 20 guests in 15 beds. (Additional sleeping in Community Space)
THE MAIN VILLA
$900 night (plus tax & cleaning fee)
Spirit on the Water offers you peace and tranquility, spectacular uninterrupted views down island to St. John and the British Virgin Islands, unequaled sunrises and star-filled night skies.
Open Air Large Kitchen in common area (casual seating at the bar for 8)
Open Courtyard with seating for up to 22 with a fabulous grill
Open sitting room surrounded by ocean and pool
Glass tiled infinity edged swimming pool with an expansive coral stone deck.
3 oceanfront bedrooms
Rooms
The Celestial Room: Large Indoor Meeting Room and Lounge area with a fireplace full of candles, comfy seating and space for mats on the floor, looking out over the pool onto the ocean. Can also be used for indoor yoga or dining during a rainstorm.
The Wellness Room: A charming ocean front bedroom, located just inside the entrance gates and right off the courtyard. There are two twin beds and this room has easy access to the bathroom and outdoor shower in the courtyard. P.S. Magic has been known to happen in The Wellness Room over the years.
The Blue Moon Room: This lovely bedroom opens onto a small deck with a hammock that adjoins the pool deck overlooking the ocean. There is a very comfortable Queen Bed as well as a twin and a really nice breeze. The bathroom is just around the corner.
The Dream Suite: Opens onto a large deck with lounge chairs overlooking the pool and the ocean. With it's en suite bathroom and a drop down shower with ocean views, a Duxianna queen bed with soft linens and a bookshelf full of great reads, you may never want to leave your suite. There is a sofa for lounging, and additional twin size bed and a small writing table to tempt you to create.
An Open Air Kitchen with bar seating and Open Courtyard with seating for up to 22. This kitchen becomes the gathering spot with a small open living room area off to the side, and no walls leading to the open courtyard.
The Kitchenette: Just behind the Great Room is an additional kitchenette that has a refrigerator, microwave and toaster oven to server your light cooking needs or to prepare and store additional food for events.
THE VISION
$600 night (plus tax & cleaning fee)
The Vision is a stand-alone sacred space built into the cliffs of Estate Harmony with the dramatic coastline rocking you on the edge of the world.
Upper Level
An expansive meditation room/common area surrounded by sliding glass doors and open air balconies overlooking the sea on three sides. This room is also used for indoor yoga sessions on rainy days. The Vision includes a white baby grand piano, seating for 20, wifi, and a large 'Smart TV'. Its views are truly unbelievable.
One and a half baths
A full open-air kitchen with an indoor and outdoor dining area
Wrap around deck with seating and lounging areas.
Lower Level
Sunrise/Sunset Terrace: Quite possibly the most arresting vista for sunrise on the island, the charming Sunrise Seating Terrace looks out over waves crashing against a jagged cliff, at an open expanse of sea and sky. Whether it's the view or the vibe you're likely to never forget it.
Three Bedrooms each with their own bathroom and air conditioners (that are rarely needed with the ocean breeze)
The Ostrich Room: Three twin Beds or One King Bed and One Twin Bed
The Lamb Room: Two Twin Beds
The Moo Room: One Queen Bed
THE TREEHOUSE
$300 (plus tax & cleaning fee)
A funky studio apartment nestled into the trees on a hillside 100 feet above the oceans edge. With just the right amount of private. The "Treehouse" has a large outdoor bathroom and magical shower with complete views of the ocean over swaying palms.
Two queen beds and one twin bed.
A kitchenette to help with your lite cooking needs: refrigerator, sink, microwave, and a toaster oven.
Two decks facing the ocean for dining and hanging out.
ADDITIONAL FEES
In addition to the nightly rates for lodging are:
Cleaning Fees:
Treehouse $100
Main Villa $200
Vision $150
Tax 12.5%
To reserve your dates requires a 20% deposit with balance paid in full 30 days before the event.
Amenities
A/C in Rooms
Free Wifi
Pool
Towels
Free Parking
Kitchen
Tour Assistance
Menu Types
Vegan
Vegetarian
Pescetarian
Gluten Free
Dairy Free
Menu/Cuisine
We will connect you with a variety of local and non-local chefs that cater to your specific menu needs and dietary restrictions.
Directions
Airport code: STT
Google Maps:
1 Spirit Way
St. Thomas, VI 00802
Reviews
Write a review - tell others about your experience.