About This Center
Ebbio is an original rural complex from the 13th century converted into a charming agriturismo welcoming you in its 10 spacious rooms full of fascinating history. We try to keep the feeling of the old Italian country ways of living. Silence, earthy colours and fragrances are still prominent.
Ebbio is surrounded by an evergreen forest embracing the heart of an extinguished volcano`sacred to Etruscans. Between Siena and Florence, just 1.8 km away from the medieval borgo of Monteriggioni, Ebbio is a certified organic farm of 7 hectares. We cultivate olive trees, vineyards, officinal plants, fruits and vegetables, used in the preparation of the vegetarian meals we can offer during your staying. Ebbio is a perfect location to host retreats and workshops, corporate events of any kind or simply family&friends get aways because of the strategic position and it's conformation offering numerous communal indoor and outdoor spaces as well as many spots to find peace tranquility.
In Ebbio, you will find the spectacular scenery combines the history and flavours that make Tuscany such a unique vacation experience.
"This place is amazing. A perfect escape from the hassles of modern life. We could not have felt more welcome. We arrived from a very long hot walk along the via Francigena to be welcomed by a chat over cool iced tea under the shade of a lovely tree. This place is a magical escape from the rat race. The people we meet here are so enthusiastic about their love of the landscape and who made us feel totally at home here. The food was a highlight , light, homemade from all locally grown produce. The house was tastefully refurbished to the original style. We had our best nights sleep here after a stroll to see the donkeys horses and 2 of the friendliest dogs we have ever met. I can't recommend this place enough. Wi go was great too but come here to escape relax and enjoy" Niamh - Ireland
Venue Highlights
After twenty years of hosting holistic, meditation and physical practice retreats, Ebbio has become the perfect location to create an unforgettable activity related holiday. For us it's about sharing peace and tranquility while centering mind and body. We have our own indoor activity studio with a wooden floor that can accommodate up to 25 mats and an outdoor patio for sunrise and sunset sessions. We are ideal for groups lead by instructors or trainers, companies, families and friends, or even weddings. For those wishing to book this unique Tuscan villa as a whole we can design packages and activities to suit your needs.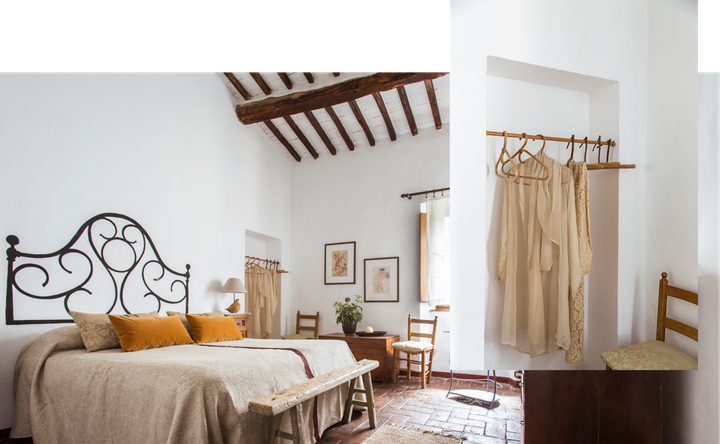 Accommodations
With a total of 11 rooms, Ebbio can accommodate up to 26 people in a wide variety of arrangements. Visit to learn more - (contact info blocked)
Menu/Cuisine
We nourish you from the inside out. Our meals always contain daily fresh pickings from our onsite certified organic garden.
Inspired by nature and sustainable living, our artfully prepared, organic vegetarian cuisine is a highlight for our guests. We have been cooking mainly with plant proteins for more than 20 years and we are very careful about offering complete, nutrient-rich meals, keeping elements of surprise and pleasure.
Reviews
Write a review - tell others about your experience.
Teacher