About This Center
Essencia (e-sen-see-a) The nature, spirit, essence of
I'm Kath Sinclair, founder of Essencia Retreats
Essencia was born from my love of yoga and adventure entwined in my pure delight in the gorgeousness of doTERRA Essential Oils! I was searching for a way to share the joy these passions bring to my life somehow with others…
It all started with a visit to the stunning island of Bali where I came across the most perfect venue for an adventure… and it was there that the Essencia seed was planted! It became a driving force… to return and create a perfect week in this glorious paradise to share with beautiful like minded souls!
The Yoga portion of our retreats are facilitated by fully qualified yoga teachers with the most divine souls, beautiful hearts and a sincere desire to see us grow and flourish into the best version of ourselves.
We now offer an amazing annual retreat in East Bali and plan to expand to other simply gorgeous locations. There are times in life when you just need to slow down, take a step back, and breathe… we have the perfect place to do just that!
Join me, as we delve into some personal exploration combined with daily yoga practice, breathtaking location, delicious nutritious food, local exploration and the encouragement and support of some pretty amazing like-minded travellers.It is a beautiful, heartfelt journey and we welcome you with open arms!
My experience on retreat with Essencia Retreats totally exceeded all expectations; in fact it was pure bliss! Kath's attention to detail ensured that every aspect of the retreat was amazing – it was structured, yet completely relaxed at the same time. I felt that my yoga practice improved, I felt cleansed and completely relaxed. I also loved meeting and making new friends. I loved the rustic accommodation, extremely cool, clean and comfortable. The view from the yoga pavilion was outstanding! The food was amazing, I couldn't fault it. I liked the fact that we had the free time to do as little or as much as we liked! For me personally, I wanted to walk away from the retreat feeling refreshed and relaxed and that's exactly how I felt! To be completely honest, I couldn't fault it! I loved every moment and wouldn't hesitate for a second to recommend Essencia Retreats! ~ Sophie, Sydney NSW ~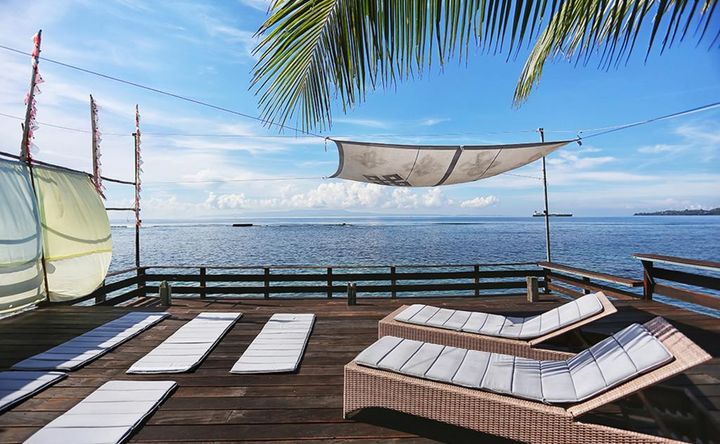 Venue Highlights
Words cannot describe or pictures adequately depict the 'feel' of this special place that provides a multitude of options for you to feel nurtured & totally comfortable. It is aah – mazing!!
It's hard to not to call this hidden beauty 'Paradise'. Pondok Pisang is nestled in the serenity of its own coconut grove surrounded by a large tropical garden with a private waterfront perfect for swimming and snorkelling. Our haven at Pondok Pisang is for those seeking a unique experience whilst indulging in the comfort and humble hospitality of a family run boutique retreat.
Enjoy a swim in the refreshing coolness of the turquoise ocean. Laze on a sunlounge on the luxurious deck and enjoy the vista, relax back in a quiet nook with a good book, enjoy conversation and connection with other guests in the communal restaurant area, hop on a pushbike if you're feeling adventurous and head off to explore the shops and colourful beauty that surrounds the local area, take some quiet time, meditate or journal, or just get lost in thought.
Do as little or as much as you desire.
It's all up to you! This week is All about YOU!
Accommodations
There are eight quirky and totally individual eclectic bungalows –Each unique and oh so comfortable. They are not air conditioned, but they do have ceiling fans and there is generally a cool refreshing breeze that is freely flowing which naturally cools the rooms. There are no televisions, DVD or CD players in the rooms. Plenty of time and space to just 'be'.
All rooms have daily housekeeping attended by truly beautiful staff. Some bungalows have upstairs bedrooms, some have single level bedrooms, most have single beds - however there are three double beds available. All have a bathroom and one bungalow even has an outdoor bathroom, all have their own private sitting area, and three even have their own private deck directly on the waterfront! As you register and pay your deposit, you will select your special room. Once you pick the room that's calling you, it is yours!
The sooner you register, the more room selection you'll have! If a roommate is not designated by you, it will be filled by the next person registering. There are limited options for those wishing a room to themselves, so I suggest if you prefer this option you may need to get in quick!
Are you starting to get a sense of the uniqueness and intimate feel of this private oasis?
Wait until you see all that awaits.
Click on the link to our website to view the rooms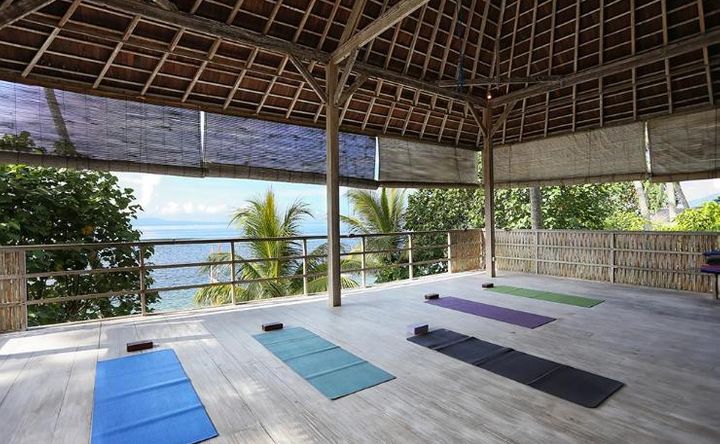 Amenities
Free Wifi
Towels
Tour Assistance
Coffee/Tea
Cafe
Restaurant
Fitness Center
Yoga Studio
House Keeping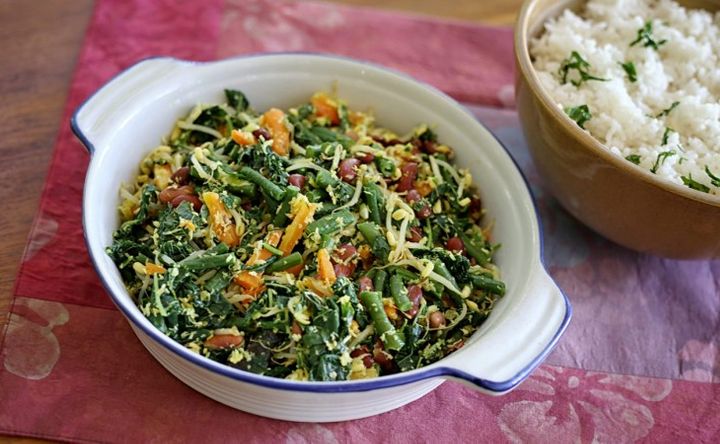 Menu Types
Vegetarian
Organic
Gluten Free
Menu/Cuisine
You will enjoy a week full of sensory pleasures…
Our ambient restaurant on the premises will be providing us with three delicious and nutritious meals every day – yes, breakfast, lunch and dinner daily! Their yummy menu is inspired by the traditional flavours of East Bali with the freshest organic produce and ingredients sourced locally from the surrounding area whilst the vegetarian menu encapsulates the commitment to taking care of your body and spirit during your stay at Pondok Pisang. The authentic signature dish such as the delectable sticky black rice pudding with coconut milk and banana is one not to be missed! Each day we will get to devour these delicious delicacies… oh la la…. How simply scrumptious!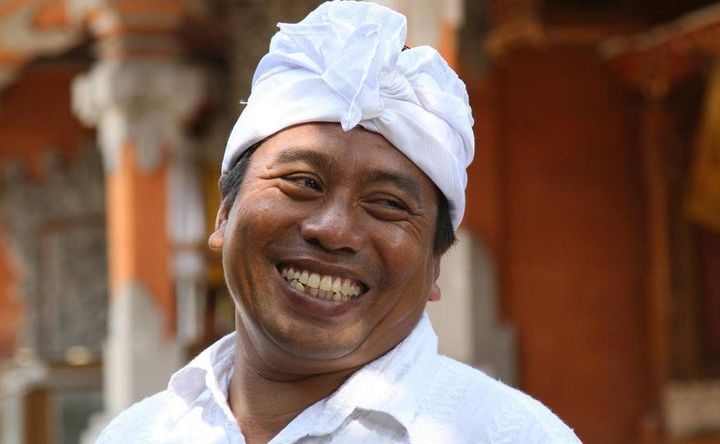 Directions
Airport pick up and drop off is complimentary. From the moment you set foot in beautiful Bali you are in safe hands - You are met at the airport by your friendly private driver who loads your luggage and offers you a warm smile as you board your air-conditioned transport. Your drive is approximately 60-90 minutes (traffic permitting), enabling you to experience firsthand the busy life of city Bali, from the hustle and bustle of the city through the quaint villages, eventually opening to the stunning vivid greens of the rice fields.
You venture off the main road in Candi Dasa, to arrive at our hidden jewel, Pondok Pisang (Banana Village) our private venue far from the maddening crowds. From the moment you enter the gates to this hideaway, you know you've stepped into a truly special place. You are warmly greeted at the entrance of this quaint paradise with a refreshing cool drink and the most warm-hearted smiles as you inhale deeply absorbing the serenity and peace that already envelopes you.
Reviews
Write a review - tell others about your experience.
Teacher
A guru says "Listen to me". A guide says "Follow your heart". Matt Kahn