About This Center
There are places that belong to our soul. We know that we have landed there in the very moment we see them for the first time. After a long time research we finally found our one, in the most enchanting side of Sicily, and now Sicilian Spirit at La Masseria Sgadari is ready to become your school away from school.
In our 17th century farmhouse, surrounded by 25 ha of a lush private park, that includes a secluded oak wood, a small river and a labyrinth garden of the first half of 18th century, we host yoga, meditation, tantra and shamanic retreats.
Located in the Madonie area, in the very center of Sicily, La Masseria is a certified organic farm and produces extra virgin olive oil, wheat, wine, vegetables and fruit that we use to prepare our healthy vegetarian meals and our homemade preserves and jams.
If you are a teacher, we will heartily welcome you with your students, and we will support you in every step of your work during your retreat. Our heritage of Sicilian culture, hospitality and soulful traditions have a great part in our life path and sustain us to live in harmony with ourselves, others and Nature.
"In spring, hundreds of flowers; in autumn, a harvest moon; in summer, a refreshing breeze; in winter, snow will accompany you. If useless things do not hang in your mind, any season is a good season for you". (Zen poem)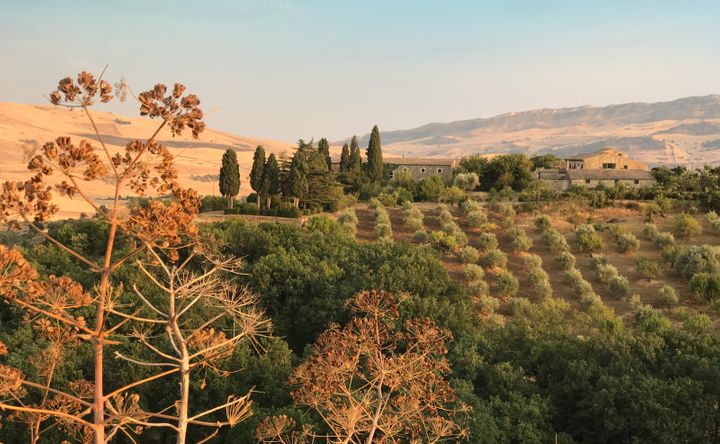 Venue Highlights
Nested in the heart of the Madonie mountain park, a few miles from Gangi – "Most beautiful village in Italy" prize winner – and about 40km from the enchanting fishermen village of Cefalù, Sicilian Spirit hosts yoga, meditation and tantra retreats in a 17th century "Masseria", wonderfully restored respecting her ancient feudal structure. Surrounded by the silence offered by its enclosed 25 hectares park, at 650 mts above the sea level, you will be able to walk for hours in the secret inner paths and in the hidden centuries-old oak forest, get lost in the labyrinth garden of the 18th century, explore the banks of our "private" river, meditate or practice yoga at sunrise or sunset in the terrace overlooking the mountains and the valley or just sunbathing and swimming in the infinity pool.
The historic barn of the Masseria has been beautifully restored and transformed into a fully equipped 130 sq.m. Yoga room, with a comfortable capacity for 26/28 people, technical floor above the old "cotto", heating and air conditioning systems, PA system with Ipod / Telephone connection, videoprojector. At the students' disposal, yoga mats, blocks, belts, meditation pillows, futons and blankets. Furthermore, the 400 sq.m panoramic terrace is a perfect, alternative, set for outdoor exercise.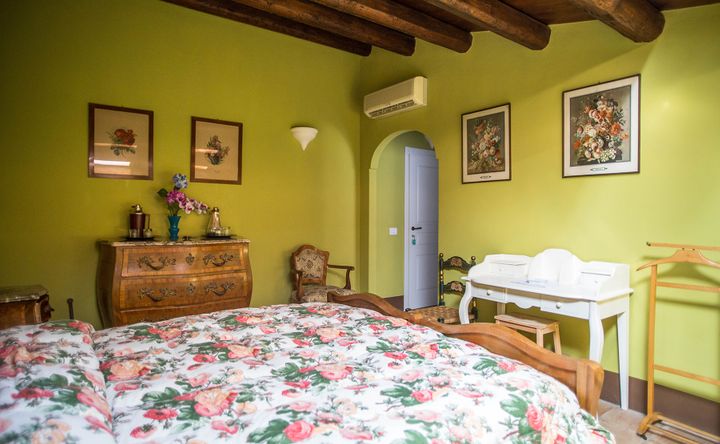 Accommodations
We can accommodate 26 guests in 13 double rooms, one of which will be at free disposal for the teachers, meals included. Therefore we can accommodate up to 24 students, plus teachers. All beds – except in two rooms, which have a single king-size bed - can be separated or joined together, depending on the needs. Rooms are equipped with cotton sheets and towels.
Two rooms (around 25sq.m each) with private bathroom, are located in the main building, above the Yoga room. A third room with private bathroom is on the labyrinth garden side, and has a living room and a private terrace.
The other 10 double rooms, with shared bathroom – one every two rooms – are located in five cottages (around 60 sqm each) in the garden, all with their own equipped private patio and their own kitchenette. Each cottage has two double rooms, one of which is separated by colourful heavy curtains, which can be opened to create a large common area.
For smaller groups, we can anyway offer each of the five cottages as a single/double room with private bathroom and with living room. In this case, our total availability consists of 8 single/double rooms with private bathroom.
All rooms have heating and air conditioning facilities and are elegantly furnished with antique or Sicilian style furniture.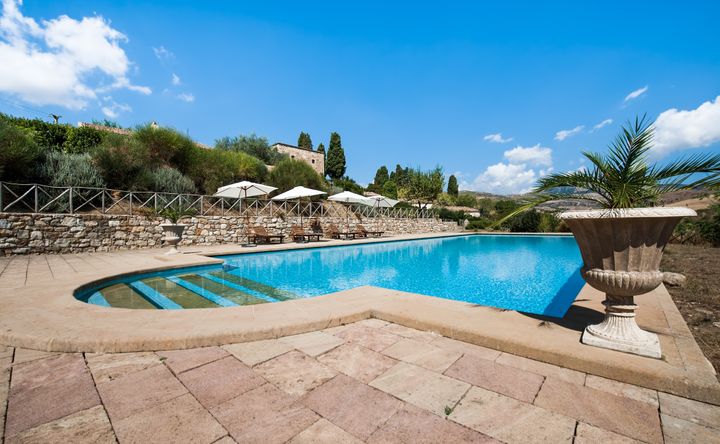 Amenities
A/C in Rooms
Free Wifi
Pool
Towels
Free Parking
Kitchen
Hot Tub
Coffee/Tea
Cafe
Restaurant
Yoga Studio
House Keeping
Bicycles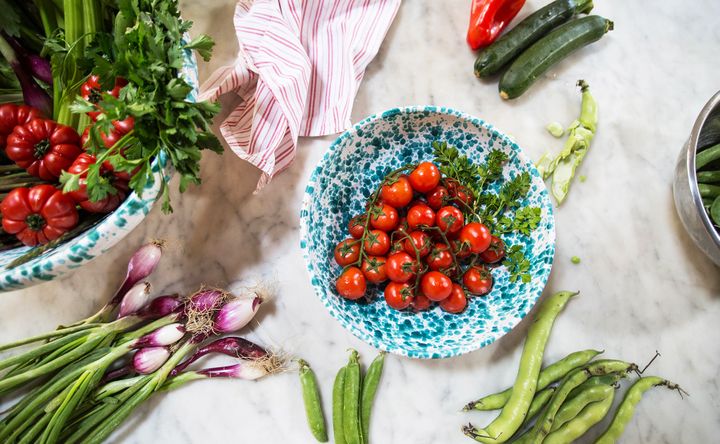 Menu Types
Vegan
Vegetarian
Organic
Gluten Free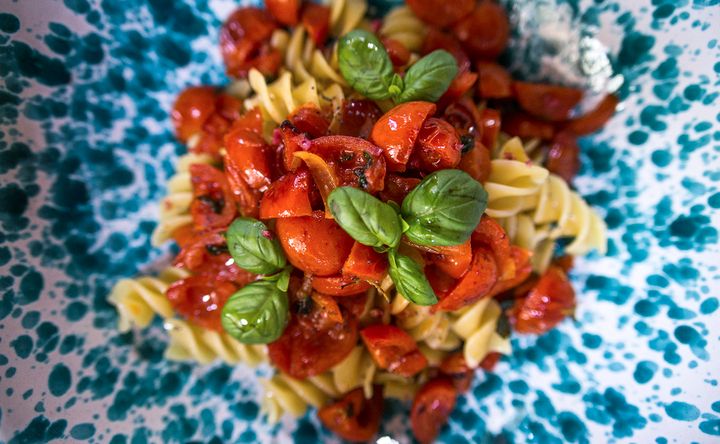 Menu/Cuisine
Located in the center of the Mediterranean, Sicily has always been a melting pot of culture, art and traditions and also the cradle of the most authentic Mediterranean cuisine. A bridge between the Arab world and the West, over the centuries the island has developed what is considered the most original among the Italian regional cuisines. It is based largely on the use and imaginative preparation of the extraordinary vegetables that grow on the Sicilian soil. Therefore it is already largely vegetarian, if not vegan, since the origins. From oranges to lemons, to basil, mint, capers, wild fennel, saffron, tomatoes and artichokes, everything contributes to create dishes that are unique for taste and nutritional properties.
With its 25 hectares park, its 700 olive trees, the vegetable garden, the orchard and the vineyard, the Masseria is a certified organic farm since 15 years and produces its own extra virgin olive oil, wheat, wine, vegetables and fruit, preserves and jams. We offer our guests three vegetarian buffet meals a day, based on traditional Sicilian recipes expertly reworked and lightened by our Chef. In addition, vegan, gluten free, without sugar preparation will always be present on the table. As well as herbal teas prepared with the medicinal plants of our garden, and fresh fruit juices. The retreat center follows an alcohol free policy.
Directions
Catania and Palermo airports are about 1,5 hour drive from the Masseria, and we offer an optional Shuttle service. Catania and Palermo airports are linked to the main European cities with direct flights operated by Ryanair, Easyjet and all the other main lowcost companies.
Direction by private car: In order to get to our Yoga holidays retreat center coming from Catania, take the freeway to Palermo (A 19), then take Irosa exit, head to the village of Blufi (follow the directions). Cross the village Trinità-Pianello and from there, head to San Giovanni-Verdi and the signals to San Giovanni Sgardari. From Palermo 120 km From Catania 100 km.
Reviews
Write a review - tell others about your experience.
Ray Welch June 04, 2019

Spectacular Setting for a Weeklong Yoga Retreat

I just finished Yoflaminga's Weeklong yoga retreat at the Masseria and it was spectacular. Hard to say what tops the list--the food or the views. Let's say both. The food is local, fresh and so lovingly prepared it's like a meditation in itself. The setting is perfect for yoga. The stone buildings are gorgeously restored so that you have modern comforts while still feeling the history of their 400 years. It's a fantastic place to stroll and explore the olive groves, the river and beautiful labyrinth garden--a nice place to sit at sunrise or sunset. The pool has great views and my favorite feature--the very hot outdoor shower. And the folks who work at the Center are lovely, supportive, accommodating and very interested in you and your having a great experience. Thank you to everyone for creating a wonderful week of yoga!