About This Center
What does planning and hosting 10 years of yoga retreats around the world get you? An incredible experience and here's why! We have hosted 215 yoga retreats for nearly 3000 yogis worldwide over the last 10 years.
Experience, check! People skills, check! Patience, check! so what sets us apart?
We've got incredible yoga teachers, mad planning skills, and 10 years of experience creating and orchestrating epic yoga retreats around the globe BUT we're different and here's why we may be the right fit for you:
• We're BALANCED. Our yoga retreat adventures are a balance of self-reflection both on and off the mat, connection with fellow retreaters and locals, and exploring a culture while having a profound experience and a GREAT time! We serve wine with dinner and offer mediation after yoga class…we believe it's all about good balance.
• We're AUTHENTIC. Our retreat leaders and yoga teachers are approachable and down to earth. We love variety and encourage everyone to express themselves and be open to all.
• We're TASTEMAKERS. We have a knack for finding the newest and hottest destinations on the map, sniffing out the best restaurants and nightlife, and incorporating unique experiences into our retreats.
• We're PROS. We have been creating and orchestrating yoga retreats for 10 years! With all that experience, we have smoothed out all the travel bumps and have everything laid out for our guests so the immediate focus is to arrive and relax right into the experience.
• We're FUN. We love dancing, drinking wine with dinner, and encouraging our guests to step out of their comfort zone as we explore our world together.
• We LOVE OUR JOB. We consider our clients our friends and have a long list of 'repeat offenders' who travel the world with us.
__________________________________________________________
Christina Thomas is the mastermind behind our operation and builds adventures to include top-notch yoga classes with expert teachers, breathtaking accommodations, exciting nature activities, cultural experiences, pampering spa sessions, delicious cuisine, incredible movement classes, and creative activities. Foodies will appreciate our attention to amazing meals as well as our Recommended Restaurant lists for the best taco stands and tastiest margaritas on the beach in Tulum to the best succulent smoked sardines off the coast in Essaouira, Morocco and beyond. Her insider knowledge of each location leaves you feeling like you are on vacation with a local paired with professional planning skills and fellow yogi and artist sensibility offering the perfect combination for the ideal retreat.
Known for her frankness, if Christina is on retreat you will likely hear a few curse words and tongue-in-cheek jokes but she will also be the first to lend an ear when you need it, gently encourage you to step into your power whether it's making a life-changing decision or holding your hand as you find the courage to jump from the yacht into the Aegean Sea. She makes traveling the world and walking her unique path look easy while being approachable at every step of the way.
Our goal here at Yoga & Adventures Worldwide is to offer unique, affordable retreats around the globe filled with the perfect amount of movement, inspiration, cultural insight, free time to relax on your own, and of course some pampering time for you! Let us know which upcoming retreats speak to you and we will make sure you have a front row seat to the adventure of a lifetime!
We are thrilled you are here and look forward to traveling the globe with you.
Absolutely love the retreats that Christina curates. I have been on 2 retreats - Tulum and Morocco and have had the time of my life! Everything was perfect from the yoga classes, to the food, to all of the included experiences! It was the perfectly planned adventure without any of the work. Thank you so much, Christina and team! ~ Kat C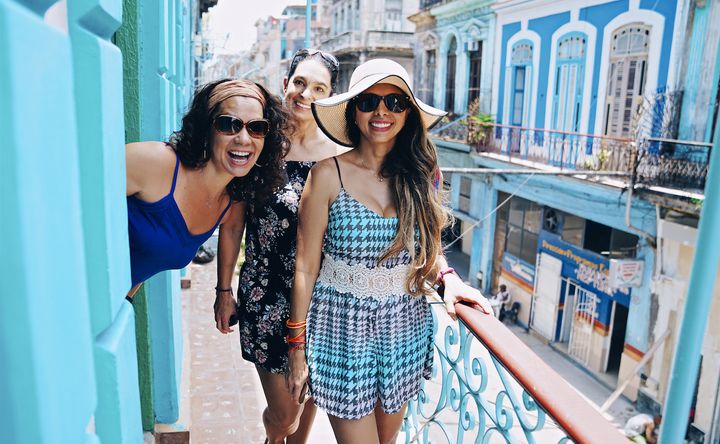 Venue Highlights
We have a growing list of locations around the world to choose from!
YOGA RETREATS
Our hand-crafted yoga retreats offer the traveling yogi a chance to take a back seat on planning and just arrive to be. We handle all the details in order for you to be our guest and focus on you, your yoga practice, and your vacation. We've chosen our favorite destinations based on their unique cultural expression, incredible landscapes, local food and drink, and of course the heart of any place, their people. Join us to explore our world through yoga both on and off the mat. Built-in travel buddies make it easy to come on your own or bring a friend. Yoga classes are for all levels and every body is welcome. Looking forward to sharing a unique yoga retreat adventure with you soon somewhere in this big wide world!
Yoga Teachers, wouldn't it be nice to have all the nitty gritty details of the retreat taken care of for you and just show up and do what you do best, teach?! That's what we! If you are a yoga teacher looking to lead retreats please be in contact with us to learn more about collaborations and how we work.
YOGA & ART RETREATS
Art is all around us and it's our favorite thing to incorporate into travel on a yoga retreat. Come explore our world through yoga and art on retreat featuring henna workshops with Henna Lounge, jewelry and hat making workshops with BONE by DAWN, creative art projects with Colectivo ART and always look to nature for inspiration. We believe that everyone has a creative side and it's just a matter of tapping in to draw it out. No artistic experience is required, it's all in good fun and the best part is the process.
YOGA, WINE & FOOD
Looking for the perfect combination of wellness, yoga, and good eats? You've found the perfect yoga retreat! We've paired our yogi sensibility with our discerning palate to bring you a special retreat honoring local flavors and experiences with our always amazing yoga instruction to bring you a unique Yoga, Food + Wine retreat.
Join us in paradise to move, taste, experience, and explore the culinary world through yoga.
YOGA - LATES (YOGA & PILATES)
Who says you have to choose?! We love Yoga AND Pilates and have created the perfect retreats to combo the two. Core strengthening and micro-moves blended with Vinyasa flow yoga classes and meditation make for the perfect week on retreat. Learn a few new moves in the kitchen as well with our vegan cooking demo included in the retreat. All levels are welcome to join.
YOGA TEACHER TRAININGS
Whether you are looking to gain more experience as a yoga teacher with an advanced yoga teaching certificate, get your first 200 hour yoga teacher certificate or just expand your own personal practice, our yoga teacher training is right for you! We have chosen only the best teachers to lead you through an incredibly inspiring and interesting training to enhance your yoga sequencing, hands-on adjusting, and alignment cues.
We are offering advanced yoga teacher training certificates and full 200 hour trainings in amazing locations full of inspiration, healing energy, and relaxation. Contact us to see if our trainings are right for you. If you are a teacher looking to collaborate and lead your own teacher training but would perfer to have the details taken care of by a professional, please contact us to learn more about what we can do for you and your students.
Reviews
Write a review - tell others about your experience.
The mind has limitless power and adaptability.
If anything can be changed, it is the mind. Khenpo Karthar Rinpoche