About This Center
Balanced Rock inspires health and wellbeing through deep connection to nature and spirit.
Who We Are
Balanced Rock is a Yosemite-based non-profit that has been inspiring health and wellbeing through our programs and classes since 1999. Yosemite National Park is a world-heritage site celebrated as one of the most sacred places on earth. We are honored to offer backpacking journeys, weekend camping retreats, day-hikes, workshops, and lodge-based programs that focus on inward reflection, coupled with outward exploration of this incredible place.
Our compassionate, personable, and expert staff share a rare and unique combination of local Yosemite knowledge and passion for its natural history, with a spirited dedication to contemplative practices including yoga, meditation, and the creative arts.
Our courses are generally appropriate for all levels of experience. Join us in the wilderness this year to cultivate holistic health and wellness, rejuvenate yourself, and transform your life!
What We Do
At Balanced Rock, we're devoted to providing opportunities for mindful living, self-care, and community involvement in connection with the natural world. Our core programs are nature-based retreats, workshops, and transformational adventures in Yosemite. Balanced Rock experiences offer a setting to cultivate personal balance, and to support our personal and community health. This is inspired by the wisdom found in spending quality time with the natural world. Balanced Rock courses pair the outdoors with contemplative and creative practices (yoga, meditation, art, music, Ayurveda, and self-care) to foster compassion, and facilitate personal empowerment. A Balanced Rock journey can transform your life!
Yoga in Yosemite
Yoga means union, and at Balanced Rock we focus on the union of our experienced connection with the natural world. Yoga in Yosemite is our breath as we walk along the trail, our posture and awareness as we share a delicious backcountry meal, our challenges with unforeseen obstacles, and our comfort in telling our story around a campfire. There are many reasons to practice yoga asana (postures) in the wilderness and all of our programs offer optional, mostly outdoor yoga classes with instructors registered through Yoga Alliance. We believe that any form of connection with the natural world is so important at this time in history, and yoga asana (postures), pranayama (breath-work), and meditation are particularly good tools to access this connection. Not to mention standing strong and stretching tall on top of a granite dome in is unbeatable!
Balanced Rock integrates the wonder of the natural world with the beauty of humanity through reflection, yoga and adventure. I am nearly complete with my 200 hour Yoga teacher training through BR and I am consistently impressed with the level of time and attention this organization puts into developing teachers and longtime learners of yoga and life. ~P.J. S.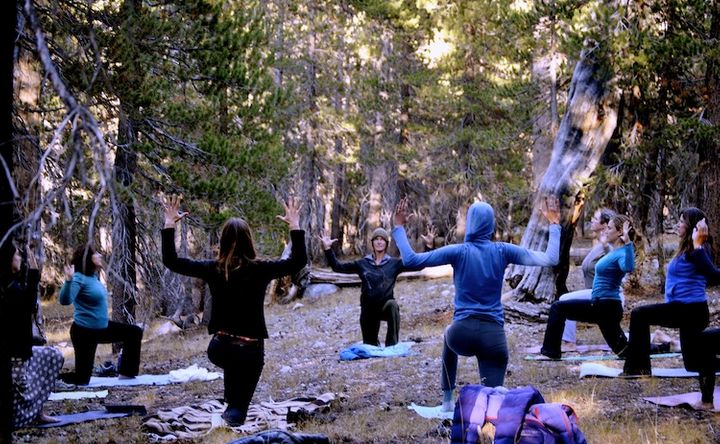 Venue Highlights
Our staff and instructors are a fun group of inspired mountain adventurers who have honed their skills living and loving life in connection with wilderness. Accomplished musicians, artists, naturalists, yogis, healers, chefs, and free-spirits Balanced Rock instructors have a knack for making people feel super safe and comfortable in the mountains. We strive to help people feel capable and competent in their own selves in the wilderness through our competent, attentive guidance.
Menu Types
Vegan
Vegetarian
Pescetarian
Ayurvedic
Meat
Organic
Gluten Free
Dairy Free
Nut Free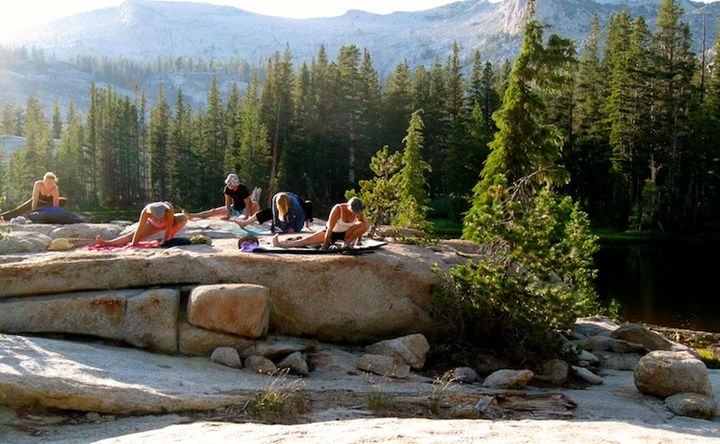 Directions
Each course explores a different region of the Park. With our staff of resident Yosemite experts, we specialize in visiting less crowded, yet stunningly beautiful corners of the Park. We have decades of collective experience in exploring Yosemite National Park, and have a wide range of hidden sanctuaries, secluded lakes, outdoor granite-slab yoga "studios", and comfortable campsites in our routes and itineraries. If you want to also see some of the more popular icons and destinations, there is ample time at the beginning and end of each course.
Once you complete your registration for a course, we will send you detailed directions and a map to the meeting place for your course. This will usually be a campground inside the park boundary on the Tioga Pass Road.
Reviews
Write a review - tell others about your experience.