About This Center
Muaisa Hale Pule ("As I Aum" Sanctuary) is an authorized 501(c)(3) Chapter of the New Haven Native American Church (NHNAC). Our tranquil slice of paradise and private shamanic lodge on the healing Kona Coast of Hawaii are nestled on the slopes of Mauna Loa, off the main drag, and infused with the Spirit of Aloha.
Home and haven to healers, teachers, travelers, creatives, and visionaries from around the world, we are up slope from Highway 11 at the 111 mile marker, approximately 11 miles from downtown Kailua-Kona, 30 minutes from the KOA airport, and 3 miles (6 miles by car) from the pristine waters of Kealakekua Bay, the State of Hawaii's #1 top marine life conservation area where Captain James Cook first discovered the island in 1778, and where pods of dolphins come almost daily to rest, feed, and nurture their calves.
It is our expressed mission to honor "health as wealth" and "enjoyment as the highest form of worship." Our grounds and atmosphere are perfect for it.

Breathe. Relax. Touch. Dream. Listen. Heal. Enjoy.

Heaven awaits you at Muaisa Hale Pule.
This is an incredibly blessed and sacred place, cared for by two extraordinary shamans and healers. -- Guest, 2015
Accommodations
Upon receipt of your completed no-obligation application for one of our programs and donation* submission (where requested), we will email you a list of nearby lodging options. (Application forms are downloadable on our website.) There is no camping or lodging on the shamanic grounds though (depending on the season) an abundance of free fresh fruit is often available in the environs for picking. Nearby rooms (.8 to 2.4 km / .5- to 1.5-miles from us) generally have kitchenettes and/or access to restaurants, grocery stores and a well-equipped shared kitchen for preparing meals and snacks. You are also free to find your own accommodations elsewhere, if you prefer, and to commute back and forth to our area.
A few neighborhood room rates that we suggest are listed as follows:
• SINGLE ACCOMMODATIONS IN FEMALE OR MIXED DORM
$40 per night / $198 per week (off season)
• SINGLE PRIVATE ROOM / DETACHED, SHARED BATH
$42 per night / $252 per week year round
• SINGLE PRIVATE ROOM / PRIVATE ENSUITE BATH
$69 per night / $414 per week year round
• DOUBLE ROOM OPTIONS (add $3 per night)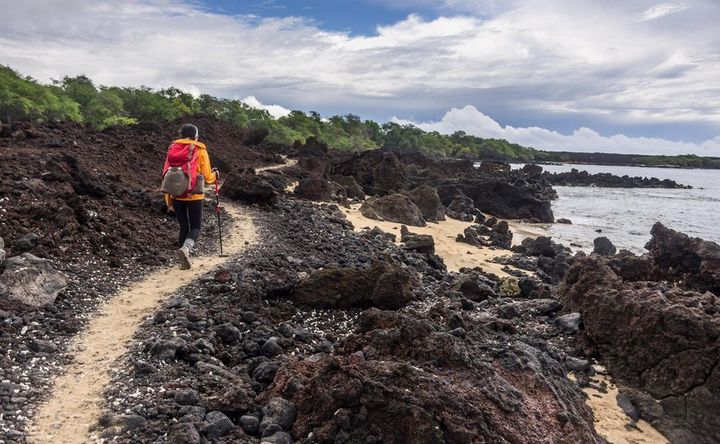 Directions
Muaisa Hale Pule ("As I Aum" Sanctuary) is located on the healing Kona Coast of the island of Hawaii. This is the Big Island, the "real Hawaii" with a population of only 45 people per square mile; it is not to be confused with Honolulu on the island of Oahu where the population is over a million. Rather, our serene location is at approximately 1600 ft elevation, only 3 miles above the shoreline. The bay below us, "The Pathway to the Gods," is the #1 marine life preserve in the State of Hawaii. It is where Captain James Cook first discovered the island in 1778 and where dolphins continue to come almost daily to feed, play, rest and nurture their young.
=========================
GROUND TRANSPORTATION
=========================
Along with your program booking details, we will also send you ground transportation guidelines to our locale from KOA. The best means of getting to us from there is to arrange for Uber, a rental car, a taxi or a shuttle in advance of your arrival. Taxis charge about $65 O/W; shuttles are closer to $46 - 51 O/W, and Uber drivers generally negotiate their own fares.
On Mon - Sat, the "Hele-on Bus" operates a regular schedule of $2 intra-Kona and $2 across-the-island bus routes from where we are located. The bus, however, does not go to many of the scenic hotspots, nor does it service this area from either of the 2 island airports at a time which is conducive to most people's itineraries.
You'll be able to get by easily enough on foot and via bus as long as you're comfortable staying fairly local and walking .8 to 2.4 km (.5 - 1.5 miles) to shopping and environs. A rental car or scooter is advisable, however, for seeing more of the island and for ease in getting around. Often has car rentals for as little as $18.99 per day, and Craigslist sometimes has local vehicles available for less. Car rentals can be arranged ahead of time or can sometimes be negotiated once you get here. People also have had fun and great success getting rides and meeting people via a Craigslist "rideshares" post. Others have simply taken an island tour at some point during their stay.
Reviews
Write a review - tell others about your experience.
Irina Bugatova August 20, 2020

My heart is full of gratitude for Muaisa Hale Pule.

I do not even know where to begin! My heart is full of gratitude for Muaisa Hale Pule. From the start-up, Dr. ZZ has been wonderful and very helpful every step of the way! The Plant Medicine ceremony was profound; the brew showed me exactly what I needed to work on, even though I didn't realize it at first. However, after my private session with the shaman (which was supposed to be 2 hrs only, actually lasted over 3 hours), everything was clear. Jack was kind and knowledgeable, he definitely saw right through me and helped me see the REAL situations/problems I was dealing with and a possible solution for them. Again BIG thank you to Dr. ZZ and Jack for your work and your beautiful souls! It was a true pleasure to just be in the same room as you. I would definitely recommend Muaisa Hale Pule to anyone! I will definitely be back! ALOHA!

Sonja Herberth July 29, 2020

Life-changing experience

I had one of the best times in my life when I stayed with Jack and Zae at Muaisa, both are incredibly fascinating individuals, guiding me gently on my path that eventually led to a completely new life. They offer rich life experience, sensitivity, guidance, clarity, peace and beauty – give yourself fully, be open, share and then be who you've always been, a divine spirit having a human experience!