About This Center
Located in an exceptionally serene setting, surrounded by the natural beauty of the Blue Ridge Mountains, the Farm provides an ideal space for restoration and personal growth for retreat guests. Whether you are looking to expand the physical limits of the body through a yoga practice or tap into the wonders of the mind through meditation, we happily accommodate different modalities and workshops designed to provide a transformational experience for your attendees. The Sanctuary, our most sacred space on the farm, serves as a multi-purpose venue for large gatherings and movement classes. This stylish event space comes equipped with state-of-the-art yoga and meditation equipment, hardwood floors, and everything you need to create a comfortable environment for your attendees. Guests will also feel relaxed in one our five charming homes that are tranquil, private, and stocked with amenities. And our personalized concierge services are designed to enhance your retreat offerings by providing a relaxed and intimate environment for attendees. Depending on the size and needs of your group we offer two packages for retreat hosts, including a full farm buyout for larger functions.
The Horse Shoe Farm is located only ten minutes from Asheville Airport, when you arrive into the serene beauty of the Farm, the calming river sounds and fresh air scent you immediately feel tranquil and relaxed. Time stands still and your life outside The Farm dwindles and seems far away. The accommodations are simply gorgeous, fresh linens and soft towels in your bedroom and bathroom feel just like home. The Staff are amazing and attentive, The Yoga Sanctuary even has a magnificent Fire Place to make you feel cozy and warm while practicing. The food was healthy and delicious and prepared with love. I highly recommend that if you just simply wish to get away from the grind of your daily life, lead a Retreat or Celebrate a Wedding or Special Event that The Horse Shoe Farm is for you. In loving admiration for Jordan, Tina and Family A. Stricklen Miami Florida Namaste
Venue Highlights
. Shared, unique luxury accommodations for up to 26 people
• Use of The Sanctuary & The Sunset Barn
• Our 500 sq. ft. hardwood floor, multi-purpose sacred space with adjoining 6,000 sq ft. event space
• Personalized retreat concierge for pre-trip coordination and on-site requests
• Three farm-to-table meals each day, vegetarian or vegan options available and encouraged
• Morning juice bar and afternoon fruit tray each day
• Games and outdoor activities at The Farmhouse
• Use of The Horse Shoe Farm grounds and The Labyrinth for walking, meditation, and exploration
• Driving distance to over 250 spectacular waterfalls, surrounded by DuPont National Forest
• Access to The Stable Spa facilities & treatments for your attendees
• Airport transfers to and from Asheville Regional Airport upon arrival and departure.
• Transport fee NOT included in Package #1.
• ($20 for 4 people; $40 for 12 passenger van; gratuity not included, but appreciated)
• Evenings by the fire pit with s'mores and/or a fire ceremony
• Retreat marketing support and promotion
• Complimentary accommodations and meals for retreat instructors
• 1 instructor for the first 10 students
• 2 instructors for 20+ students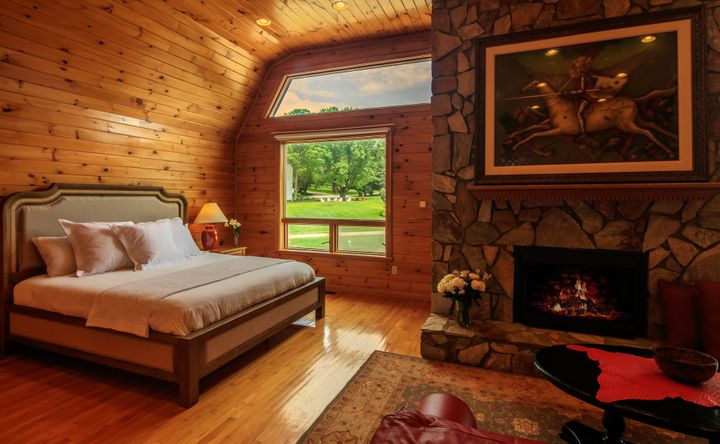 Accommodations
Accommodations: The Horse Shoe Farm can accommodate a total of 44 guests with a total of 16 bedrooms and 14.5 bathrooms.
Retreat Space(s):
The Silo Cookhouse: Where we gather to eat, drink, and endulge – the spot on the farm to literally feed your soul. Featuring indoor and outdoor dining, our lounge, and commercial kitchen, there is no better place to savor each meal and the magnificent sunsets.
Lounge, meet up and relax on couches
Fresh juice bar
The Farmhouse: "Everyone's house on the farm." The central hub of the farm, it serves as the communal living, game, and conference room on the farm. Regardless of which house you are staying in, The Farmhouse is yours to enjoy, socialize and meet your neighbors.
Toys, games, bikes, pingpong, Projector and screen
The Stable Spa:
Massage, body work, energy healings
The Sanctuary:
Yoga, mediation, movements, sound baths
Sacred space on farm
Workshop space
Fireplace inside
Yoga mats, blocks, bolsters, straps provided
The Sunset Barn: Set on top of the highest point on the property, it would be hard to find a more spectacular place to catch the daily sunset. With 6,500 square feet of heated/air-conditioned space, The Sunset Barn is divided into two areas, allowing your engagement to flow effortlessly from the cocktail party to the main event.
The Big Sky Barn: At 6,000 square feet and climate controlled, The Big Sky Barn is the perfect year-round site to host your next celebration or workshop. A completely wide open space, the arrangement and design possibilities are endless. Centrally located on the farm, with majestic sweeping views of the pastures and Mount Pisgah, The Big Sky Barn can be used on its own or seamlessly combined with our other facilities. *Currently under renovation
Amenities
A/C in Rooms
Free Wifi
Spa
Towels
Coffee/Tea
Yoga Studio
Menu Types
Vegan
Vegetarian
Pescetarian
Ayurvedic
Meat
Organic
Gluten Free
Dairy Free
Nut Free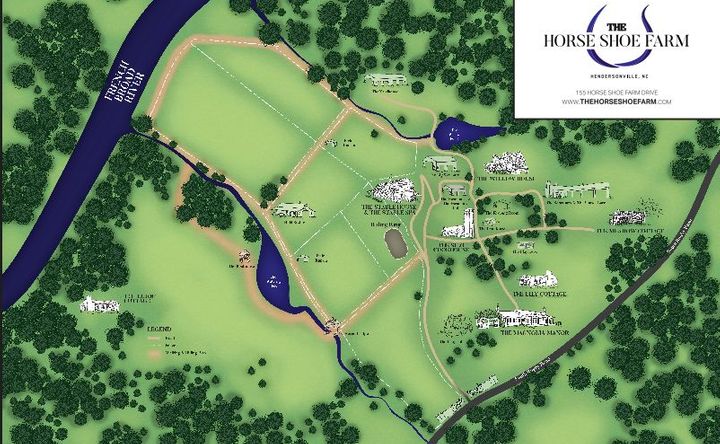 Directions
Our location can be easily found on Google Maps at: (contact info blocked)KupEwCzFdN2
Reviews
Write a review - tell others about your experience.