About This Center
Shri Kali Ashram teaches Tantra Yoga, Tantra, Meditation, Pranayama, Bandhas, Mudras, Mantras, Chakras, Kundalini, and Puja from an authentic traditional perspective. We offer 200, 300, & 500hr Yoga Teacher Trainings certified by Yoga Alliance® USA and Traditional Tantra Yoga Retreats in Siem Reap, Cambodia.
Shri Kali Ashram offers unknown insights in to the Trika (Kashmiri Shaivism) and Vaishnavism systems.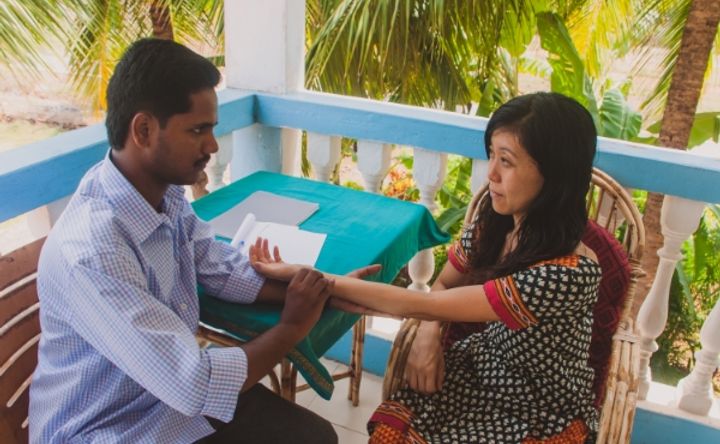 Venue Highlights
All ashram lodging includes a spacious private room with attached bathroom and hot water. All rooms in our new location, in Siem Reap, Cambodia, have balconies, tree-shaded gardens set in the forest, and free high-speed wi-fi Internet. We make NO profit on these arrangements. If you wish to use the Internet, please bring a laptop or tablet with universal powerpoint. Linen and yoga mats are supplied.
Āyurveda is the foundation to understand the body in the study of Tantra and Yoga. Without a good knowledge of Āyurveda, a student often wonders how the Yogis or Tantrics understood the body. In modern times, we have anatomy to understand the framework of the physical body to administer medicines. Āyurveda allows us to deepen our understanding of how we can treat the emotional, mental and physical aspects of the self in an integral, organic sense. While the study of anatomy allows us the perspective of looking into the body from a reductionist point of view, Āyurveda allows us to delve into what the new millennium scientists define as the systems view (the study of how things influence one another within the whole; a "unifying vision" as opposed to a reductionist or materialistic ideology). It is due to this that we teach our students the science of Āyurveda.
On completion of studying pañcakarma in depth, each student will be awarded a certificate that is recognized by the Indian Government, enabling the student to legally practice pañcakarma. This qualification allows the student to become a diploma-level practitioner of Āyurveda and its ancillary practices.
Directions
The nearest is airport is Siem Reap International Airport, which is only 20 minutes outside of the town.
We can arrange a taxi for you once you have sent us your confirmed flight details.
Siem Reap International is Cambodia's busiest airport and you can connect to there from Asia's largest airports and nearby destinations such as Bangkok, Kuala Lumpur, Singapore, Hong Kong, Beijing, Chiang Mai, Phuket, etc.
From within Cambodia you can take a short flight from Cambodia's capital, Phnom Penh, or come by road from there which takes about 5-6 hours. Bus and taxi services are available.
From Bangkok, by land, the drive is also 6 hours, but you must allot an additional 1-3 hours to get through the border, depending how busy it is. There are many buses from Bangkok.
When entering Cambodia, you will need a passport size photo and US Dollars ($35) for your visa. US Dollars are the primary currency used in Cambodia, so it is good to bring some extra for convenience upon arrival. If you do not have a passport photo they will charge you $2 to arrange it at your port of entry.
We can arrange a taxi for you once you have sent us your confirmed flight details.
Reviews
Write a review - tell others about your experience.