About This Center
The magic of the Costa Rican Rainforest and the dance of the Caribbean Sea make the perfect combination to create this Yoga Teacher Training and Retreat Center. The Goddess Garden is a Yoga Retreat and a Yoga Teacher Training Retreat Center and most of all, an Intentional place for yoga, meditation and transformation in Costa Rica.
Transformation can take place by practicing yoga, meditating and living fully in the present. The Goddess Garden provides the facilities for yoga teacher training with the best yoga instructors and yoga group retreats in Cahuita, Costa Rica.
Costa Rica is great for yoga practice since it is a non belligerent country that disposed of the army many years ago and has a consciousness geared for peace. The practice of yoga and meditation will help to bring peace in an individual and affect the country and the world. So choose to come to our yoga retreat and yoga teacher training resort to practice and learn yoga in Costa Rica, in the midst of awesome natural surroundings.
The environment at The Goddess Garden Yoga Retreat and Yoga Teacher Training Retreat Center is designed to help us remember our true nature, our essence. We have opened the doors of our Yoga Retreat Center and Yoga Teacher Training Center for people who want to feel in harmony with nature and wish to practice yoga in this lovely rainforest and beach scenario.
Come to The Goddess Garden Yoga and Nature Retreat Center and enjoy the enchanted Caribbean Sea and the Magic of the Rainforest in Costa Rica. Surprise your yoga and meditation groups by bringing them to Cahuita in Costa Rica for a yoga practice or yoga teacher training retreat with a touch of paradise and the essence of pure nature.
Many certified yoga instructors have chosen this yoga retreat destination for yoga teacher training retreats, not only because of its natural beauty, but also because its suitable installations offer the best atmosphere to practice yoga in groups.
"As you start to walk on the way, the way appears." – Rumi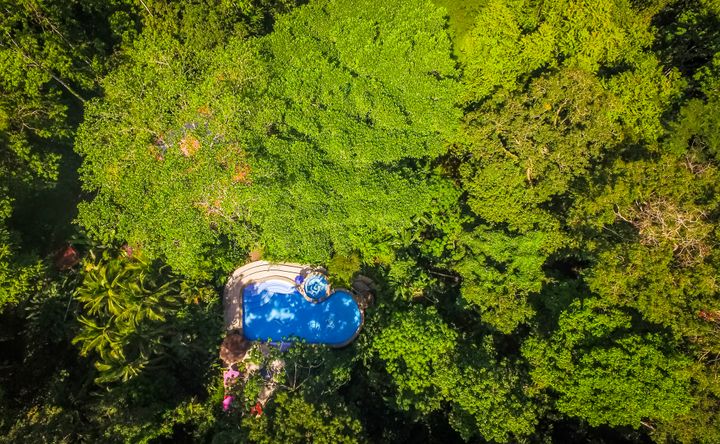 Venue Highlights
The Goddess Garden is a magical place, where the rainforest meets the Caribbean Sea. It sits in the middle of a centenary forest with some trees more than 300 years old.
All our facilities are in the middle of the forest to allow our guests to benefit from the healing power of nature. Our yoga studios are surrounded by centenary trees, plants and wild life. During your practice, the healing energy of nature boosts the aura, balances the chakras and supports the flow of life energy. I feel, as many others who have attended retreats here, that my spiritual practice reaches a higher level in this special energetic place.
From the property, a 5 minutes walk leads you to a pristine beach 10 miles long. The only human presence you will likely find is yourself and your group. Our guests love doing their morning meditation on the beach, benefiting from the sunrise and the relaxing sounds of the waves.
At The Goddess Garden, you can relax into nature, rejuvenate, do your practice and tap into a deeper connection with your inner Source.
You can also explore the Carribean coast with organised eco tours, adventure activities or spending time in the best beaches around.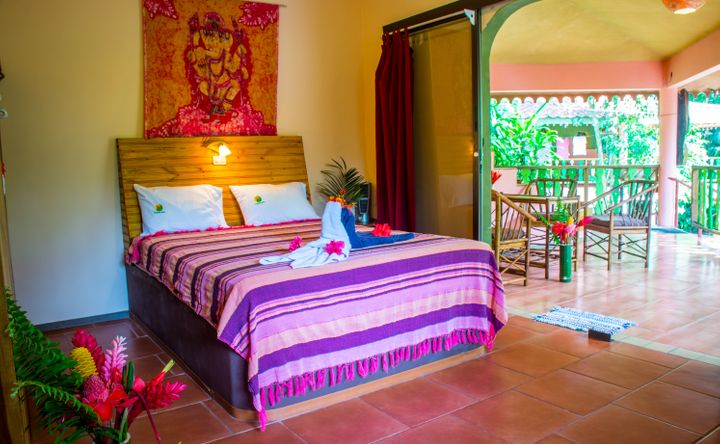 Accommodations
Our accomodations sits in the middle of a centenary forest at a 5 minutes walk to a pristine beach.
Benefit from the healing force of nature and listen to the wildlife and the ocean.
We offer single rooms, double rooms, triple rooms and dormitories (up to 6 people).
All have beds with first class mattresses, an elegant bathroom with hot shower, and a natural air flow system to keep the room cool.
Don't miss the lush garden view from the spacious porch.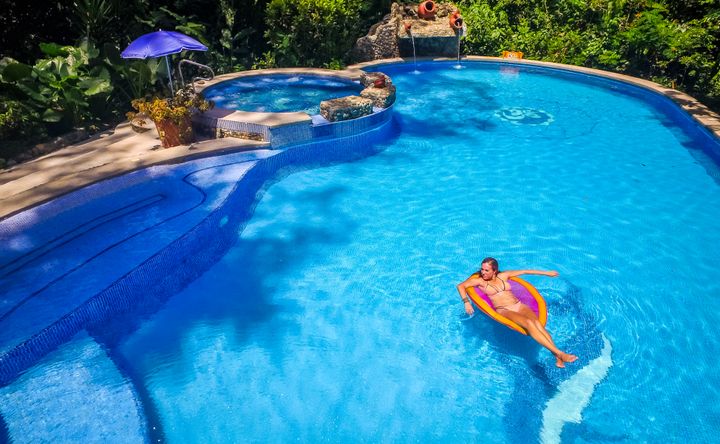 Amenities
Free Wifi
Spa
Pool
Towels
Free Parking
Restaurant
Yoga Studio
House Keeping
Ceremony Space
Ayurvedic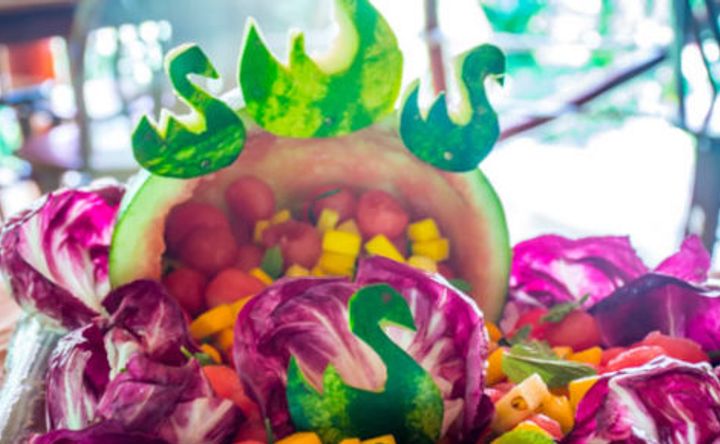 Menu Types
Vegan
Vegetarian
Pescetarian
Ayurvedic
Meat
Organic
Gluten Free
Dairy Free
Nut Free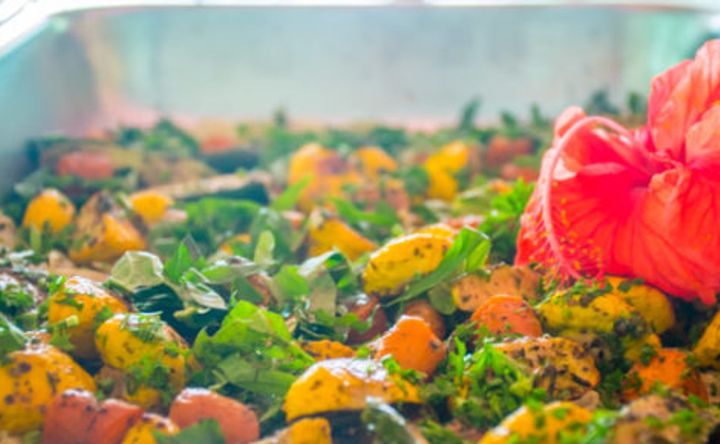 Menu/Cuisine
Our food is mainly vegetarian. Upon request we serve fish, chicken and seafood. We offer Ayurvedic kitchen and delicious Caribbean style food as well. For the preparation of our meals our focus is on healthy, fresh, and locally sourced organic foods that are nutritious and delicious.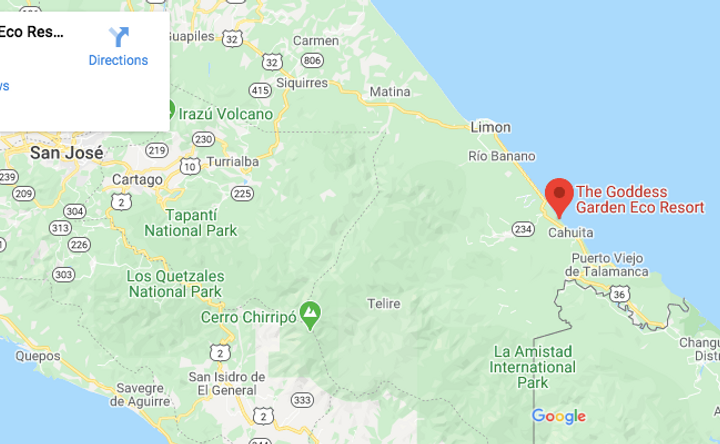 Directions
From San Jose airport (SJO) to Cahuita, the different options are:
1) Private taxi
Up to 3 persons (200 USD one way)
2) Private shuttle door to door service:
You can make your own reservation directly in the corresponding webpage.
Your pick up or drop off place in Cahuita is The Goddess Garden.
Interbus
Departure San Jose Hotels and airport: 7 am / 2.30 pm (57 USD per person)
Departure Cahuita to San Jose: 7 am / 2.30 pm (57 USD per person)
Caribe Shuttle
Departure San Jose Hotels and airport: 5.30 am and 2.00 pm (55 USD per person)
Departure Cahuita to San Jose: 6 am and 12.30 pm (55 USD per person)
3) Public bus
MEPE
From downtown San Jose "Antigua bus station San Carlos
Departure in San Jose: 6 am / 10 am / 12 am / 2 pm / 4 pm (9 USD per person)
Departure in Cahuita: 7.30 am / 11.30 am / 4.30 pm (9 USD per person)
Taxi from international airport to bus station or vice versa (30 USD)
4) Flights to Limon
Sansa Airlines
From San José International Airport: 6.50 am / 3.10 pm (80.60 USD to 95.16 USD per person)
From Limon: 7.30 am / 4.10 pm (80.60 USD to 95.16 USD per person)
There may be an additional flight at midday, as well
Caribe Shuttle
Provides a pickup service from the airport to the retreat center (22 USD per person)
5) Rent a car
A car gives you a great freedom to visit the area around Cahuita (beaches, national park, eco tourism, etc…).
Reviews
Write a review - tell others about your experience.
Teacher