About This Center
Bodhi Khaya Retreat, from art to zen - a sanctuary for the spirit, is home for the spiritual aspiration in each of us.
Bodhi traditionally translated into English with the word enlightenment, although its literal meaning is closer to "awakening". Khaya derives from the African Nguni (Zulu) word "i-khaya", meaning dwelling, abode, or home. Retreat is the act of moving back or away, to a place affording peace, quiet, privacy and security for a period of prayer, meditation, or study.
Over the past 14 years, Bodhi Khaya has become one of the most beloved retreat sanctuaries in South Africa, by teachers and their students alike. Retreating to Bodhi Khaya stimulates a profound re-membering or awakening of our innate knowing. Our ancient branches are rooted in a deep symbiosis between human emergence and the land of Bodhi Khaya Retreat.
Our vision is to provide a place of sanctuary, facilitating a reconnection with nature, spirit and humanity, where participants sense an authentic feeling of homecoming. We aim to make caring for ourselves, our spaces, and our environment an intrinsic part of our lives and healing work and will support all who come here to engage with Bodhi Khaya as a home rather than a hotel; a spiritual retreat rather than a spa.
In the heart of the Walker Bay Nature Conservancy, under billions of stars that adorn the African night sky, Bodhi Khaya is ideally situated in one of the world's 7 floral kingdoms - a pristine natural environment abundant with wildlife. Our resident community and experienced teachers are inspired by the traditions of our physical and spiritual ancestors to create a unique spiritual haven for those on their journey to awakening.
Bodhi Khaya is pure magic. A place of deep healing and introspection. Truly a place for renewal. ~ Tanya Hagen, guest & facilitator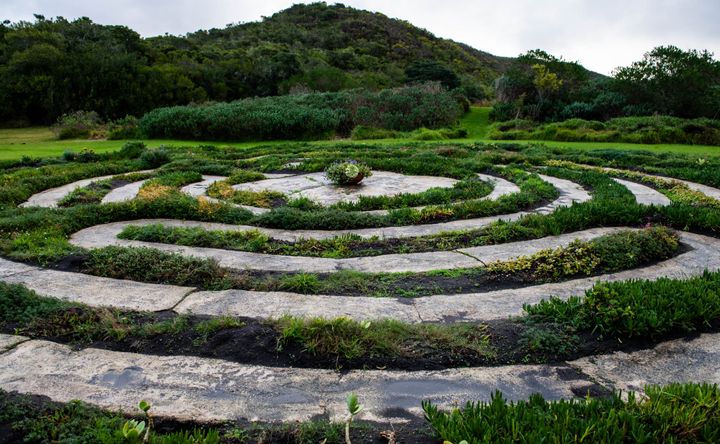 Venue Highlights
It is the land that provides the sanctuary, the air the clarity, the water the healing. Our faculty, programs and community provide the support and security for your unfolding.
The land sustains us naturally. The water here is pure and unfiltered. We operate a bio-digester and biomass generator to recycle waste and supply all our energy. The vegetable garden and wilderness provide abundant nourishment. We are committed to all beings and their future generations.
Living, working and connecting with the land, these are the people who hold the space whilst you explore your surrounds and inner landscape. You will experience a coming home to community and nature, of which we are all a part.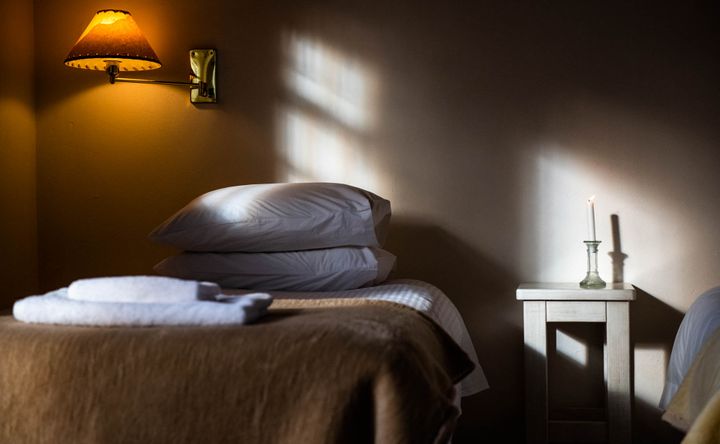 Accommodations
After a good day of deep transformative work there is nothing like being held in a cosy, comfortable room for one's journey through the night world. Our beds and linens and spaces exemplify a simple zen aesthetic and our commitment to service. Bodhi Khaya has 5 different styles of lodging , each unique and satisfying particular needs. We believe the spiritual sanctuary of Bodhi Khaya can be accessible to everyone, we have therefore valued all our beds equally.
CLOISTER
Around a central courtyard, we have 14 beautiful, monastery style single rooms. The first six rooms, in the front section of the Cloister, share two showers and two toilets. Each room contains a bed, small cupboard space to hang clothes and side table. These rooms lead into an open plan living space that looks out across the gardens and labyrinth. The eight rooms at the back (rooms 7 – 14), each has a bed, side table, cupboard and a basin. These rooms share 3 showers and 3 toilets and a treatment room for soaking baths.
COURTYARD
The courtyard rooms are new and modern, and are conveniently situated close to both the Meditation Hall and the main Dining Room. Each room is a twin, with an en suite bathroom. We have named them after the beautiful flowers growing in the garden: Orchid, Poppy, Fern, Wild Olive, Morning Glory, Rose, and Honeysuckle.
Also on the Courtyard, is Garden Room (usually reserved for teachers), a luxurious double room, with a king-size bed, a Victorian bath and open plan bathroom. This beautifully restored building used to be the old dairy and has high ceilings with rustic wooden rafters and a working fireplace.
COMMUNAL FARMHOUSE
Aloe Dorm, with 5 single beds, has its own fireplace, en suite bathroom with two showers and a separate entrance leading to the lush garden.
CAMPING
Being under the stars, on the earth, and in a location you have found most inviting, can only be experienced by camping. We have a number of locations where we encourage your interface with the wilderness abounding Bodhi Khaya. Join a retreat, or design your own family or personal retreat. Bring your sleeping, tenting and cooking gear and set yourself up in the mountains. Showers and ablution facilities are available.
Amenities
Free Wifi
Pool
Towels
Free Parking
Coffee/Tea
Restaurant
Yoga Studio
House Keeping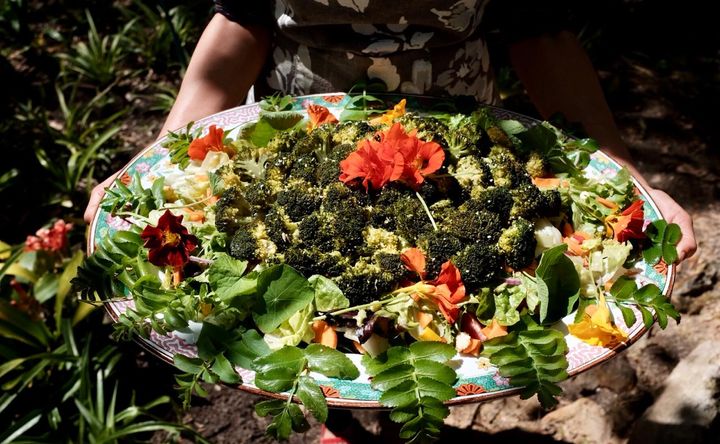 Menu Types
Vegan
Vegetarian
Gluten Free
Dairy Free
Nut Free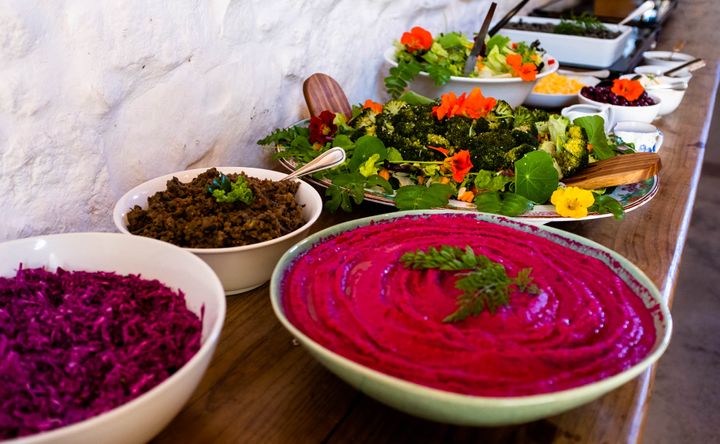 Menu/Cuisine
Our food is imbued with love and prayer by our mindful kitchen crew. We believe food is central to health and well being. Our organic garden gifts our vegetarian menu delicious, fresh veggies every day. Wherever necessary, we supplement with the finest quality ingredients from local purveyors. We adapt our menu according to source and seasonality and are happy to accommodate a variety of dietary needs. Important to note and often overlooked, the water here (an essential ingredient in food growing and preparation) is alive, fresh, clean and very, very tasty and comes from our own mountain spring.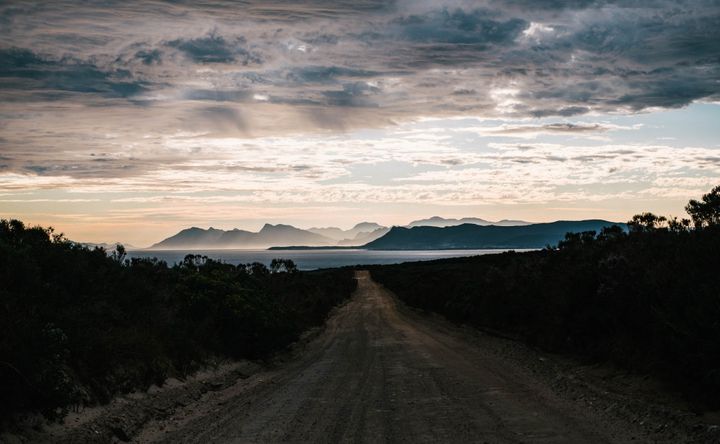 Directions
We are 2.5 hours from Cape Town by car and are able to organise a private shuttle service if need be.
FROM CAPE TOWN VIA HERMANUS
From either the City, or the Airport, take the N2 towards Somerset West / George. Continue on the N2. After Grabouw, at Bot Rivier, turn off the N2 onto the R43 towards Hermanus.
Continue on the R43, through Hermanus and follow signs towards Stanford. Continue past Stanford (for 13 km), and then turn left onto the road signed for Grootbos Private Nature Reserve.
Follow this road (which becomes a dirt road) for 3.5 km until you see the sign for Bodhi Khaya.
FROM CAPE TOWN VIA CALEDON
From either the City, or the Airport, take the N2 towards Somerset West / George. Continue on the N2 until Caledon. At Caledon Take the R316 towards Bredasdorp.
After 26km, turn right onto the R326 towards Stanford. At Stanford, turn left onto the R43 towards Gansbaai. After 13 km, turn left onto the road signed for Grootbos Private Nature Reserve.
Follow this road (which becomes a dirt road) for 3.5 km until you see the sign for Bodhi Khaya.
ALTERNATIVE ROUTE (in case of wet whether/car concerns)
Instead of turning at the Grootbos sign continue straight to Gansbaai (6.9km). Go through town and back onto the R43 for 7km. Turn left to Elim/Baardskeerdesbos.
Continue on the Elim road for another 7km and take the first left turn at the De Uijlenes sign onto the gravel road. Follow the road for 2.7km and turn right at the sign to Bodhi Khaya.
Reviews
Write a review - tell others about your experience.