About This Center
The Sanctuary Awankay is a holistic center which offers natural and spiritual retreats. The main objective is to give the opportunity to reconnect oneself with the deeper peace and consciousness that is already inside us: our spirit. The Sanctuary is in the mountain situated 45 minutes away from Bogotá, capital of Colombia.
Our main activity is the Sweatlodge (Temazcal), form the Toltecal Culture.
We will guide your healing process with activities, events and training so that you can utilize your knowledge and practice to direct yourself into a better and healthier level of consciousness, freedom and well-being in your life.
We have many different ways to reach your healing and deep understanding such as Temazcal Ceremonies, Astrological Guidance, Yoga Practices, Meditation, Reiki (Healing Therapy), Diet, Shamanic Cleaning, Sound Healing, Vision Quest and Amazonian Medicines. We share the spiritual teaching of different Shamanic paths such as the Inca (from Peru), the Toltec (from Mexico), the Amazonian (from Colombia).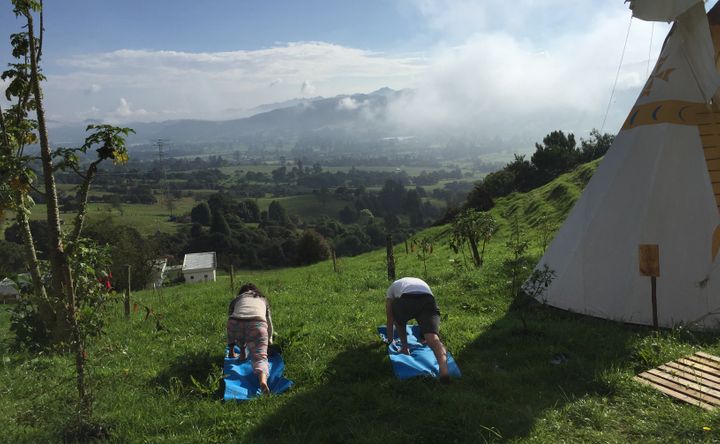 Venue Highlights
45 minutes only away from Bogotá (capital of Colombia), the Sanctuary is a very quiet place set up in the mountain between the town of la Calera and Sopo. There we use mountain to integrate our being to the nature and practice what it is needed to recover our health and remember the strength of our spirit.
Temperatures goes around the year from 05 to 25 °C. We are situated on the Andean mountain range at 2700 Meters above sea level, so it is usually cold during the night. 
We have a beautiful white house and a Native American Tipi for which we make the magic of staying at a simple and beautiful place at the same time. 
There we do different events and retreat, using medicinal plants (ayahuasca), sweatlodge (temazcal), shamanic cleaning, astrology...
​
Accommodations
There are, so far, rooms for 7 persons:
- A double room with a double bed
- A double room with two single beds
- A Tipi with 3 single beds
The Awankay Sanctuary has the following services available for anyone who choose to stay there:
- Access to equiped kitchen (materials to cook and eat), fridge, coffee maker etc. 
- Internet Wifi
- Heater/room
- Library, books available to read
- Room of staying and spaces to do healthy activities
Bathroom is shared, and you ll need to bring your own soap and towel.
Amenities
Free Wifi
Free Parking
Kitchen
Coffee/Tea
Cafe
Yoga Studio
Directions
In the retreat, we take you form the airport to the center, and we assume all the transport during the retreat.
Reviews
Write a review - tell others about your experience.