About This Center
Imagine this… You are gazing across a deep river gorge just in time to catch the first rays of sunlight crowning the canopy of the primary rainforest across the valley with a hue of gold, your senses being teased gently to life as you sip on fresh pineapple juice on the deck of a huge rancho. As the mists below begin to part to offer you a glimpseof the blue Pacific in the near distance, you hear the rhythms of the rainforest, an orchestra led by the wild brazen troop of howler monkeys only a few hundred yards away. Although you are beginning to rouse yourself a bit in preparation for the active day ahead, the sloth in the grand mayo tree off to your left hasn't moved a muscle. Typical. It makes you think of some people you know…
This is a reality on the 150 acres of tropical wilderness that is Luna Lodge, Lana Wedmore's personal dream come true. Over 75 acres of the lodge's property is primary virgin rainforest. You can spot literally hundreds of rare and beautiful bird species such as the scarlet macaw, red-legged honeycreeper, and slaty-tailed trogon. You will also likely encounter exotic creatures, such as coatis, tayras, and the four species of monkeys found in Costa Rica. There are year-round waterfalls on the property itself, one with a swift flowing chute and refreshing wading pool less than a ten minute walk from the bungalows. Just a few minutes further down the river valley, among a riverbed full of brilliant white boulders, a much higher set of falls thunders down from over 30 feet; you can stand under the spray and look down at how nature is realigning and reharmonizing the river's elements.
Organic pineapple grows plentiful in our giant hillside garden.
Lana and her staff have created a wonderfulblend of natural landscaping and organic agricultural abundance surrounding the lodge. Counted among the fruit trees aremango, water apple, papaya, banana, china fruit, mandarin orange, lemon, cacao, avocado, and cashew. The pleasant,intoxicating aromas of ylang-ylang, frangipani, and night-blooming jasminepermeate the grounds. She also grows her own bananas, plantains, and pineapples. And what meal would be complete without herbs and spices? She has hot and sweet chilies, turmeric, oregano, basil, mustard, ginger, cilantro, and many more.
My partner and I stayed at this stunning piece of heaven for five days. At the risk of repeating what's already been said, Luna Lodge is its unique place in the world. It's Lana's passion project which she shares with anyone who loves nature and understands it's down to each one of us to preserve it... ~Fabian F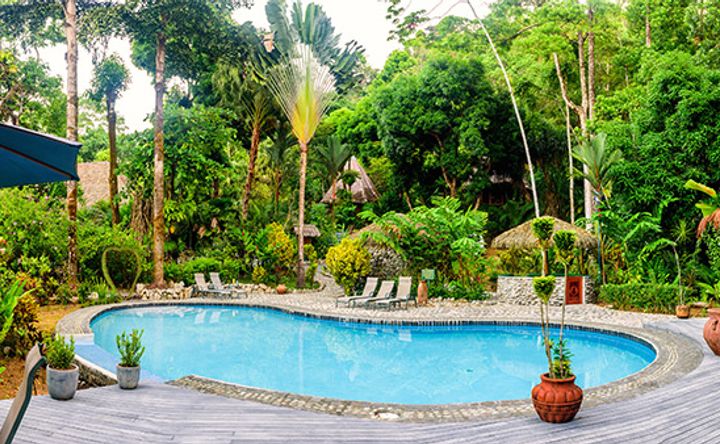 Venue Highlights
The rancho houses the restaurant, bar, kitchen, reception, library, and gift shop. The dimensions of the structure reflect those of the surrounding rainforest, with a towering roof soaring 25 feet over one of the largest ranchos on the Osa Peninsula. The spacious deck is ideal for birdwatching, stargazing, or justabsorbing the energy of the rainforest.
Guests always enjoy a break relaxing at the pool nestled intimately with the wilderness
Secluded in a beautiful garden alongside the rancho rests a natural rock encrested pool perfect for sunbathing, cooling off from a vigorous tour, or just sitting and enjoying one of the most beautiful vistas in the world.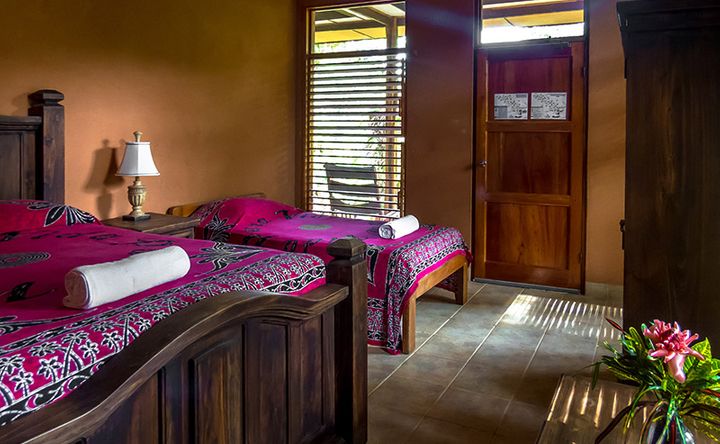 Accommodations
Amid the tropical rainforest of Costa Rica sit our accommodation options of eight bungalows, two haciendas, and seven platform tents. As we are located up above the Carate River Valley, it is generally cooler and we almost always have a light ocean breeze. There is no stagnant water on property keeping the Luna Lodge virtually mosquito-free.
Each accommodation is beautifully situated in the rainforest and offers breathtaking views from the outdoor sitting areas. Eco-friendly soap, shampoo and conditioner are available in each room, as well as a drying line for bathing suits and beach towels.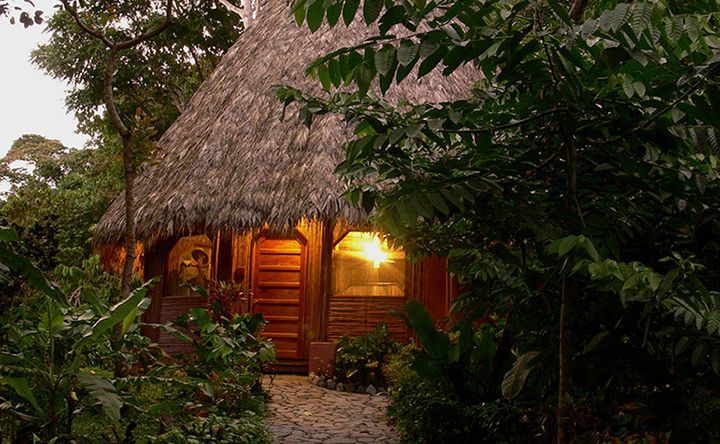 Amenities
Free Wifi
Spa
Pool
Towels
Free Parking
Tour Assistance
Coffee/Tea
Restaurant
Yoga Studio
House Keeping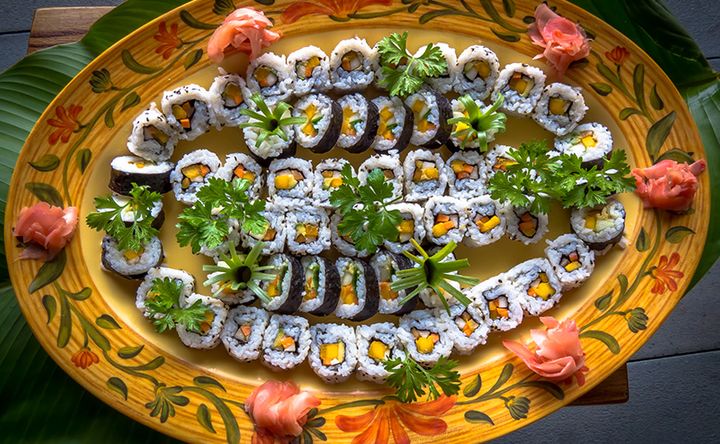 Menu Types
Vegan
Vegetarian
Pescetarian
Meat
Organic
Gluten Free
Dairy Free
Nut Free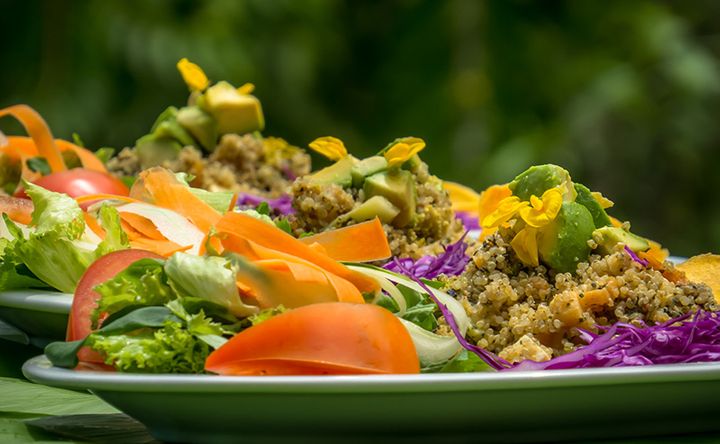 Menu/Cuisine
The restaurant, "El Eclipse Total", is open all day and features international cuisine. The dining area is open and spacious, affording comfort for dozens of guests. There's even space for an occasional rainforest dance! The gift shop offers not only necessities and souvineers, but also an interesting array of boutique items selected from international artisans.
As our guest, you will dine on inventive cuisine and exotic native dishes, homemade breads, organic fruits and veggies, and scrumptious salads, accompanied with natural juices, sodas, or your favorite tropical libations. Everything at the lodge is prepared fresh and naturally each day, and will energize you to launch your rainforest experiences. With the hectic life left behind and the jewels of the Earth at your doorstep, you will remember Luna Lodge as one of the most rewarding and invigorating vacations of your entire life.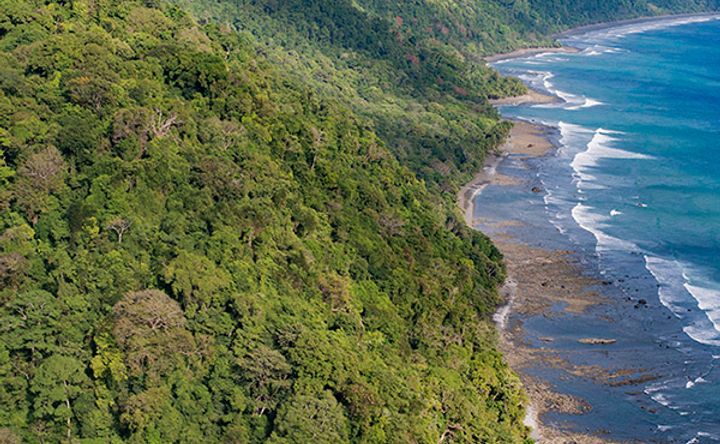 Directions
The Luna Lodge is in Carate, a sparsely populated outpost literally at the end of the road on the far western side of the Osa Peninsula. The natural beauty of this area is indescribable, with verdant ridges full of monkeys and scarlet macaws cascading down to a wide black sand beach with nothing but driftwood and coconut shells for miles on end. This is also the primary entry point to Corcovado National Park. World-class fishing, excellent surf breaks, an incredible array of flora and fauna, sandy beaches with tall palms bursting with coconuts and almond trees, emerald-turquoise waves peeling offshore, and the comfortable haven of our lodge nestled in the endless acres of wild jungle cascading down from the hills above await you.
Getting to Luna Lodge is part of the magical journey. Arriving by air gives you amazing views of Costa Rica from above; arriving via automobile allows you to see the many aspects of Costa Rica from the road. When you are making your travel arrangements, please note that Costa Rica is Central Standard Time and does not observe daylight savings time. If traveling by air, please allow ample time in-between flights. If traveling internationally we suggest paying departure tax upon arrival to Costa Rica; this will reduce the amount of time you need at the airport when departing.
Reviews
Write a review - tell others about your experience.