About This Center
If you are looking to deepen your practice and sharpen your teaching skills with us then TTC Goa offers a relaxed heaven of sun, sea and nature. You have an opportunity to both nurture and connect with the philosophy of Yoga and to reach out and be a part of a network of Yogis of all around the world.
The Multistyle 200 hours Yoga Teacher Training is a combination of three main styles, Traditional Hata Yoga and His therapheutic aspects, Ashthanga Vinyasa and Vinyasa Flow Yoga. Its the initial foundation Yoga course to be able to teach yoga classes. We teach in detail how to teach, and how all the knowledge learnt can be applied to the individual practitioner.
One of the best ways to learn is to learn to teach!
Experienced yogis and beginners alike will gain a lot from the knowledge this course delivers. But we firmly recommend that applicants have a minimum of 6 months practice before to start the course. All applications will be considered on an individual basis. If you are not sure about something please feel free to contact us directly.
In the creation of our Mahi Yoga multistyle Teacher Training we have brought together ancient Vedic and yogic knowledge with the modern practices of science and teaching methodology in order to send our students out in to the world secure in their yogic journey as well as confident and ready to teach.
Rose Anglim. I took my 200hr TTC in Goa with Mahi and I can honestly say it was the most wonderful month of my life so far. Mahi's knowledge is remarkable. During my time there with him and his team of teachers, including Bjorn, Yogest and Anu I learnt so much about asana, anatomy, philosophy, and myself. It is a warm, safe environment where you feel supported. I would recommend this Mahi's TTC to anyone wanting to take the step from student to teacher, or if you just wish to deepen your practice. I hope to join them again soon to continue my yoga journey. Sylvie Planche. Hi, I have been learning yoga in Mahi power yoga this last month and finished my 300hours YTT. It was an amazing experience, the quality of the teachers is impressive and so inspiring. I feel blessed to have experienced it and I feel stronger and more aware to continue my yoga journey. Thank you Mahi and your team for your professionalism. Canile Van Doorn. I had a great experience at Mahi Yoga. There is so much experience, knowledge and wisdom with the teachers. I decided to record most of their classes so that I wouldn't have to miss out on anything and always have the possibility to look back and study again. They were ok with this and even encouraged it because they know what they are teaching. After the 200 hour ttc I stayed for the following 200 hour ttc to assist the teacher with adjustments and demonstrations which was very helpful for me. The only point I didn't like so much was the length of the course, which is pretty much the same everywhere. I would've liked it to be a week or even a month longer. Luckily at Mahi yoga school you are very welcome to join and assist in any classes after you finish your 200 hour. So this totally makes up for that and shows how much they really care. I can only recommend this school and I look forward to go back and learn more from these amazing teachers.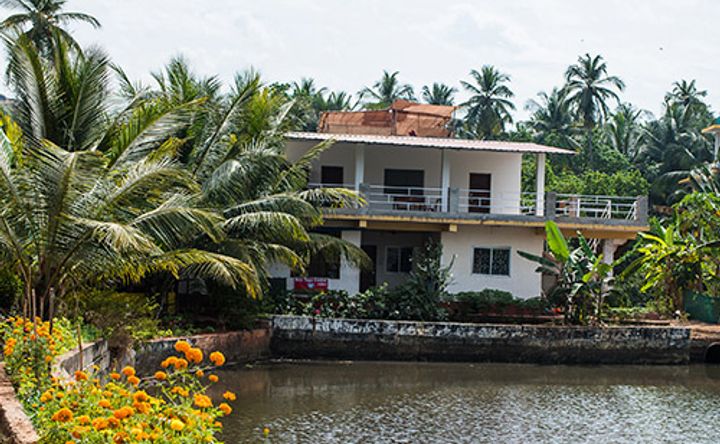 Venue Highlights
Mahi Yoga Teacher Training Goa center is located on the edge of Arambol town. Our center is tucked away in the countryside at The Whispering Lakes Resort, that is arranged around a lake. This is the perfect place to watch the nature and the multitude of Goan and migrating birds catching fish or stopping off for the winter. Its managed by a traditional Goan Family and all the lodges and the Yoga Shala have a lakeside view. The beach is just five minutes walking through the nature and Arambol town is just 15 minutes by beach. So the resort itself offers the perfect balance between peace, nature and vibrant culture.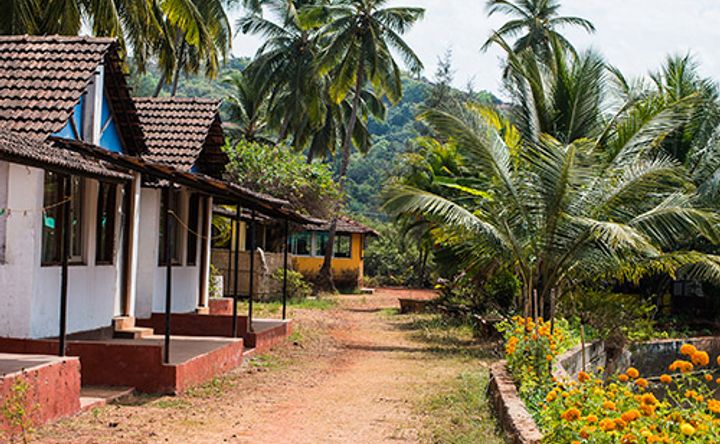 Accommodations
At Yoga Teacher Training Goa bungalows rooms are spacious and comfortable and located at the resort. They offer superior lakeside lodges which are well equipped and very clean. The rooms are available on a shared basis of two students or even a couple. The lodges have a massive private entrance to sit and just relax overlooking the lake. The shelters have an attached and private bathroom with hot water and western toilet.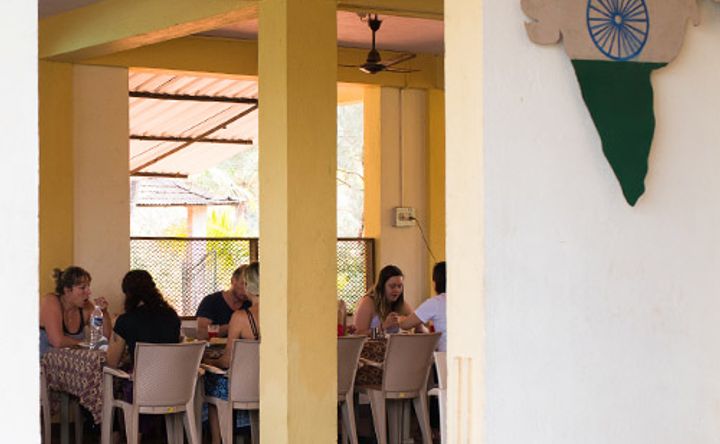 Amenities
A/C in Rooms
Free Wifi
Towels
Free Parking
Tour Assistance
Coffee/Tea
Restaurant
Yoga Studio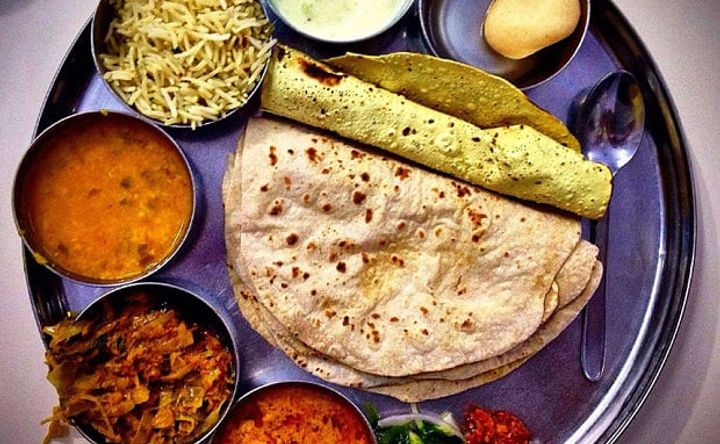 Menu Types
Vegan
Vegetarian
Ayurvedic
Organic
Gluten Free
Dairy Free
Nut Free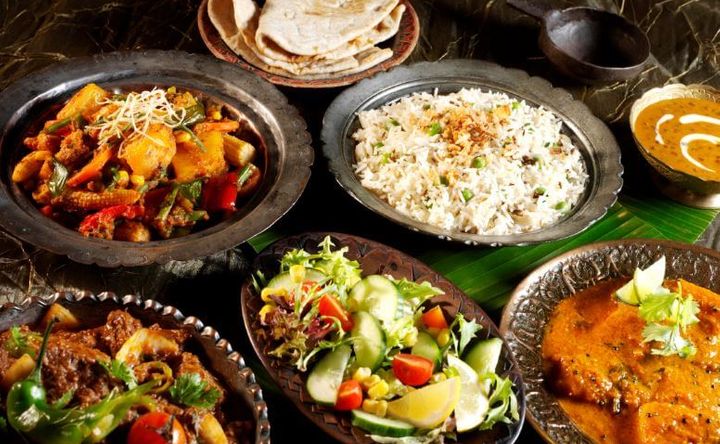 Menu/Cuisine
A healthy diet is something we take seriously at Holistic Training House.
We offer a wide range of taste-tempting, freshly prepared dishes, made with love and passion, from super-healthy to super-naughty and everything in between!
Vegans, vegetarians, coeliacs & lactose intolerant are always welcome and will be catered for, so no worries there.
Come and enjoy a wide range of delicious natural foods, prepared using locally grown produce, mainly organic, cooked with Indian spices, with a extra helping of love.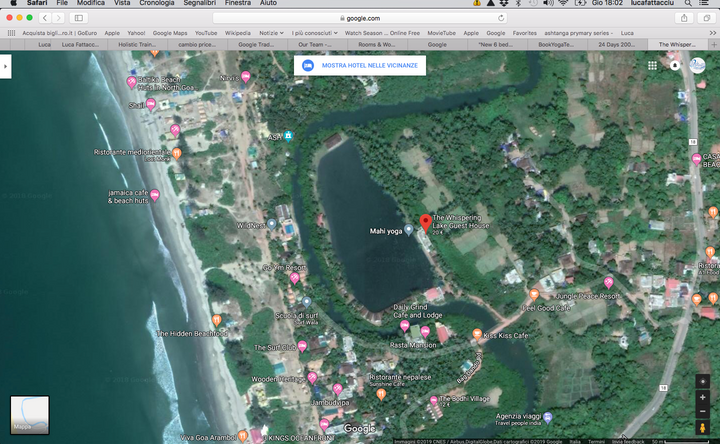 Directions
The nearest airport in Goa is Dabolim . 1 h 37 min (58,5 km) By car - 2 h 39 min by bus (contact info blocked)The+Whispering+Lake+Guest+House/@(contact info blocked),(contact info blocked),16z/data=!4m5!3m4!1s0x3bbfee561db847d5:0xfdcd4022edd6ee5e!8m2!3d(contact info blocked)!4d(contact info blocked)!12b1?rapsrc=apiv3
Reviews
Write a review - tell others about your experience.
Your head must bow to your heart. Yogi Bhajan