About This Center
Sakya Losal Choe Dzong (SLCD), the Tibetan Buddhist Society of Canberra was founded in 1989 by Lama Choedak Rinpoche in Canberra. SLCD is one of the most established Buddhist centres in Australia. Being aligned with the Sakya tradition of Tibetan Buddhism, SLCD is under the patronage of His Holiness Sakya Trizin and His late Eminence Chogye Trichen Rinpoche.
The Society's activities have been dedicated to making available to the public the wisdom teachings of the Buddha and the Buddhist practices of meditation. Through Lama Choedak Rinpoche's spiritual directorship the practice of Calm Abiding Meditation, Ngondro preliminaries, White Tara, Vajrayogini and Hevajra have all been promoted over the last twenty years.
SLCD owns 2 retreat centres in rural and remote Australia: Virupa and SIBA.
SLCD has a year-round varied programme of retreats, some lead by Lama Choedak Rinpoche and some by resident or guests teachers. These include:
Calm Abiding Meditation - Each year Lama Choedak Rinpoche leads a four day retreat during the March Labour Day holiday (VIC) and a ten day retreat late September/early October which is our most popular retreat of the year.White Tara (with Lama Choedak Rinpoche) - a beautiful meditation for developing kindness and compassion, increasing spiritual vitality and overcoming fears. (Australia Day holiday, January)Health and Wellness - revitalise your mind and body through yoga, meditation and alternative health practitioner consultations. Easter holiday.Medicine Buddha (with Lama Choedak Rinpoche) - discover the connection between wholesome thoughts, your health and happiness. August.Tai Chi and Meditation - Tai Chi Academy of Canberra present the teachings and practice of moving and sitting meditation. Mid-April.One-month Ngondro (with Lama Choedak Rinpoche) - intensive group and individual practice sessions on the preliminary practice of Tibetan Buddhism. End of year.Nyung-ne - devotional meditation practices combining the Eight Buddhist PreceptsYoga - several times a year yoga retreat are held by visiting teachers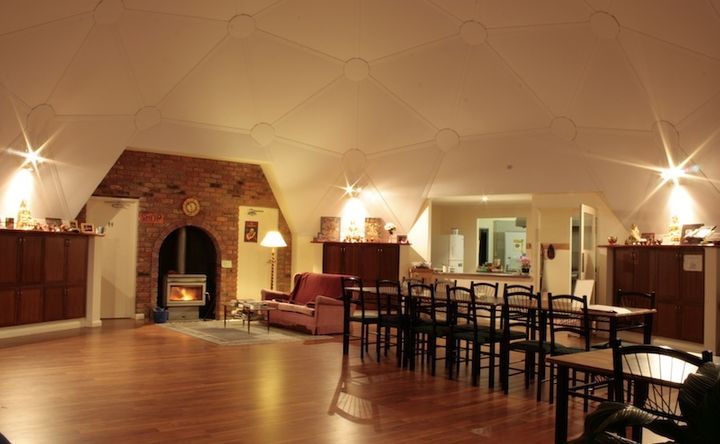 Venue Highlights
SIBA is set on 108 acres with a one acre organic veggie garden, five acre orchard, dozens of chooks, pasture lands for rescued animals and plenty of bush and wildlife . The property includes three large quality meditation halls (the largest seating over 300), large geodesic domed dining room and commercial kitchen. Accommodation includes 16 well fitted en-suite accommodation units. There are also facitilities for solitary retreat.
SIBA is run and maintained by a group of friendly residents dedicated to principles of peacefulness, service and kindness. Every morning at 6am they gather to greet the new day with Praises to Buddha, Green Tara puja and other prayers and chanting in the beautiful meditation hall that overlooks W Tree sending out positive vibes through the district. There are frequently other group practices in the day as well as dharma study groups.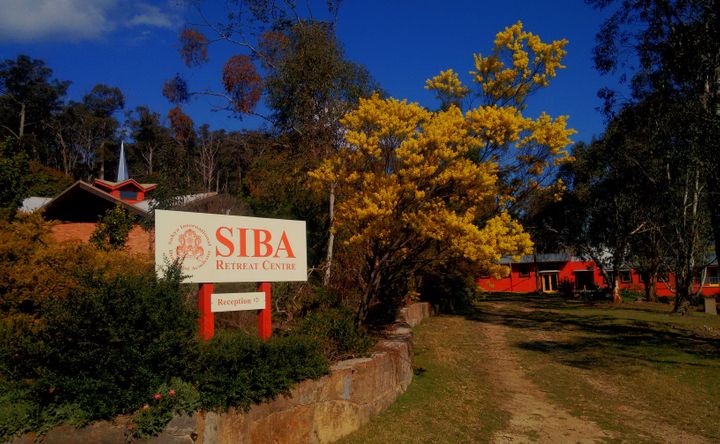 Accommodations
The "Shared Room" accommodation rate is for comfortable ensuite motel-style rooms in bunk beds. There is generally up to four people per room but two rooms can accommodate eight people. Pillows, doonas and mattress protectors are provided but we ask that you bring top and bottom sheets and a pillow case. If you are unable to bring your own bedding please let us know and we can provide it for you.
We also have single, double and twin room ensuite accommodation but availability is limited.
There is accommodation suitable for physically challenged.
SIBA also has a number of bush cabins that are ideal for solitary retreat with their own kitchenette facilities. Toilet and shower are provided in an amenities block.
There are many beautiful locations for camping and campervans on unpowered sites. Campers need to bring their own equipment. There is an amenities block with hot showers.
Menu Types
Vegan
Gluten Free
Dairy Free
Nut Free
Reviews
Write a review - tell others about your experience.